There's just a passion about the numbers in baseball
From "755" to "61" to many more, milestone numbers in baseball are seemingly more important than those in other sports.
Originally Published:
March 27, 2007
By
Tim Kurkjian
| ESPN The Magazine
I learned a new number recently. I now know how many yards Dan Marino, the record holder, threw for in his NFL career. I'm told by football stat guys that it's an "awkward" number, but before the other day, I wouldn't have come within 10,000 yards of the correct number. It is 61,361.
"Here's how you remember 61,361: It's Roger Maris (61), then the number of times Sammy Sosa hit 60 homers in a season (3), then Roger Maris again: 61,361,'' said the brilliant Steve Hirdt, executive vice president of the Elias Sports Bureau, the official statisticians for the four major sports. I will never forget it now. Or, I can remember it another way: Roger Maris (61) followed by the career home run total of Joe DiMaggio (361).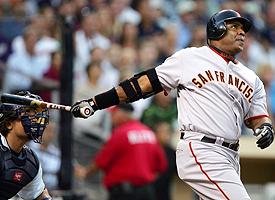 AP Photo/Chris CarlsonBarry Bonds is chasing perhaps the greatest number in all of sports: 755.
It's fitting that I will forever recall an all-time football number with the aid of all-time baseball numbers. Baseball numbers, especially milestone numbers, are easy to remember partly because they're so round: 300, 500, 3,000, etc. It is an important year for milestones since so many might be reached: 500 saves (
Trevor Hoffman
), 300 victories (
Tom Glavine
), 500 home runs (
Jim Thome
,
Frank Thomas
,
Manny Ramirez
,
Alex Rodriguez
and
Gary Sheffield
), 600 homers (Sammy Sosa), 3,000 hits (
Craig Biggio
), 2,000 RBI (
Barry Bonds
) and Bonds' chase for the greatest number in all of sports, 755.
So why are baseball numbers so important?
Why are they seemingly more important than numbers in other sports?
Baseball's heritage and tradition are richer and deeper than those of other sports: It has been played in the National League since 1876; more numbers and more history bring a greater importance to those numbers in the sport. Baseball is the ultimate skill sport rather than an athletic sport such as basketball and football. The biggest, strongest and fastest guy doesn't always win in baseball (but it sure helps), which hasn't been affected as much as other sports by the growth and evolution of players. What happened in baseball in 1920, if not before, is relevant today because the game is played -- the bases are still 90 feet apart, the mound is still 60 feet, 6 inches from home plate -- in much the same way that it was 80-90 years ago.
More Milestones
Active players approaching other benchmark numbers. Listed with current numbers entering 2007 season:

500 HOME RUNS

Frank Thomas
Jim Thome
Manny Ramirez
Alex Rodriguez
487
472
470
464

2,500 HITS

Omar Vizquel
Ken Griffey Jr.
Gary Sheffield
Luis Gonzalez
Ivan Rodriguez
2,472
2,412
2,390
2,373
2,354

2,000 HITS

Johnny Damon
Chipper Jones
Jeff Conine
1,958
1,944
1,917

250 WINS

Mike Mussina
239

200 WINS

John Smoltz
Andy Pettitte
193
186
The greatest of the great players of the early 1900s -- Honus Wagner, Ty Cobb, Walter Johnson, Babe Ruth and Lou Gehrig -- would be great players in 2007 given all the advantages of today. That cannot be said of football and basketball. Offensive linemen in football 70 years ago weighed around 175 pounds; they couldn't compete with the 350-pound linemen of today. In the early years of basketball, some of the centers weren't as big as some of today's NBA point guards. Consequently, numbers in those sports don't translate as well as they do in baseball. Bob Cousy was a fabulous player who undoubtedly could play in today's NBA. But he never shot 40 percent from the field in any season of his Hall of Fame career. John Stockton, whose game was similar to Cousy's, shot over 50 percent for his career.
Baseball milestones and numbers play a big part in where we place a player in history, including whether he's a Hall of Famer. It's not the same in football where Art Monk retired as the leading receiver in history, and still isn't in the Hall of Fame. There can be -- and we're not suggesting this is fair -- a big difference between 500 home runs and 493, as Fred McGriff might find out in a few years. Bert Blyleven should be in the Hall of Fame, but you wonder if he already would be in Cooperstown had he finished with 300 wins instead of 287. Others want Maris in the Hall on the strength of one number: 61.
What is football's one number? Does it have one? Casual football fans can miscalculate Marino's passing yards by 10,000; casual baseball fans likely wouldn't miss the baseball equivalent by nearly that much. Football numbers, it seems, don't have the same meaning as baseball numbers. Can anyone not working in the game explain in simple terms the Quarterback Rating? In basketball, what precisely is a steal (does the guy who tipped the pass, or the guy who recovered the errant pass, get the steal?), and how can that statistic be considered legitimate if it wasn't kept until after Jerry West retired? And how can blocked shots be called a real statistic when they weren't kept until after Wilt Chamberlain and Bill Russell retired?
Baseball's tracking of statistics always has been more thorough than the other sports. In press boxes across America, there is a person who tracks every foul ball, every time a pitcher throws over to first base to check the runner, every pitchout, etc. "Who says there's an unemployment problem in this country?'' Andy Van Slyke, then a Pirates outfielder, said years ago. "Just take the five percent unemployed and give them a statistic to follow.'' And because we track them so closely, we attach more meaning to them.
When will Bonds pass Aaron?
• With Barry Bonds only 22 home runs from passing Hank Aaron, ESPN.com's contributors predict when Bonds will hit No. 756:
CONTRIBUTOR
DATE
Jim Caple
Won't do it
Jerry Crasnick
Aug. 7
Peter Gammons
July 26
Pedro Gomez
Not in '07
Bob Klapisch
Aug. 14
Keith Law
Aug. 22
Rob Neyer
Aug. 2
Buster Olney
July 1
Steve Phillips
July 15
Phil Rogers
May 28, '08
Enrique Rojas
June 22
Alan Schwarz
Aug. 20
John Shea
Sept. 8
Jayson Stark
April 13, '08
Hirdt doesn't completely agree that baseball stats are more important than those in other sports, but says, "Offensive statistics in baseball are more legitimate for a player because they are more his own than someone in another sport, which are more team dependent. In baseball, everything is visible, it is easy to recognize. The confrontation between a batter and a pitcher is in plain sight without extraneous factors involved compared to other sports where someone has to get the ball to you, or runs interference for you in football, or sets a pick for you in basketball. Baseball is more an individual battle between a pitcher and batter. It makes individual stats more personal. And those statistics are less likely to fluctuate when you go to another team. In baseball, it's your turn to hit. Michael Jordan usually took the last shot, but other sports really don't have turns.
"In football, it's, 'Who won the game?' On a football Sunday, what leads 'SportsCenter' is the winning of a game. In baseball, it's more, 'Who had a spectacular night?' Peyton Manning might throw six touchdown passes, but the key game -- say, Bears against the Packers -- is the lead story. And yes, the Yankees-Red Sox [game] will lead in the summer, but sometimes, the guy who hit three homers in a game, or took a no-hitter to the ninth, is the lead.''
Hirdt says, "In the socialization process in this country, when you open your first package of baseball cards, you are at first enthralled by the picture, then you turn the card over and say, 'Whoa, what's this on the back?' It opens a whole new world to kids of a young age. It makes a difference. They begin to develop an interest in baseball through statistics.''
An interest in baseball statistics has become, for some, an obsession. A colleague from ESPN recently asked me to name the 10 guys who have hit .370 or better, starting with the 1980 season. Using a couple of hours that I didn't have, I couldn't rest until I'd made my 10 guesses. That's what baseball statistics, more than any other sport, will do to you. But now I'm prepared in case anyone asks me about Dan Marino's career passing total. I've got that one, thanks to Hirdt's Maris-Sosa-Maris formula, or my Maris-DiMaggio formula.
But since it's not a baseball stat, I don't think anyone will ever ask.
Tim Kurkjian is a senior writer for ESPN The Magazine.
MLB reporter
Senior writer ESPN Magazine/ESPN.com
Analyst/reporter ESPN television
Has covered baseball since 1981
SPONSORED HEADLINES
MORE MLB HEADLINES
MOST SENT STORIES ON ESPN.COM