8:17 PM ET, October 2, 2002
Yankee Stadium, Bronx, New York
| | | | | | | | | | | | | |
| --- | --- | --- | --- | --- | --- | --- | --- | --- | --- | --- | --- | --- |
| | 1 | 2 | 3 | 4 | 5 | 6 | 7 | 8 | 9 | R | H | E |
| ANA | 1 | 2 | 1 | 0 | 0 | 0 | 0 | 3 | 1 | 8 | - | - |
| NYY | 0 | 0 | 1 | 2 | 0 | 2 | 0 | 0 | 1 | 6 | - | - |
NEW YORK (AP) -- Dramatic home runs. Clutch pitching by closers. Yet another late-night comeback in the Bronx.
Game 2 at a glance
Hero
With the Yankees clinging to a 5-4 lead heading into the top of the eighth, Garret Anderson and Troy Glaus hit back-to-back home runs leading off the inning to give the Angels the lead they would never relinquish. For Glaus, the homer was his third of the series.Goat
Considered the hero heading into the eighth after pitching four innings of shutout ball in relief of ineffective starter Andy Pettitte, Orlando Hernandez quickly became the opposite with the two pitches he threw to Anderson and Glaus.Key move
Well, Mike Scioscia finally bit the bullet and summoned closer Troy Percival into the game with two outs and runners on first and second in the bottom of the eighth. He hit Alfonso Soriano with his first pitch to load the bases, but then struck out Derek Jeter looking to end the inning. He then got through an eventful ninth to earn the save.Key stat
Hernandez was 8-0 with a 1.84 ERA in his first nine postseason games. Since then, he's gone 2-3 with a 4.13 ERA.Looking ahead
Mike Mussina starts Game 3 for the Yankees. He hasn't allowed an earned run in his last 27 innings of work -- albeit against teams such as the Devil Rays and Orioles. Ramon Ortiz will go for the Angels. He's unbeaten in his last nine starts (6-0, 2.77).
Yes, the Anaheim Angels certainly have learned from the New York Yankees.
Garret Anderson
hit a tying home run off
Orlando Hernandez
in the eighth inning,
Troy Glaus
followed with a go-ahead shot and the Angels evened their best-of-five AL playoff series by winning 8-6 in Game 2 Wednesday night. ''I know crazy things happen here,'' said
Troy Percival
, who escaped jams in the eighth and ninth innings, ''but not tonight.'' After watching the Yankees claw back from a 4-0 deficit to take a 5-4 lead, the crowd was stunned. It was the first time New York lost a postseason game at Yankee Stadium when leading after the seventh inning, according to the Elias Sports Bureau. ''We know we can come back and win any time,'' Anaheim's Bengie Molina said. ''They probably know that, too.'' A night after not bringing in Percival and watching his bullpen squander a lead in the opener, Angels manager Mike Scioscia called for his closer with Anaheim trying to protect a 7-5 edge in the eighth. Percival got out of the jam, throwing a called third strike past
Derek Jeter
, who questioned the call, with the bases loaded.
Scott Spiezio
provided a cushion with a run-scoring double in the ninth off
Jeff Weaver
, his third hit and RBI. The Yankees tried for one more comeback in the bottom of the ninth, with
Jorge Posada
blooping an RBI single with one out. But with two runners on, Percival struck out
Nick Johnson
and retired
Raul Mondesi
on a popup. Anaheim, which set a team postseason record with 17 hits, headed home to California after the 4-hour, 11-minute marathon with its first playoff win since 1986, one that gives the Angels hope they can knock off the four-time defending AL champions. ''We do what it takes to win, no matter the circumstances, no matter whatever,'' Glaus said. The series resumes Friday, with the Angels'
Ramon Ortiz
facing
Mike Mussina
in Game 3. ''We've got a big challenge ahead of us, no doubt about it,'' Scioscia said. ''We've got to go out there and continue to press these guys.''
Just get me three outs
Troy Percival rarely enters a game before the ninth inning or with runners on. He pitched more than one inning just four times all season (four outs on each occasion) and entered with runners on base just eight times.He didn't do particularly well when inheriting those runners, as seven of 13 baserunners eventually scored. Especially interesting was August 3, when he entered with a three-run lead and two on with outs in the eighth ... against the Yankees.Bernie Williams hit a three-run homer on an 0-2 pitch to tie the game (Percival would get the win when the Angels scored a run in the bottom of the inning).Perhaps Mike Scioscia was thinking of that home run on Tuesday night when he summoned Brendan Donnelly to face Williams instead of Percival.Over the course of the season, Percival actually pitched better with runners on base (whether his own or a teammate's). He allowed a .170 average and .499 OPS with runners on as opposed to a .202 average and .631 OPS with the bases empty.Also, it should be noted that last season, Percival stranded 13 of 14 inherited runners.
-- ESPN.com
Early homers by
Tim Salmon
and Spiezio helped Anaheim build a 4-0 lead and knock out
Andy Pettitte
after three innings.
''He made some bad pitches,'' Yankees manager Joe Torre said.
But the Yankees closed to 4-3 against
Kevin Appier
and went ahead when
Alfonso Soriano
finally got that elusive 40th homer -- a two-run shot in the sixth off
Francisco Rodriguez
, a 20-year-old right-hander who made his major league debut Sept. 18. El Duque, relegated to the bullpen because of the Yankees' pitching depth, replaced Pettitte in the fourth and showed the poise under pressure he's known for in the postseason, where he was 9-2. He retired his first 11 batters and 12 of 13, but Anderson tied it when he led off the eighth with a drive into the right-field bleachers. Torre elected to stay with El Duque rather than go to his regular relievers, and Glaus followed with his third homer of the series. The drive to center shocked the crowd of 56,697 at Yankee Stadium, where New York had won six straight postseason games, including a come-from-behind 8-5 thriller in Tuesday's opener. Adam Kennedy added a sacrifice fly later in the eighth off
Mike Stanton
. Unlike Tuesday, Anaheim's bullpen held on.
Ben Weber
got in trouble in the eighth, when Johnson singled with one out and Mondesi hit a hard comebacker that the pitcher tried to grab, only to watch it ricochet to shortstop for a single. Weber, who sprained his right index finger, angrily shook his hands in disgust. Once again, Scioscia was in a spot. In the opener, he didn't bring in Percival to protect a 4-3 lead in the eighth, saving his closer for a bottom of the ninth that never came. Scioscia again called on
Brendan Donnelly
, who gave up Bernie Williams' tiebreaking eighth-inning homer in the opener. Percival watched in disbelief, holding out his arms as if to say ''I don't know'' and shrugging his shoulders.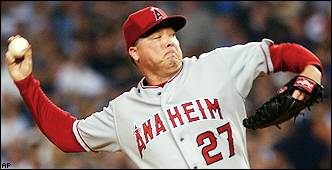 Kevin Appier left with a 4-3 lead after five innings, but wasn't involved in the decision.
''I was a little puzzled because I was the only one getting warmed up,'' Percival said. ''I walked down the steps a little bit and got called back.'' Donnelly, cheered by New York fans as he warmed up, threw a called third strike past pinch-hitter
John Vander Wal
, and Percival finally came in. ''It's important for us to keep Percy in a very, very controlled situation,'' Scioscia said. ''Four outs for us is the max.'' Scioscia's first pitch hit Soriano in the left shoulder blade, loading the bases. With the crowd on its feet, Percival faced Jeter, who had reached in his first seven plate appearances of the series -- homering twice -- before fouling out in the sixth. Jeter, 1-for-11 against Percival in his career, was tied up as he missed a 96-mph fastball, then took a ball and fouled off a pitch. Percival then threw a pitch over the outside corner and Jeter was called out by plate umpire Doug Eddings, who was giving pitchers that corner all night. ''In my opinion it was outside,'' Jeter said. ''There's nothing you can do about it. He's not going to call the other team back onto the field and change it to a ball.'' Rodriguez got the win for Anaheim, which allowed runners all night but held the Yankees to 3-for-14 with runners in scoring position. Anaheim, which stopped a four-game postseason losing streak, built its early lead as Pettitte struggled with his control. In addition to the homers,
Benji Gil
and Spiezio hit RBI singles. Jeter got the Yankees going in the third by homering deep over the left-field wall for the second straight night. Appier, the only Anaheim player with postseason experience coming in, gave up a bloop two-run single to rookie
Juan Rivera
in the fourth that glanced just off the tip of the glove of a diving
Darin Erstad
in center field. Johnson sped home all the way from first.
Game notes
Percival got a save and Hernandez was the loser. ... New York was 83-8 when leading after seven innings during the regular season. ... Jeter's homer was his 12th in postseason play. ... Anaheim has six homers in the first two games of the series.
Copyright by STATS LLC and The Associated Press