4:06 PM ET, October 3, 2002
Chase Field, Phoenix, Arizona
PHOENIX -- They battered Randy Johnson and eased past Curt Schilling. The St. Louis Cardinals headed home needing one victory to finish off the World Series champions Arizona Diamondbacks.
Game 2 at a glance
Hero
Chuck Finley had his A-game going, hurling 6 1/3 innings of shutout ball. The veteran lefty gave up just four hits and didn't allow a baserunner to get past second base.Goat
Mark Little playing left field for the Diamondbacks? What exactly was Arizona manager Bob Brenly thinking by starting the light-hitting Little, who hit just .208 in 79 games during the regular season? Yes, David Dellucci bats left-handed and Brenly didn't want him to face the lefty-throwing Finley. But, obviously, Dellucci is a far better option than Little, who went 0-for-3 with two strikeouts.Key stat
With his third-inning home run off of Curt Schilling, J.D. Drew has now hit a total of four homers off the Diamondbacks in seven games this season.Looking ahead
The Diamondbacks' season is now in the hands of Miguel Batista, who starts Game 3. Batista was successful in his last postseason start, pitching 7 2/3 innings of shutout ball in Game 5 of last year's World Series against the Yankees. Andy Benes counters for the Cardinals. Since returning to the Cards in July, Benes has posted an impressive 1.86 ERA in 15 games.
But an injury to Scott Rolen dampened the Cardinals' 2-1 triumph over the Diamondbacks on Thursday.
Miguel Cairo
's ninth-inning single off reliever
Mike Koplove
drove in
Edgar Renteria
with the go-ahead run for the Cardinals, who swept the first two games of the best-of-five series. ''A split would have been good for us,'' said
Chuck Finley
, who blanked Arizona for 6 1/3 innings. ''Obviously, coming out of here 2-0 looks very, very good. This is what we dreamed of doing.'' Rolen left after he was clipped in the left side by pinch-runner
Alex Cintron
while scooping up a grounder in the seventh inning. X-rays were negative, and the preliminary diagnosis was a sprained shoulder. Further tests were scheduled for Friday in St. Louis. ''I do think that his continuing to play for sure in this series is very questionable,'' manager Tony La Russa said. ''We'll have our fingers crossed through tomorrow, but I think there's a chance he might have played his last game (this year).'' The Diamondbacks, who had trailed 1-0 since the third inning on
J.D. Drew
's two-out homer off Schilling, tied it with an unearned run in the eighth.
Quinton McCracken
doubled over the outstretched glove of the right fielder Drew to score
Greg Colbrunn
, who had reached on a fielding error by
Albert Pujols
-- Rolen's replacement at third. With the late Darryl Kile's widow Flynn again in the stands, as she was for the opener Tuesday night, the inspired Cardinals moved within a victory of returning to the National League Championship Series for the second time in three seasons. ''They're the world champions and will keep fighting until the end,'' the Cardinals'
Fernando Vina
said, ''but it will be a nice flight back to St. Louis.'' After enduring the death of Kile and longtime broadcaster Jack Buck during the season, St. Louis can complete the first-round sweep with a victory at Busch Stadium on Saturday.
Miguel Batista
pitches for the Diamondbacks against
Andy Benes
. Finley, two months shy of his 40th birthday, held Arizona to four hits innings before leaving with a muscle cramp in his pitching hand. Acquired from Cleveland on July 19, Finley went 7-4 with the Cardinals. The left-hander had been 0-2 in the postseason coming in, losing twice to Seattle in the first round last year. ''You can't give him enough credit,'' La Russa said. ''The first couple of innings, he made great pitches, then he pitched even better. He showed up so big for us.'' The Cardinals pelted Johnson for 10 hits in a 12-2 rout Tuesday night. Schilling, who had struggled in his last seven starts, proved a much tougher challenge. He scattered seven hits, struck out seven and walked one.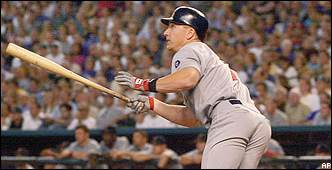 J.D. Drew got the Cards going with a solo HR in the third.
''Sometimes you do your job and still get beat,'' he said. Even the 2-2 pitch that Drew hit into the left-field seats was a good one. ''That was not your typical hanging home run pitch,'' Diamondbacks manager Bob Brenly said. ''It was a fastball down around the knees.'' Catcher
Damian Miller
called it ''a perfect pitch.'' ''It was down and away, maybe off the plate a little bit and below the knees,'' Miller said. ''It probably wasn't even a strike, but J.D.'s a pretty good hitter.'' Drew had one of two three-run homers off Schilling last week in Arizona's 6-1 defeat in St. Louis, but struck out in his first at-bat Thursday. ''That pitch was one I had used to get him out several times,'' Schilling said. A year ago, Schilling beat the Cardinals 1-0 in his first division series start. In Game 5, Drew's eighth-inning homer off Schilling tied the score 1-1, but Arizona advanced on
Tony Womack
's run-scoring single in the ninth. Schilling, 27-3 in the regular season, escaped a jam in the seventh inning Thursday.
Mike Matheny
singled with one out, then was forced at second on Finley's sacrifice attempt. That brought up Vina, who was hit in the leg near the strike zone while attempting to bunt. Vina got into a heated argument with plate umpire Bill Miller, who ordered the runner back to first, and Vina singled on the next pitch, putting runners at the corners. Schilling walked Drew on four pitches, loading the bases, then struck out
Jim Edmonds
to the cheers of the capacity crowd. Renteria, the hero of Game 7 for Florida in the 1997 World Series and persistent troublemaker against Arizona, led off the ninth with a single, then was sacrificed to second. Cairo, who had entered during a double-switch an inning earlier, singled up the middle. ''I'm blessed right now,'' Cairo said. ''I'm in the best organization in baseball. They have been treating me so well. To get that base hit makes it much better. What a beautiful day today for me.''
Jason Isringhausen
pitched a perfect ninth for the save. Vina was 4-for-5, making him 7-for-11 in the series.
Chad Moeller
, pinch-hitting for Schilling with two outs in the seventh, singled and Womack walked. Cintron then replaced Moeller as a pinch runner.
Junior Spivey
hit a grounder to Rolen at third. As Rolen picked up the ball, Cintron caught the third baseman's shoulder with a knee. The collision knocked off Rolen's glove and sent him spinning to the ground. Cintron was called out for interference.
Game notes
The roof was closed at Bank One Ballpark, even though it was 74 degrees outside at game time. The reason given by Major League Baseball was comfort of fans whose seats would have been in the sun. ... Arizona's
Luis Gonzalez
threw out the ceremonial first pitch, three days after surgery to repair his separated left shoulder. ... Drew plans surgery on his right knee after the season.
Copyright by STATS LLC and The Associated Press