Final
Anaheim leads 4-3 (as of 10/22)

8:30 PM ET, October 22, 2002
AT&T Park, San Francisco, California
| | | | | | | | | | | | | |
| --- | --- | --- | --- | --- | --- | --- | --- | --- | --- | --- | --- | --- |
| | 1 | 2 | 3 | 4 | 5 | 6 | 7 | 8 | 9 | R | H | E |
| ANA | 0 | 0 | 4 | 4 | 0 | 1 | 0 | 1 | 0 | 10 | - | - |
| SF | 1 | 0 | 0 | 0 | 3 | 0 | 0 | 0 | 0 | 4 | - | - |
SAN FRANCISCO (AP) -- They were relentless. At the plate, on the bases.
Game 3 at a glance
Hero
Scott Spiezio tripled in two runs in the third inning and then singled in another run in the fourth. In all, he reached base three times (he walked in his first plate appearance in the second inning).Goat
Livan Hernandez was awful, allowing six runs -- five earned -- in 3 2/3 innings. He also walked five in throwing 92 pitches, just 47 for strikes. The loss was Hernandez's first in nine career postseason outings.Key move
Mike Scioscia ordered a hit-and-run with two runners on and a 3-2 count to strikeout-prone Troy Glaus with one out in the third. Glaus singled to left to score one run and Spiezio then followed with his triple.Key stat
Darin Erstad has hit safely in all 12 of the Angels' postseason games, tying Derek Jeter's 1999 postseason record, and is batting .386 (22-for-57).Key stat II
Spiezio leads the Angels -- and all postseason players -- with 16 RBI this postseason.Looking ahead
Rookie John Lackey will start Game 4 for the Angels. He pitched 2 1/3 innings in relief in Game 2, throwing 32 pitches. In three appearances in the postseason, Lackey is 1-0 with a 1.46 ERA. Kirk Rueter will counter for the Giants. He's 1-1 with a 7.07 ERA in three starts this postseason and pitched six shutout innings in his last start -- the Giants' NLCS-clinching 2-1 win over the Cardinals.
The
Anaheim Angels
had their own idea of how to party at Pac Bell Park.
Scott Spiezio
,
Darin Erstad
and the Angels trampled San Francisco 10-4 Tuesday night, crashing the Giants' homecoming and taking a 2-1 lead in the World Series. ''I'm not going to say I'm surprised because I think if we can keep pressuring clubs the way we've been doing all year and in the playoffs, you have the potential to do something like we did tonight,'' Anaheim manager Mike Scioscia said. What they did was wreck the night for a pumped-up crowd that came to see its first World Series in this park and in the Bay area since the ''Earthquake Series'' of 1989. Tony Bennett serenaded fans with his signature song, Willie Mays threw out the first ball and
Barry Bonds
hit another huge home run. Trouble was, the Angels left neither their bats nor their hearts back in Anaheim. Spiezio drove in three runs, Erstad had three hits and the Angels battered
Livan Hernandez
, the postseason ace who recently boasted, ''I never lose in October.'' The Angels became the first team in Series history to bat around in consecutive innings, with a torrent of hits, walks and steals making it 8-1 in the fourth. ''Everybody knows that one run isn't enough, two runs aren't enough,'' Spiezio said. ''No matter how many runs we score, we're going to go up there and act like that's the biggest at-bat we've ever had.'' Suddenly, the lines at the wine stands and garlic fries counter got a little longer. This party, San Francisco-style, was all but over for the 42,707 fans. Even the guy who climbed the mast of a sailboat bobbing in McCovey Cove beyond the right-field wall soon was gone. ''We're just not keeping pace with the Angels right now. We're embarrassed a little bit today, but we'll come back from it,'' Giants second baseman
Jeff Kent
said. ''We always do.'' The Angels finished with 16 hits in keeping up a familiar pattern. They've lost the opener in all three of their postseason series this year, then didn't lose again. After dropping Game 1 to the Giants, they came back to win 11-10. ''We've been through tough times before,'' Erstad said. ''We have it rolling right now.'' And that added up to disappointment for the Giants, who listened to Bennett sing ''I Left My Heart in San Francisco'' from the mound before the first pitch. ''It was a tough night for us,'' San Francisco manager Dusty Baker said. ''They were hitting. They've been hitting the last two games. I don't know, hopefully they hit themselves out, I hope.'' Bonds did his best, becoming the first player to homer in his first three Series games. His 437-foot, two-run shot to center field came in the fifth, the same inning
Rich Aurilia
connected for the Giants, but only made it 8-4.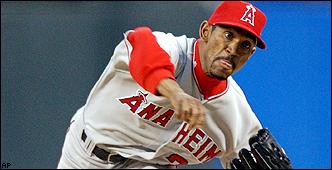 Ramon Ortiz didn't bring his best stuff to San Francisco, but the Angels' lineup gave him enough leeway to pick up the win.
''We just didn't pitch well, that's it. Bottom line,'' Bonds said. Bonds set a postseason record with his seventh home run and also drew two more walks. With 13 homers already, Anaheim and San Francisco are only four short of the record for any Series. The long balls are sure to further increase speculation that juiced balls are being used, though commissioner Bud Selig insists it's not so. Rather, the Angels proved little ball works just fine, too -- especially at the major league park where the fewest homers were hit this year. ''We scored a lot of runs today and we didn't hit any home runs. We have a lot of guys that are gap hitters,'' Spiezio said. Every Angels starter except winning pitcher
Ramon Ortiz
got a hit. No DH, no worry. And they coasted despite setting a nine-inning Series record by leaving 15 runners on base. ''We want everyone to be a part of it,'' Angels slugger Troy Glaus said. ''We're not trying to hit home runs, we just want to keep the line moving.'' Hernandez was chased after 3 2/3 innings, the worst start of a glittery postseason career that had seen him go 6-0. Instead, he looked like the pitcher who tied for the NL lead in losses, which he did with 16. Now,
John Lackey
will start for the Angels in Game 4 Wednesday night. He'll be pitching on his 24th birthday against
Kirk Rueter
. The fans were ready for fun from the start. After Bennett sang the city's favorite song, Mays threw out the ball to Bonds, his godson. The Angels scored four times in third and four more in the fourth for an 8-1 lead. Spiezio, who dyed Angel red streaks into his hair and goatee before Game 1, was in the middle of both big innings. After an error by sure-handed third baseman
David Bell
paved the way in the third, Spiezio lined a two-run triple to the deepest part of the field. The ball rolled to the 421-foot mark at the oddly angled corner in right-center field, and a really fast runner might've had a chance at the first Series inside-the-park homer since Mule Haas of the Philadelphia Athletics did it in 1929. ''It seemed like my legs weren't moving that fast,'' Spiezio said. Hernandez was pulled after
Garret Anderson
's RBI grounder in the fourth, set up when the Angels alertly pulled a double steal after the Giants' infield overshifted to the right side. The Angels poured it on with hits against -- and off -- reliever
Jay Witasick
. Spiezio pulled a ball to right,
Adam Kennedy
hit a liner off Witasick's right elbow and
Bengie Molina
delivered Anaheim's third straight RBI single.
David Eckstein
hit an RBI single in the sixth and the Angels added a run in the eighth when the Giants botched a comebacker.
Benito Santiago
gave San Francisco a 1-0 lead in the first with a slow groundout. The Angels intentionally walked Bonds with one out and runners at first and third to bring up Santiago. ''We didn't really want Barry to have a chance early to break it open,'' Scioscia said.
Game notes
Bonds joined Hank Bauer as the only players to homer in the first three games of any Series. Bauer did it for the Yankees in 1958. ... Giants Hall of Famers Juan Marichal, Willie McCovey and Orlando Cepeda also took part in the first-pitch festivities. ... Two other pitchers have started a Series game on their birthday: Pittsburgh's Brickyard Kennedy lost to Cy Young in 1903 and Brooklyn's Johnny Podres beat the Yankees in 1955. ... The Angels have batted around six times in this postseason.
Copyright by STATS LLC and The Associated Press