Final
Tampa Bay leads 1-0 (as of 7/7)
7:05 PM ET, July 7, 2011
Yankee Stadium, New York, New York
NEW YORK -- Jeff Niemann was determined not to become a two-time footnote on Derek Jeter's hit list.
More From ESPNNewYork.com

Derek Jeter understands the importance of 3,000 hits, and the Captain has shown up every day with class as he nears the milestone, writes Ian O'Connor. Story
---

For most of the Yankees, Jeter's quest for 3K is a chore. But for New York fans, the chase is pure enjoyment, writes Wallace Matthews. Story
The big right-hander gave up Jeter's 2,998th hit but little else,
B.J. Upton
homered and drove in three runs, and the
Tampa Bay Rays
beat the
New York Yankees
5-1 on Thursday night to start strong in a long stretch of games against their biggest division rivals.Back in September 2009, Niemann allowed Jeter's 2,721st career hit -- which tied Lou Gehrig for the Yankees record. That was on his mind in this game as he held the New York captain to a first-inning double."He already tied one record off me," Niemann said. "I knew I already had that one under my belt, so I didn't want him to have any more milestones off me for a while."
Ben Zobrist
homered, tripled and singled for Tampa Bay, which tagged
Bartolo Colon
early in one of the worst outings of his surprising comeback season.
Evan Longoria
had an RBI single and the Rays won the first of 11 straight games against New York and Boston, the two teams they trail in the AL East."I really believe it brings out the best in us. We were really up for that game tonight," Tampa Bay manager Joe Maddon said. "That's like playing the first game of a playoff series."The Yankees fell out of first place by a half-game when the Red Sox beat Baltimore.
Derek Jeter's Top 10 Moments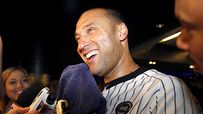 Derek Jeter has 3,000 hits, and counting. But is it his greatest accomplishment? ESPNNewYork.com ranks his 10 best moments. Our Top 10

Rank 'Em »
With a chance to hit for the cycle in the ninth, Zobrist walked for the second time in the game. The leadoff man reached safely in all five plate appearances.Jeter is trying to become the 28th major leaguer -- and first with the Yankees -- to reach 3,000 hits, one of baseball's biggest milestones. He doubled on Niemann's first pitch, then grounded out his next four times up and ended the night two short.With two runners on, Jeter made the last out of the game on a bouncer to third against ex-Yankee
Kyle Farnsworth
."After the first one, I'd be lying to you if I said I didn't think it was attainable today," Jeter said. "Early on, I thought I'd get a few."Rookie right-hander
Jeremy Hellickson
pitches for the Rays on Friday night.Niemann (4-4) went a season-high 7 1/3 innings, yielding only a homer by
Robinson Cano
in the sixth. The 6-foot-9, 260-pound righty gave up six hits and walked two, improving to 3-0 in four starts since missing six weeks with a strained lower back.
Before going on the disabled list, he was 1-4 with a 5.74 ERA in six starts."Him getting that deep in the game was really big for us. The Yankees have a tendency to wear out bullpens," Maddon said. "That was Jeff Niemann prior to the injury last year. That's what I saw."Colon (6-4) entered 4-0 with a 1.00 ERA in his past four starts, but he ran into trouble right away in his second outing since coming off the disabled list (strained left hamstring).The 38-year-old right-hander allowed five runs and a season-high 10 hits in 5 2/3 innings, dropping to 9-3 in 19 starts against Tampa Bay. He also matched a season high with four walks."He didn't have his good fastball. He didn't have the command he usually has," Yankees manager Joe Girardi said. "He just wasn't sharp tonight and you're going to run through starts like that."New York had won five straight home games and 11 of its last 13.Jeter, who came off the disabled list Monday in Cleveland, played his first game at Yankee Stadium since injuring his calf June 13, when he was six hits short of 3,000.Needing three to reach the plateau Thursday in the opener of a four-game series that leads into the All-Star break, it appeared a few things were lined up in his favor.Jeter began the night 5 for 9 (.556) in his career against Niemann, including three hits on the night he tied Gehrig. And the New York captain got off to another rousing start in this one.With a host of friends and family members in attendance, including his parents, Jeter smacked the first pitch he saw into left-center for a double, bringing a roar from the sellout crowd of 47,787.Charged-up fans rose to their feet and cameras flashed for each subsequent at-bat, but Jeter couldn't come through again and finished 1 for 5. Rays third baseman
Sean Rodriguez
made two nice plays to help deny Jeter."Everyone knows what's going on. There's no secret," Niemann said. "You really kind of have to bear down because no one wants that to be them."
Game notes
Niemann is 3-0 in six starts against the Yankees. He threw a season-high 114 pitches on a humid, 79-degree night. ... Rays RHP
Wade Davis
was placed on the 15-day DL because of a strained forearm. An MRI didn't reveal anything serious. RHP
Brandon Gomes
was recalled from Triple-A Durham. ... DH
Johnny Damon
was held out after leaving Wednesday's game with a bruised left hand when he was hit by a pitch from Twins LHP
Francisco Liriano
. ... Longoria was the DH, giving his sore left foot a bit of a break. ... Yankees closer
Mariano Rivera
said he was available to pitch, though he is skipping the All-Star game Tuesday because of soreness in his right triceps. Rivera hasn't pitched since Sunday, when he blew a save against the Mets. ... Colon had thrown 12 2/3 scoreless innings over his previous two starts.
Copyright by STATS LLC and The Associated Press
Photo Wire
NEW YORK, NY - JULY 07: Derek Jeter #2 of the New York Yankees hits a double in the first inning for career hit...
(Photo by Nick Laham/Getty Images)
Regular Season Series
Series tied 9-9 (as of Thu 7/7)
Mon 5/16
@TB 6, NYY 5
Recap
Tue 5/17
NYY 6, @TB 2
Recap
» Thu 7/7
TB 5, @NYY 1
Box Score
Fri 7/8
Postponed/Delayed
Information
Sat 7/9
@NYY 5, TB 4
Recap
Sun 7/10
@NYY 1, TB 0
Recap
Mon 7/18
NYY 5, @TB 4
Recap
Tue 7/19
@TB 3, NYY 2
Recap
Wed 7/20
NYY 4, @TB 0
Recap
Thu 7/21
@TB 2, NYY 1
Recap
Fri 8/12
TB 5, @NYY 1
Recap
Sat 8/13
@NYY 9, TB 2
Recap
Sun 8/14
Postponed/Delayed
Information
Tue 9/20
@NYY 5, TB 0
Recap
Wed 9/21
@NYY 4, TB 2
Recap
Wed 9/21
@NYY 4, TB 2
Recap
Thu 9/22
TB 15, @NYY 8
Recap
Mon 9/26
@TB 5, NYY 2
Recap
Tue 9/27
@TB 5, NYY 3
Recap
Wed 9/28
@TB 8, NYY 7
Recap
Complete Schedule: Rays | Yankees
Scoring Summary
TB
NYY
1st
E Longoria singled to center, B Zobrist scored, M Joyce to second.
1
0
3rd
B Zobrist homered to right (356 feet).
2
0
3rd
B Upton singled to center, C Kotchman scored.
3
0
5th
B Upton homered to left (359 feet), C Kotchman scored.
5
0
6th
R Cano homered to right (414 feet).
5
1
View complete Play-By-Play
Game Information
| | |
| --- | --- |
| Stadium | Yankee Stadium, New York, NY |
| Attendance | 47,787 (97.1% full) - % is based on regular season capacity |
| Game Time | 3:00 |
| Weather | 79 degrees, cloudy |
| Wind | 13 mph |
| Umpires | Home Plate - Derryl Cousins, First Base - Jim Wolf, Second Base - Ron Kulpa, Third Base - Gary Cederstrom |
Research Notes
From Elias:
Robinson Cano
now has 15 HR, 21 doubles and 5 triples this year. He's the first player to reach each of those totals this season. The last player to have 15+ HR, 20+ 2B and 5+ 3B before the break was
Jimmy Rollins
in 2007. The only other Yankees to have those totals before the All-Star break were Lou Gehrig (1936) and Joe DiMaggio (1941).
ESPN Stats & Information