Final
Tampa Bay leads 1-0 (as of 10/2)
8:07 PM ET, October 2, 2013
Progressive Field, Cleveland, Ohio
CLEVELAND -- They shut off the lights, cranked up the music and turned their clubhouse into a nightclub.
As Pitbull's "Don't Stop The Party" boomed off walls covered by plastic sheets, the Tampa Bay Rays sprayed each other with Silly String and emptied bottles of champagne as quickly as they could open them.
More Rays-Indians Coverage

Alex Cobb is a born competitor, and he has the kind of perspective that results from having survived adversity, Jerry Crasnick writes. Story
• Schoenfield: Shining Rays
• Edes: Red Sox await

This road trip isn't ending anytime soon.
"Nobody wants to go home," pitcher Alex Cobb said.
Next stop: Boston.
Dodging trouble for nearly seven innings, Cobb and the Rays pitched their way to another must-have win on the road, beating the Cleveland Indians 4-0 Wednesday night in the AL wild-card game.
Cobb, who missed a chunk of the regular season after he was hit in the head by a line drive, quieted a thundering Cleveland crowd and ended the Indians' unexpected season just one game into October.
Delmon Young homered in the third inning off rookie Danny Salazar as the Rays, playing in their third city over four days, advanced to face the AL East champion Red Sox in the best-of-five division series starting Friday.
"I felt like we've done it and been here before," said Desmond Jennings, who hit a two-run double in the fourth to give the Rays a 3-0 lead. "The road we took to get here was pretty tough, going to New York, Toronto, playing a game in Texas."
Cobb's comeback in August from his frightening injury helped stabilize the Rays, who have spent the past two weeks winning crucial games to reach the postseason for the fourth time in six years. He pitched out of massive jams in the fourth and fifth, and allowed two runners to reach in the seventh before turning it over to Tampa Bay's dependable bullpen.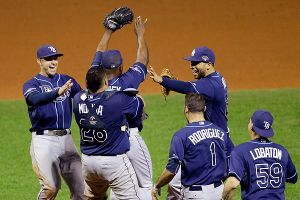 AP Photo/Mark Duncan
Rays players mob reliever Fernando Rodney after he closed out the Indians in the AL wild-card game Wednesday night.
"Maybe it was good that I got into some jams," Cobb said. "It made me slow down and make the pitches that I needed to."
Fernando Rodney worked a perfect ninth, striking out Lonnie Chisenhall to end it. Rodney dropped to one knee, pointed skyward and soon was mobbed by all the Rays, who may be homesick but aren't complaining about being Boston-bound.
"I've got to wash some clothes or buy some socks or something," first baseman James Loney said.
Unfazed by a raucous, red-clad, towel-waving crowd of 43,579 that roared like a jet engine inside Progressive Field, the Rays handled the Indians and will now face their division nemesis, the Red Sox, who went 12-7 against Tampa Bay this season.
David Price set the tone for the Rays' postseason run by throwing a complete game to beat Texas in the wild-card tiebreaker Monday night, and Cobb picked up where his teammate left off. After he was pulled in the seventh, Cobb walked to the dugout where he was first greeted with a high-five from Price.
"The adrenaline was going pretty fast there in the early going," Cobb said. "Once Delmon hit that home run, I tried to fill up the strike zone. My stuff wasn't the best, but I made my defense work. They were awesome."
Since Sunday, the Rays have won in Toronto, Texas and now Cleveland. Their next destination -- Fenway Park -- won't be any more welcoming.
Alex The Great?
Alex Cobb held the Indians off the scoreboard through 6.2 innings Wednesday night, but it was far from easy. The right-hander allowed eight hits, the third-most given up in a scoreless postseason outing in AL history. Here's a look:
Year, Series
Pitcher
Hits
1943 WS
Spud Chandler*
10
2004 ALDS
Johan Santana*
9
1997 ALCS
Charles Nagy
9
1959 WS
Bob Shaw*
9
2013 ALWC
Alex Cobb*
8
1985 ALCS
Danny Jackson*
8
* Won game
-- ESPN Stats & Information
"It's been a blur. I don't know if that's because of the concussion or it's just been up and down all year," Cobb said. "You know, I came out of camp not even knowing if I was going to be on the team."
A few months later, he wasn't even sure he would pitch again this season.
On June 15, Cobb suffered a concussion when he was struck in the right ear by a line drive hit by Kansas City's Eric Hosmer. Cobb was sidelined for 50 games and Tuesday recalled lying on his sofa and wondering if he would be able to help the Rays again. In 2011, he missed the playoffs after undergoing surgery to remove a blood clot.
But not only did Cobb go 5-1 after his scary moment, the 25-year-old finished 11-3 in 22 starts and manager Joe Maddon didn't hesitate giving him the ball for the winner-take-all wild-card game.
"They're nerve-racking, but it's going to be no different in Boston," Evan Longoria said. "There's a little comfort knowing we're going to play a series, but at the same time we have to play every game like this one."
The Indians went from 94 losses a year ago to 92 wins under first-year manager Terry Francona and won their last 10 games to make the postseason for the first time since 2007.
But it was one and done for Cleveland, which didn't capitalize on scoring opportunities. The first three hitters, Michael Bourn, Nick Swisher and Jason Kipnis, went a combined 0 for 12.
"It hurts. We didn't want to go home yet," Francona said.
The road-tested Rays, who have traveled 3,627 miles since leaving home on Sept. 23, gave Cobb a three-run cushion on Jennings' double.
SportsNation: Division Series predictions

The division series are set. Who ya got? Which will be the best series? Which teams will meet in the World Series? Vote!
Cobb was in trouble in the bottom of the inning as the Indians loaded the bases on a double, single and walk. But he got Asdrubal Cabrera to hit a grounder to Loney, who threw to second for a force and shortstop Yunel Escobar fired to Cobb covering first for the double play.
Cobb pumped both fists in celebration, knowing he had escaped danger.
The Indians threatened again in the fifth, putting two on with none out. But Cobb struck out Bourn, got Swisher to ground to first and retired All-Star Jason Kipnis on a soft-as-cotton comebacker.
"I think more than they did not come through," Maddon said, "you've got to give him credit for making big pitches when he had to."
Game notes
Young is appearing in his fifth straight postseason: two with Minnesota, two with Detroit and this one with Tampa Bay. ... Indians reliever
Chris Perez
, who lost his closer's job in the final week of the season after two horrid performances, was kept on the 25-man roster for the game. Francona said it "wasn't a tough decision" and said part of it was out of loyalty to the two-time All-Star. ... Rays RHP
Jamey Wright
was selected to his first postseason roster in his 18th major league season. ... Former Indians slugger
Jim Thome
was in attendance and got a rousing ovation when shown on the scoreboard.
Copyright by STATS LLC and The Associated Press
Photo Wire
CLEVELAND, OH - OCTOBER 2: Jose Molina #28 of the Tampa Bay Rays warms up prior to the American League Wild Card...
(Photo by Jared Wickerham/Getty Images)
Scoring Summary
TB
CLE
3rd
D Young homered to left (400 feet).
1
0
4th
D Jennings doubled to left, J Loney and E Longoria scored.
3
0
9th
Y Escobar singled to right, B Zobrist scored, D Young to second.
4
0
View complete Play-By-Play
Game Information
| | |
| --- | --- |
| Stadium | Progressive Field, Cleveland, OH |
| Attendance | 43,579 (103.2% full) - % is based on regular season capacity |
| Game Time | 3:40 |
| Weather | 69 degrees, clear |
| Wind | 2 mph |
| Umpires | Home Plate - Gerry Davis, First Base - Ted Barrett, Second Base - Mike Everitt, Third Base - Greg Gibson |
Research Notes
The Rays last home game was Monday, September 23 against the Orioles. Tampa Bay is in the midst of a 10-game "road trip" (7 regular season, 1 Wild Card and 2 ALDS). Their NEXT home game will be Monday, October 7 in Game 3 of the ALDS.
The Rays blanked the Indians 4-0 Wednesday, their second shutout in 26 postseason games all-time. Their only other shutout was in Game 1 of the 2011 ALDS against the Rangers.
[+]
The Indians have now been eliminated from postseason play at home four times. This was the first time since 1999 when they lost to the Red Sox in the ALDS (when
Pedro Martinez
beat them with six hitless innings in relief).
ESPN Stats & Information