Commentary
Hampton hoping to make triumphant return to mound
Originally Published:
March 6, 2008
By
Jayson Stark
| ESPN.com
LAKE BUENA VISTA, Fla. -- It was the night before the first day of the Atlanta Braves' spring-training camp. And as Mike Hampton lay in bed, forcing his eyes to close, his brain kept asking the same question:
Why couldn't he sleep? It was his 18th spring training. His 18th. So there was a time in this man's life that this would not have felt like the most nerve-racking day (or night) of the year. But that time wasn't this time. So he fussed, stirred, tossed, turned. Even lectured himself.
[+] Enlarge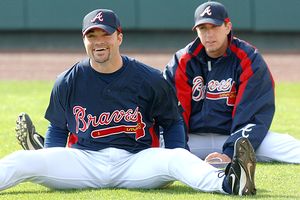 AP Photo/Phelan M. EbenhackMike Hampton last appeared in a major league game on Aug. 19, 2005.
"I'm like, 'C'mon, dude, you've done this before. It's not your first time,'" Mike Hampton says, laughing. There are occasions in all our lives, however, when the things we've done forever take on new meaning. And for a certain 35-year-old left-hander riding down that comeback expressway, this spring training is one of those occasions. This is going to be the year, Mike Hampton keeps telling himself, when he can stuff all his troubles into the ancient-history books. When a pitcher's mound will wait for him every five days. When he can do what once seemed so routine -- 32 or 33 starts, 200 innings, double-figure wins. What he's attempting to do, though, is tougher, more unprecedented than he would ever guess. Miss two full seasons, then come back -- at his age -- to rattle off 10 or 12 or 15 wins? Almost never happens. Matter of fact, it hasn't happened in more than 60 years. Want to guess the last pitcher, age 35 or older, who won 10 games or more after being out for two years? Good luck. The answer, according to the Elias Sports Bureau: Schoolboy Rowe, who went 11-4 for the 1946 Phillies after missing all of 1944 and 1945. Except he hadn't even been hurt. Joined the Navy during World War II. So no wonder you don't hear the Braves filling up any notebooks this spring with predictions about all the games Hampton is going to win, no matter how many scoreless innings he piles on top of the two he unfurled in his first start of the spring. After all they've seen, and all he's been through, they'll just take what they get. Whatever that is. "There's clearly nothing wrong with his arm, based on what we've seen, that would keep him from being a real quality major league pitcher still," says GM Frank Wren. "So we're just going to leave it at that." But, the good news is, Hampton has managed to make it through almost three weeks of spring training without an ache, a pain, a twitch or a tweak. And even that feels practically miraculous at this point. These past 2½ years, his career has felt like a TV version of someone else's life. But what would we call it? "Mike's Anatomy?" ... "Atlanta Hope?" ... "Without a Trace?" It's been more than 900 days since Mike Hampton pitched in a real major league baseball game. Since the last time he won a game,
Josh Beckett
has won 40 games. Since the last time he even threw a pitch that counted,
Livan Hernandez
has thrown more than 7,000 pitches. Just to recap the lowlights on Hampton's medical chart, he missed the last month and a half of the 2005 season with elbow issues. ... He was out the entire 2006 season after undergoing Tommy John surgery. ... He missed the whole 2007 season with a torn tendon in his elbow. ... He couldn't even make it through his first frigging inning of winter ball in Mexico last November without popping his hamstring. Hey, at least he hasn't come down with bird flu. ... Yet. He's been a certifiable medical nightmare, all right. And Mike Hampton is the first to admit he hasn't been anybody's idea of a model patient. "You know how everybody says, 'The biggest thing is don't get too high and don't get too low?' Well, I haven't done a good job of that," he says. "I have not done a good job of that at all."

I think I've been from the South Pole to the North Pole, in an emotional sense.
--Mike Hampton
He's a man whose tachometer is always about ready to explode in the best of times. So imagine what he was like in the worst of times. His competitive inferno never stopped burning. But he had no outlet to unleash it. For 2½ years. "It's like having a fire in Phoenix in August," Hampton says. "I mean, what's the use? It's already 120." You might have thought that all that time in rehab purgatory would have doused that fire, broken him down, had him thinking, "What's the use?" But if you suspected that, you couldn't possibly be more wrong. "Not one time have I ever thought that," he says now. "I'm like, 'Man, I'm getting back. I'm gonna pitch. I'm gonna pitch some more. I'm not done.' I still have a passion for this game, and I still feel like I can be a quality starter." From 1997 through 2000, before the state of Colorado and his major medical coverage came into his life, Hampton averaged 16 wins, a 3.30 ERA and nearly 223 innings a season. The only left-handed pitchers in baseball who beat those numbers in that span were
Randy Johnson
and
Tom Glavine
. But can he ever be
that
guy again? Even Hampton himself isn't sure. Asked if he could even be the same
style
of pitcher now, Hampton says: "I really don't have an answer for that. As you get older, a lot of things should change. But we try to do it the way we've always done it. So I really don't have an answer for that until I get out there and do it." When we try to measure the toll that nonstop injuries exact on a man, this is an area we rarely measure. But think how odd that must be, wondering if you need to tone down all the things that once seemed so natural. "It's odd. It is," Hampton says. "I've talked to our training staff, and they're like, 'Dude, you've got to take it easy here. Let's work our way into it.' And I'm like, 'That's easier said than done.' But I know. Not just my arm, but my whole body, has to get used to baseball again." But in his mind, he can feel it now. He can envision being a real baseball player again. He can smell the dirt of the mound. He can hear the roar of the crowd. He
is
coming back. But he is coming back a different man. After all this time on the outside, how can he not have a different perspective on being allowed back on the inside again? "Before, I think I took going out there every fifth day for granted," he says. "I took wins for granted. I thought, 'You know, I'm a pretty good pitcher. I'm supposed to win games.' But now I think I'll enjoy the simpler things about the game. "Like making that fifth start. Like being around the guys. Like traveling with the team. Like knowing that your guys have confidence when you step on the mound. And just being out there competing." It seems like a decade since he was able to go out and just do that -- just compete. But heck, it seems like a century ago that he signed that landmark eight-year, $121 million contract with the Rockies back in December 2000. Doesn't it? "It does," Hampton says. "At the time, one of my kids [Griffin] was just born. And now he's in second grade. So it does seem like a longggg time ago." Now just one season (at $15 million) remains on that contract. Yeah, finally. And it's safe to say the first seven years haven't gone how anyone expected. All these injuries? Look, just about everybody who pitches for a living gets hurt eventually. But a guy as durable and athletic as Mike Hampton was one of the last pitchers you'd have figured on to miss two full seasons in a row. The money? It always seemed like way too many dollars (and years) to give to any pitcher. But while it wouldn't have been crazy to predict Hampton wouldn't finish that contract as a Rockie, who would have guessed that the three teams he has been paid by (Rockies, Marlins and Braves) would include one (Florida) he never threw a pitch for.

What I guess I'd like to do is come back, win the World Series this year, pitch Game 7 ... and then play another 10 years.
--Mike Hampton
And the return for that money? Hey, the guy was heading for Coors Field, so you knew he wasn't going to lead the league in ERA. But you can find 81 different pitchers who have won more games than Hampton has (53) over these past seven years -- including the likes of
Josh Fogg
,
Rodrigo Lopez
and
Steve Trachsel
. Who'd have thunk that, either? So it's been quite a journey, all right. Hampton shakes his head at the thought of it. "I think I've been from the South Pole to the North Pole, in an emotional sense," he says. But now here he is, back in spring training, with a baseball in his hands. So if he can just keep his body from self-destructing on him, he can write a whole new ending to his script. And don't think he hasn't thought about that script. "What I guess I'd like to do," he says, "is come back, win the World Series this year, pitch Game 7 ... and then play another 10 years." Ten more years, huh? Meaning what -- without any more surgeries? "Know what? I think I've pretty much got that out of the way," Mike Hampton says, chuckling. "I don't think I've got any more parts they can duct-tape."
Jayson Stark is a senior writer for ESPN.com. His book, "The Stark Truth: The Most Overrated and Underrated Players in Baseball History," was published by Triumph Books and is available in bookstores. Click here to order a copy.
Senior Writer, ESPN.com
Senior writer for ESPN.com
21 years at the Philadelphia Inquirer
Author of three baseball books
EDITORS' PICKS
The BBTN 100 looks at the top 10 catchers.
Rankings »

Bryce Harper will reach his 40-home run power ceiling, Jim Bowden says.
Blog

Questions remind about Jason Heyward's ability with the bat.
Jerry Crasnick »

MOST SENT STORIES ON ESPN.COM