Commentary
Twins not deflated despite the losses of Hunter and Santana
Originally Published:
February 19, 2008
By
Sean McAdam
| Special to ESPN.com
FORT MYERS, Fla. -- This past offseason might not be the worst in the history of the Minnesota Twins -- that would have been following the 2001 season, when contraction threatened the very existence of the franchise -- but it probably qualifies as a close second.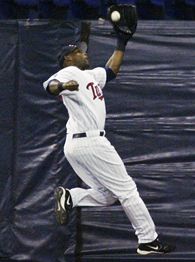 AP Photo/Paul BattagliaBefore signing with the Angels this past offseason, Torii Hunter played the first nine years of his career with the Twins.
In the span of less than two months, the Twins lost arguably their best player and inarguably their best leader when
Torii Hunter
bolted via free agency and signed with the
Los Angeles Angels
. Later, the team dealt
Johan Santana
, the only two-time Cy Young Award winner in team history, to the
New York Mets
. The losses were a brutal combination, a one-two punch to the collective gut. It's impossible to lose that much talent in one winter and not be affected, but as the Twins report to spring training this week, don't expect to hear them feeling sorry for themselves. For one thing, the Twins saw both moves coming and regarded them as almost unavoidable. Once
Alex Rodriguez
returned to the Yankees, Hunter may have been the best position player on the free agent market. And in a winter in which a number of top pitchers were made available for trade, Santana was unquestionably the best of the lot. To think that a small-market team like the Twins could have retained both just wasn't realistic. "I think those changes were inevitable,'' said Twins right fielder
Michael Cuddyer
. "We were prepared for it. It happens and you move on. It's just the way the game is now. You can't keep everybody, but we're not scared to lose players.'' That the Twins were prepared for the loss of Hunter and Santana is an understatement. Last season, particularly as the team drifted out of contention in the second half, the fate of both players became the unintended focal point for the Twins. "From mid-season on,'' recalled manager Ron Gardenhire, "that was our season and that took away from the fun. Whatever city we went to, all we heard was 'Are you going to trade Johan? Are you going to re-sign Torii?''' The talk was particularly tough for Santana, who is not nearly as outgoing and gregarious as Hunter. Hunter's case was different -- he was heading to free agency and would either return to the Twins or sign elsewhere. Santana's options weren't as simple. He could have signed a contract extension with the Twins, or they could have traded him or they could have held on to him and had him pitch the final year of his multi-year deal with Minnesota. In Gardenhire's mind, the last option would have been the toughest. Both the pitcher and the team would have had to again deal with his lame-duck contractual status -- in spring training, at the start of the season and again at the July 31 trading deadline.
Twins starters (without Santana)
Year
W-L
ERA
2007
44-52
4.62
2006
51-50
5.07
2005
38-48
4.24
2004
39-40
4.52
Total: 172-190, 4.60;
Santana: 70-32, 2.89
"The final outcome wasn't what we wanted,'' said Gardenhire, "but for Johan and the ballclub, this was probably the easiest solution. As tough as it is, we don't have that hanging over our heads anymore.'' If there's a franchise that's an expert at dealing with the loss of talented players, it's the Twins. Economics have cost them, among others:
Chuck Knoblauch
,
Corey Koskie
,
David Ortiz
,
Eric Milton
and
Jacque Jones
. "It doesn't get any easier,'' said Gardenhire. "I think Cuddyer is the only player left from 2002, my first year managing. It's never easy when you lose players -- especially high-quality players like Torii and Johan.'' But precisely because the game itself nearly sacrificed them altogether seven years ago only to have the team qualify for the postseason four times in the next five years, the Twins have grown accustomed to wrapping themselves in the mantle of underdogs. "We like that role,'' said Twins catcher
Mike Redmond
. "We fit that role. It's part of being the Twins. It's more of an unstated thing; we don't talk about being underdogs. But it's part of our makeup, I think.'' Gardenhire confesses that he isn't above using the team's status as perceived also-rans as a motivational tool. "It's a great route to go,'' he said with an impish grin. "Do I use it? Sure -- all the time.'' That attitude translates to the playing field, too. The Twins may not be able to outspend many teams, but there's nothing stopping them from outworking opponents. Under Gardenhire -- as was the case with his predecessor, Tom Kelly -- the Twins place an emphasis on work ethic and preparation. They remain one of the few teams that still take infield practice before most games. "A lot goes into being successful,'' said Redmond. "It's not just about money. I'm always amazed at the way players come through the minor league system and come here very polished. They teach them how to play the game right.''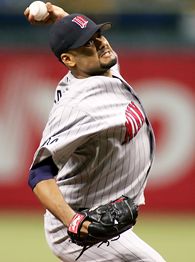 AP Photo/Mike CarlsonJohan Santana won two American League Cy Young Awards and had a combined 2.89 ERA over the past four seasons with the Twins.
It helps, too, that the Twins have built a reputation for identifying young talent -- whether it be through the draft (Cuddyer, first baseman
Justin Morneau
and catcher
Joe Mauer
) or through trade (left-handed starter
Francisco Liriano
and closer
Joe Nathan
). "I trust the organization, I trust the front office, I trust the scouts and I trust the minor league people to find a way,'' said Gardenhire. Even as the team was listening to offers for Santana, it was securing some others to long-term extensions, led by Cuddyer and Morneau, the 2006 AL MVP. Those moves helped to cushion the blows at least a bit, as did the acquisition of outfielder
Delmon Young
and the quartet of prospects obtained for Santana. Far from a deflated bunch, the Twins are determined -- and a bit defiant. "I look at it like this -- there are great opportunities for young players here,'' said Redmond. "We feel we can still go out and compete. We had those guys [Hunter and Santana] last year and we didn't win. Who's to say we can't have a tremendous season?''
Sean McAdam of The Providence (R.I.) Journal covers baseball for ESPN.com.
EDITORS' PICKS
The Red Sox DH denied ever knowingly using steroids.
Story »

Continuing the BBTN 100 rankings with a look at the top 10 first basemen starters.
Rankings »

Mike Olt steals the spotlight from Kris Bryant -- for one day.
Story »

MOST SENT STORIES ON ESPN.COM