Phillies' Romero out until June 1
Updated:
February 14, 2009, 4:43 PM ET
By
Jayson Stark
| ESPN.com
CLEARWATER, Fla. -- Suspended Philadelphia Phillies pitcher J.C. Romero said Saturday that he wasn't aware of baseball's toll-free drug hotline until after he had already tested positive for a banned substance contained in an over-the-counter supplement.
Romero, who was suspended for the first 50 games of this season for "negligence" in not checking out the supplement, told reporters Saturday before the Phillies' first full day of spring-training workouts: "I was aware [of the hotline] afterwards."
But the 32-year-old lefthander continued to maintain he made every effort to determine the ingredients in the supplement known as 6-OXO, which he says he purchased from a GNC store in Cherry Hill, N.J.
"

I have players who are superstars in the game, and they're good friends of mine. And they ask me, 'WHAT 1-800 number?' So there's definitely a communication thing going on here.

"

-- Suspended Phillies pitcher J.C. Romero
"It's for you guys to decide what negligence means," Romero said. "But I [asked] my nutritionist and my strength coach I've been working with. I took my supplements to another person to make sure the label didn't have anything that ... had any kind of banned substance."
However, an arbitration panel rejected that argument before Romero was suspended in January, in part because he failed to go through proper channels to check the supplement in question.
When pressed by ESPN.com on whether he recalled MLB's making all players aware of the hotline last year in spring training, Romero replied: "They probably did. But we have meetings at 7:30 in the morning, sometimes 8:30 in the morning in spring training. You can take most of the people here, and 8:30 in the morning, their bosses start talking, and they're not going to pay attention to everything they say. ...
"So I'm not trying to say that they didn't say that to me. But I would say I didn't know about the 1-800 number. I didn't have any reason to believe I was doing anything wrong because I was very careful from the get-go. Since the system was in place, I was very careful about it. I was trying to really do things the right way because really, I didn't want none of this to happen."
Romero also said he isn't the only player in the game who is unfamiliar with the hotline, which is run by the National Center for Drug-Free Sport. And he said there needs to be better communication about the system -- "especially with the Spanish-speaking players."
[+] Enlarge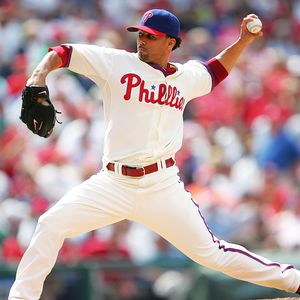 Paul Jasienski/Getty ImagesJ.C. Romero is on Puerto Rico's provisional roster for the World Baseball Classic, but he wants to see how his arm feels first.
"I have players who are superstars in the game, and they're good friends of mine," he said. "And they ask me, 'WHAT 1-800 number?' So there's definitely a communication thing going on here."
MLB spokesman Pat Courtney declined to comment. But according to one source familiar with the case, Romero almost certainly would not have been suspended if he had consulted the hotline, instead of his nutritionist and his strength coach, about the legality of the supplement.
The source said players are informed about the toll-free number in spring training, given a wallet card with the number and have posters in every clubhouse, reminding them of the existence of the hotline.
In addition, a DVD on supplements and related information is shown in each clubhouse every spring.
However, Romero complained that since he learned about the toll-free number, he had been told that it doesn't respond to players' questions quickly enough.
"After we went through this whole deal, I find out that 1-800 was a very slow process," Romero said. "In order for that to work, we have to send all our supplements before the season. And if you do that, you're going to run out of supplements."
It was because he ran out of a supplement he had used for several years, he said, that he wound up buying 6-OXO. Because the other supplement was "kind of expensive," he decided to try something new.
"So $52 cost me $1.3 million," he said.
Since Romero's positive test, the union has sent a memo to all players informing them that 6-OXO would cause them to test positive for androstenedione, an anabolic steroid that has been banned by Major League Baseball. The supplement was developed by Patrick Arnold, a chemist who served three months in prison in connection with the BALCO scandal.
Romero says the union previously had led all players to believe there was no reason to worry that any over-the-counter supplement would result in a positive test. For that reason, he called his 50-game suspension "ridiculous" and "unfair."
He is permitted to participate in all spring-training drills and exhibition games. But he won't be allowed to pitch during the regular season until June 1.
Still uncertain is whether Romero will pitch for Puerto Rico in the World Baseball Classic. He's on the provisional roster and said he "probably will" participate. But he said he first wants to see how his arm feels during spring training.
"They've got me on the roster," he said. "But I've got to make sure I'm smart about it."
Jayson Stark is a senior baseball writer for ESPN.com.
Senior Writer, ESPN.com
Senior writer for ESPN.com
21 years at the Philadelphia Inquirer
Author of three baseball books