A-Rod meets with Boss after workout
Updated:
February 19, 2009, 3:04 PM ET
ESPN.com news services
TAMPA, Fla. -- Alex Rodriguez is pleased with the warm reception he's been given by Yankees fans following his admission that he used a banned substance for three years before joining New York in 2004.
The three-time MVP has been cheered during two days of workouts at Steinbrenner Field. Following practice Thursday, he went upstairs to the team office and met with owner George Steinbrenner, who was at the complex for the first time since spring training began.
Rodriguez would not discuss Major League Baseball's plan to have officials of its investigations department interview him. During a news conference Tuesday, Rodriguez said a cousin injected him with "boli," a substance obtained in the Dominican Republic, from 2001 to 2003.
The cousin is Yuri Sucart, Sucart's wife, Carmen, confirmed to ESPN on Wednesday night.
Rodriguez will be asked to give a full account of how extensive his drug use was, two sources familiar with MLB's plans told ESPN's T.J. Quinn.
Information from The Associated Press was used in this report.
SPONSORED HEADLINES
MORE MLB HEADLINES
MOST SENT STORIES ON ESPN.COM
A-ROD FACES THE MEDIA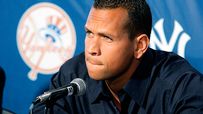 Alex Rodriguez arrived at Yankees camp Tuesday and answered questions about his admission of using performance-enhancing drugs during 2001-2003 with the Rangers.
NEWS
ANALYSIS
VIDEO
AUDIO
SPORTSNATION