Commentary
The lifeblood of Boston
Intense yet fun-loving, Kevin Youkilis and Dustin Pedroia set tone for Red Sox
FORT MYERS, Fla. -- Boston's big right-handed bats are competitively driven and follicly challenged. Kevin Youkilis readily admits that his lack of plate coverage prompted him to declare surrender and shave his head, but Dustin Pedroia continues to fight the good fight. When Pedroia arrived at spring training this year with a semblance of growth where a buzz cut used to be, his new look became a popular topic of debate in the Red Sox clubhouse.
"I love it, man,'' outfielder Mike Cameron said. "He has to slick it down and get some gel in it, though. If you're gonna go Hollywood, you've gotta go all the way.''
Youkilis' scouting report isn't so charitable. First he observes that Pedroia is trying to "bring back the comb-over.'' Then he suggests Pedroia's haircut should be called "The Big Ern,'' in tribute to Bill Murray's Ernie McCracken character in the bowling movie "Kingpin.'' Finally he opts for a different sports analogy.
"It looks like the tee box at a par 3 at the Masters after everyone has been hacking away all weekend,'' Youkilis said. "There's only a little bit of grass left there.''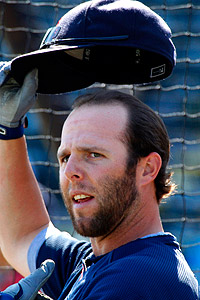 AP Photo/Gene J. PuskarLook out, Tom Brady! Here comes Dustin Pedroia, and he's driving "The Convertible."
The Yawkey Way chapter of the Hair Club for Men isn't kind to the hypersensitive. But it's the place to be if you're partial to sweat, grime, calluses and old-fashioned baseball values -- reminders of the days when players didn't tweet their lunch plans or meet behind the cage during pregame stretching to discuss their agents' commissions. And it's one of several reasons the Red Sox are feeling good about their chances for a postseason berth and a deep run in October.
Much of the attention at Boston's camp this spring has centered around $142 million left fielder Carl Crawford and first baseman Adrian Gonzalez, who arrived from San Diego by trade in December and is on course to sign a nine-figure deal of his own shortly. Manager Terry Francona also is enthused by the return of center fielder and leadoff man Jacoby Ellsbury, who played a total of 18 games last season because of fractured ribs.
But if you're searching for the pulse of the Red Sox -- the engine room of the team bandwagon, as it were -- it can be found in the section of the clubhouse where the second baseman and third baseman locker side by side. Pedroia and Youkilis bring balance to a predominantly left-handed hitting lineup and a competitive edge that doesn't win them popularity points in the opposing dugout or box seats.
"They kind of set the tone for our philosophy as an offensive club,'' Red Sox hitting coach Dave Magadan said. "They grind out their at-bats. They're relentless. And for the most part, they make the pitcher make three quality pitches to get them out, not just one. So you're going to have to continue to execute pitches to get them out. That's what we want all our guys to do.''
No days off
Pedroia, 27, has already pocketed rookie of the year and MVP awards, three Silver Sluggers and a Gold Glove. Although he's not blessed with speed, he has an 82 percent stolen base success rate. And his career ratio of 215 walks to 184 strikeouts is testament to his ability to get on top of high fastballs and spoil breaking balls off the outside corner.
Youkilis, 32, has two All-Star appearances and a Hank Aaron Award in his personal collection, and a .394 on-base percentage that's 11th best among active players with at least 3,000 career plate appearances. (For sake of comparison, Matt Holliday, Miguel Cabrera, J.D. Drew and Alex Rodriguez are 12th through 15th). Pedroia, Youkilis and Red Sox DH David Ortiz all ranked among the top six in the American League in pitches per plate appearance in 2010.
But last year was not one to remember for either player. Pedroia fouled a ball off his left foot in San Francisco in late June, tried in vain to come back, then shut it down for good after surgery to repair a broken navicular bone in September. Youkilis was slugging a whopping .798 against left-handers when he went down with season-ending thumb surgery in August. All that DL time finally caught up with the Red Sox, who finished with 89 victories but failed to surpass 90 for only the second time in nine seasons.
In sunny Fort Myers, Boston's resident grinders are rounding into form in preparation for the April 1 opener in Texas. Youkilis hit an opposite-field homer in an exhibition game against Boston College in his first spring at-bat, and has spent the time since trying to find his stroke and grousing each time he rolls over a pitch and pulls a weak grounder to the left side. Pedroia has managed to collect his share of hits through a combination of bat control and hand-eye coordination, but he's yet to drive the ball with much authority in the Grapefruit League.
Still, some things never change. Before a game at City of Palms Park this week, Francona ran Boston's position players out early for some good old-fashioned infield practice. The proceedings had just begun when Pedroia ranged to his right and dirtied his uniform pants. Youkilis, meanwhile, looked perfectly at home in his transition from first base back to his natural position at third.
"Their motors run at a high rate,'' Francona said. "When they were gone, it wasn't just their production -- it was the way they played the game. We missed that.''
[+] Enlarge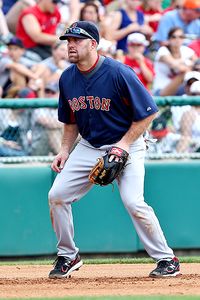 Derick E. Hingle/US PresswireGoing first to third: Kevin Youkilis will be manning the hot corner this season.
Although it might seem odd to commend millionaire big leaguers for playing hard every single day, the demands of a long season make for one giant weeding-out process. Factor in jet lag, day games after night games, sick kids at home and getaway days in Cleveland in front of 12,000 fans, and players are bound to lose their focus here and there, right?
Not these two.
"I think any manager, coach or fan can appreciate a guy who does everything on the field with 100 percent, full max effort,'' Tampa Bay manager Joe Maddon said. "When you're able to put out that kind of physical and mental energy as an everyday player, it's very impressive. The Red Sox have a great thing going with those two guys. They're any manager's dream.''
Early in Youkilis' tenure with Boston, he was so emotionally invested in every pitch that it did a number on his staying power. In his first two seasons as a regular, Youkilis hit .311 before the All-Star break and .248 after it. That gap has narrowed in the three years since, but his .253 average in September makes it easily his worst month.
"When I look at Youk after a game, he's exhausted,'' Francona said. "He looks like he's played a football game. But he's proved he can do it. He used to wear down his first couple of years in the league, but he doesn't do that anymore.''
Youkilis grew up following Barry Larkin, Eric Davis and the Reds in his hometown of Cincinnati, but his on-field demeanor is more reminiscent of Paul O'Neill, who was notorious for venting after unproductive at-bats -- or even productive at-bats that failed to go just so. The ranting and raving could easily be perceived as selfish if Youkilis didn't finish emoting and then sit in the dugout and root just as fervently for his teammates.
Youkilis seems to regard it as a badge of honor when opponents don't appreciate his act. He recalls how Eric Hinske came to Boston from Toronto a few years ago and told him how intensely some Blue Jays disliked him. "I have people tell me all the time, 'You're a way different person off the field,'" Youkilis said. He asks only that his fellow Red Sox accept him for who he is, because the outbursts clear his mind and help him be a better player. The underlying emotion also comes from the heart and is governed by certain rules of baseball etiquette.
"Oh yeah, I'm an a--hole on the field -- bitching, moaning, yelling into towels or yelling at myself at the top of my lungs,'' Youkilis said. "I'll throw a glove down or a towel or a cup, but I don't break bats or helmets, and I won't knock over a water cooler. That should be the No. 1 rule in baseball: Nobody should knock over a water cooler unless the game is over. Because no one gets to drink the water.''
The quintessential pest
If Youkilis is Boston's Human Scowl, Pedroia is the team's lovable irritant. He's the annoying little brother who keeps pestering the big kids to play, until they finally relent and discover that, to their surprise, he's better than everybody else. Worse yet, once he's comfortable, they have to listen to him talk about it.
Cameron, a 15-year veteran, places Pedroia in a category with Bret Boone, Ozzie Guillen, Tony Phillips and Marcus Giles -- former teammates who were relatively undersized, liked to talk and weren't afraid to back it up.
"All those little guys,'' Cameron said. "Chitty-chatty, chitty-chatty, all day long.''
Francona opts for a different comparison. He sees some of the same qualities in Pedroia that were so evident in his former Montreal Expos teammate Pete Rose.
"Pedey has the same quick wit as Pete, and he doesn't miss anything on the field,'' Francona said. "It might be considered arrogant if you didn't know him. But he's such a great teammate and he gives you everything he has all the time, so he's able to pull it off.
"Even when he does something wrong, it's not for lack of trying. There are times I've turned around and looked at him, and he's said, "Don't [expletive] yell at me! I know I [messed] up!' I think we're fortunate to have him, so we might as well enjoy him.''
Tough-mindedness is a prerequisite in Boston, where even bench players and middle relievers don't have the luxury of muddling along in anonymity. Johnny Damon, Curt Schilling, Kevin Millar and Bronson Arroyo loved the attention, Edgar Renteria struggled to deal with it, and Youkilis and Pedroia have found a manageable middle ground. Youkilis appreciates the boost his celebrity gives to his charitable endeavors in the city, but it's a little unnerving when he's at a restaurant or the local 7-Eleven and the other patrons start chanting, "Youk! Youk! Youk!''
As a 5-for-7 (or thereabouts) overachiever, Pedroia feeds off the energy from sellout crowds at Fenway Park. After good days and bad days, he stows his emotions and unwinds at home with his 19-month-old son, Dylan.
"It can be a Tuesday night game, and it doesn't matter who it's against, and the stadium is packed, man,'' Pedroia said. "There's nothing like it. I live close to the ballpark, and you feel the atmosphere every day. It's a blast. Then I go home, and my job is to be a dad and hang out with my wife and enjoy our lives. It's not like I go out to dinner with my jersey on.''
Given how badly the 2010 season ended for Boston's baseball rats, it's comforting to get back to work and embrace the rhythms of spring in Florida. Tourists from New England crowd the rails in search of autographs. Vendors roam the stands. Birds chirp -- and Dustin Pedroia chirps a lot louder than that. Just this week, Pedroia revealed that he's calling his new hairstyle "The Convertible,'' because it looks like a convertible with the top down.
Across the clubhouse, Kevin Youkilis chuckled over the news.
"Every day he comes in and asks me, 'How does it look?'" Youkilis said. "And I tell him, 'It looks great.' If he hits .300 with 20 home runs and drives in 100, he can wear that all day long.''
Jerry Crasnick is a senior writer for ESPN.com. Click here to purchase a copy of his book, "License to Deal," published by Rodale. Crasnick can be reached via e-mail.
Follow Jerry Crasnick on Twitter: @jcrasnick
ESPN.com MLB Sr. Writer
ESPN.com senior writer
Author of "License to Deal"
Former Denver Post national baseball writer