Two major leaguers enough for Japan
Originally Published:
March 21, 2006
By
Jim Allen
| Special to ESPN.com
SAN DIEGO -- Who would have thunk it?
Of all the marquee major-league matchups that could have come to pass in the World Baseball Classic final, it was Japan, with two major leaguers, beating Cuba, with none.
In the end, it is not who has the best players or the biggest names, but who gets it done on the field, and Japan did it just well enough to fly home as undisputed world champion.
There was glory to be had for the Cubans, Koreans, and powerful Dominicans, but for the rest? They can chew on rubbery leftover squid until 2009 -- when the tournament is scheduled to reconvene.
The Japan team may have been light on major-leaguers, but like the Cubans, they boast a long and storied baseball tradition that pulses within them.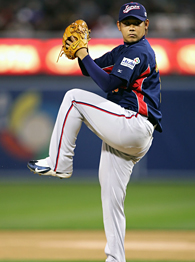 Jed Jacobsohn/Getty ImagesAfter leading Japan to the WBC title in March, Daisuke Matsuzaka was named MVP of the tournament.
Big-game Matsuzaka
Japanese starter Daisuke Matsuzaka made his name as a the ace pitcher for Yokohama High School in 1998. He developed into a big-game professional in 2002 when he helped pitch the Seibu Lions to a Japan Series title. Now he's gone one better.
"I have had some international experience," Matsuzaka said. "I used it against them tonight."
He had beaten Cuba before, allowing three runs in a 6-3 Athens Olympic group-round victory in 2004, but Japan came home with the booby prize -- a bronze medal.
"I participated in two Olympics," Matsuzaka said. "But both times we fell short of our goal: the gold medal.
In Athens, Matsuzaka had a shutout going against the Cubans for eight innings -- only to see Ariel Pestano break that up with a two-run double. But that game did not decide anything. This one did.
In the second inning at Petco Park, Pestano came up with two outs and a runner on second. Technically, he had a chance to cut Japan's lead to two. For all intents and purposes, however, the Lions' ace gave the Cuba catcher no chance at all.
"I didn't really care about my location," Matsuzaka said. "I wanted to overpower the Cuban hitters with my stuff alone. That's how I came into this game and that's how I pitched."
Although Matsuzaka has come of age, he is still more about poise than polish. Still, Monday's Matsuzaka was really a throwback to his in-your-face high school days. Throwing one arm-wrenching victory after another made him a national hero in 1998, but it will be hard to top this.
Matsuzaka's most famous victory that historic summer came over Osaka powerhouse PL Gakuen, which boasts two alumni on the Japan squad.
Miyamoto aids Imae
Japan used masterful at-bats to exploit Ormani Romero's wildness in a four-run first inning. The big hit came off the bat of PL grad Toshiaki Imae. Afterward, the 2005 Japan Series MVP Award, acknowledged some help from fellow alum Shinya Miyamoto.
Miyamoto played at PL long before Matsuzaka terrorized his school, while Imae came later. But school ties remain strong. In Japan, the relationship between students or colleagues who come before "senpai" and those who come after "kohai" is full of duties and obligations.
Before the game, Miyamoto threw the up-and-coming Imae some advice. When it paid off in a two-run single, Imae paid his respects to his senpai.
"During BP, my PL Gakuen senpai Miyamoto told me if I hit it back through the box, up the middle, good things would happen," Imae said. "And something really good did happen."
Something good in the form of a four-run lead for their old school's most famous tormentor.
Amazed and confused
In a society where one is defined as much by the groups one belongs to as much as anything, Japan's victory caused pitcher Shunsuke Watanabe to reflect on how confusing things can be.
| | | |
| --- | --- | --- |
| | " | It was a great opportunity to perform the doage with the world-famous Oh. It's not something I'd ever get to do otherwise, so it was a thrill. " |
| | | — Japan pitcher Shunsuke Watanabe |
Following the victory, the first order of business was gathering and throwing manager Sadaharu Oh three times in the air in the "doage" ceremony.
Watanabe, like Imae, plays for the Chiba Lotte Marines -- the chief rivals of Oh's Fukuoka Softbank Hawks for Pacific League supremacy.
"It was a great opportunity to perform the doage with the world-famous Oh," Watanabe said. "It's not something I'd ever get to do otherwise, so it was a thrill.
"On the other hand, we open our season against the Hawks [on Saturday]. So for a while, I expect some mixed emotions playing against them."
Jim Allen covers baseball for The Daily Yomiuri in Japan.
SPONSORED HEADLINES
MORE MLB HEADLINES
MOST SENT STORIES ON ESPN.COM
EDITORS' PICKS
The Justin Upton deal makes sense for the Padres, but ...
Keith Law

Jim Bowden ranks the three best and three worst moves so far this offseason.
Story

A path to the playoffs for all teams in the NL West.
David Schoenfield »