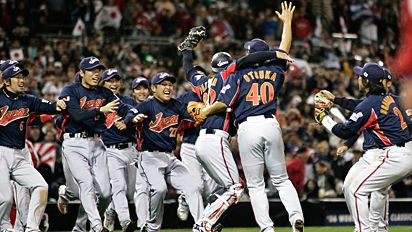 (AP Photo/Chris Carlson)
True Superpower
The first World Baseball Classic is history, and Japan certainly deserves to be called the best after winning the championship. Jayson Stark explains.
Story
|

Stark: A tale of two nations
The Japan-Cuba final was more than just a baseball game. It was about two very different cultures and histories colliding.



Stark: Coming-out party
By beating the Dominicans, the Cubans proved that they belong at the world's highest possible level.



Caple: March madness squared
With the WBC and NCAA tournament in San Diego at the same time, there's only one sensible thing to do: go to both.


END TEXT --------------------------------
CHAMPIONSHIP GAME
FINAL
Japan 10, Cuba 6
March 20, 2006
Petco Park, San Diego, Calif.
MVP
Daisuke Matsuzaka, P, Japan
NATIONAL TEAM CAPSULES

Pool A
Pool B
China
Canada
Chinese Taipei
Mexico
Japan
South Africa
Korea
United States
Pool C
Pool D
Cuba
Australia
Netherlands
Dominican Republic
Panama
Italy
Puerto Rico
Venezuela