Papi, Beltre power Dominican past Venezuela
Updated:
March 8, 2006, 2:53 AM ET
Associated Press
RECAP | BOX SCORE
KISSIMMEE, Fla. -- David Ortiz and the Dominican Republic showed everyone in the United States what Latin baseball is all about -- and just how good they are.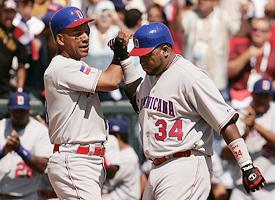 AP PhotoDavid Ortiz (right) homered twice, including a two-run shot in the ninth.
Ortiz and Adrian Beltre each homered twice, leading a powerful Dominican team to an 11-5 victory over Venezuela on Tuesday in their World Baseball Classic opener.
"The atmosphere is pretty much what every Latin has in his blood," Ortiz said.
"Everybody has a lot of passion for baseball," the Boston Red Sox star added. "We live it every day."
A lively sellout crowd, two All-Star lineups, a couple Cy Young Award winners.
Bud Selig must have been smiling.
This is exactly what the commissioner had in mind when he pushed for the Classic, and the Dominican Republic and Venezuela put on a show that made the concept look like a stroke of genius.
Bartolo Colon, the 2005 AL Cy Young winner for the Los Angeles Angels of Anaheim, pitched three scoreless innings for the win. He allowed three hits, walked one and struck out two before leaving after 50 pitches -- well below the opening-round limit of 65.
Johan Santana, the 2004 AL Cy Young recipient, yielded Ortiz's first homer, a second run that was unearned and took the loss. He threw 61 pitches in 3 1/3 innings and allowed three hits, walked three and struck out five.
"We were all aware of their pitching staff, and we had to be patient and wait for the right pitch to hit," said Ortiz, who had three RBI.
Ortiz and Beltre, who drove in five runs, each hit a two-run homer in the ninth as the Dominicans broke open a 6-5 game.
Gut check
Venezuelan manager Luis Sojo defended his strategy against the Dominican Republic.

"From the beginning, I've said that Venezuela has a manager that goes by his instincts," said Sojo.

Despite being down just one run and with Francisco Rodriguez available in the bullpen, Sojo decided to leave Victor Zambrano in the game in the ninth inning.

"I checked with the coaches and they said Zambrano was doing great, so I decided to leave him in," Sojo said. After Zambrano gave up a single and wild pitch, Sojo brought in left-hander Carlos Hernandez to face Ortiz, who had hit a monstrous home run off lefty Johan Santana earlier in the game.

With first base open, Sojo could have walked "Big Papi" and brought in a right-hander to pitch to Moises Alou.

"I didn't want to risk putting anyone else on," Sojo explained. "Carlos made a couple of good pitches to David, but the last one was up. Ortiz is a great hitter, and the great ones do that to you," said Sojo.

The Venezuelan manager plans to use the same lineup in their next game against Italy, and confirmed that Freddy Garcia and Carlos Silva will be his first two pitchers in that contest.

"The game against the D.R. opened our eyes. If anyone thought it would be easy, let them buy the book," he said. "Tuesday's game is history, now we'll focus on the next ones to get some victories and get to the next round."

-- Enrique Rojas
Ronnie Belliard added an RBI single to finish a five-run inning that set off a wild celebration among flag-toting, horn-blowing Dominican fans, some of whom even danced on top of the dugout after Beltre's second homer.
Miguel Cabrera and Edgardo Alfonzo homered for Venezuela, which rallied from a five-run deficit to nearly tie the game.
That's where some controversy came into play, with Venezuela manager Luis Sojo barreling out of the dugout to argue that Cabrera's RBI double should have been ruled a two-run homer that would have tied the game at 6 in the seventh.
Two innings earlier, Cabrera's two-run homer cut into a 6-1 lead the Dominican Republic built with the help of Ortiz's solo homer off Santana and Beltre's three-run drive off Carlos Zambrano.
"The umpires are closer than we are," Alfonzo said. "We tried to see the replay, but it was tough to tell."
Cabrera's seventh-inning double off Julian Tavarez hit the top of the wall in left-center and caromed back to the field. Cabrera pumped his fist and held his right arm in the air as he rounded first, thinking he had his second homer.
The matchup of star-laden lineups drew a sellout crowd of 10,645 to The Ballpark at Disney, the spring training home of the Atlanta Braves.
The Dominican batting order read like a who's who among All-Stars with Alfonso Soriano leading off, followed by MVPs Miguel Tejada and Albert Pujols and sluggers Ortiz, Moises Alou and Beltre.
And with Ortiz and Beltre leading the way, the Dominicans hardly seemed to miss a couple big names who aren't here for the first round -- Vladimir Guerrero and Manny Ramirez.
Guerrero, whose jersey hung on the side of the batting cage while his teammates were taking swings before the game, pulled out after three cousins died in a car accident. Ramirez reported late for spring training and isn't ready to play.
Beltre's three-run homer off Zambrano made it 6-1 in the fifth. But this was billed as the premier matchup in Pool D -- maybe even the entire first round -- for a reason.
Venezuela features an impressive collection of talent, as well, led by Cabrera, Bobby Abreu, Magglio Ordonez, Omar Vizquel and Carlos Guillen.
Alfonzo rebounded from a throwing error that allowed the Dominican Republic to score its second run and began Venezuela's comeback with an RBI single in the fourth and a solo homer in the sixth.
Sojo expects Venezuela to bounce back Wednesday against Italy.
"It puts more pressure on us," Sojo said. "We just have to put it behind us."
Game notes
Hall of Fame pitcher Juan Marichal, a native of the Dominican Republic, threw out the ceremonial first pitch. ... Daniel Cabrera and Odalis Perez, two pitchers on the 30-man roster for the Dominican Republic, were declared ineligible for Tuesday's game. The team permitted Cabrera and Perez to throw in exhibition games for their major-league clubs last weekend, and WBCI determined they had thrown the equivalent of 30 to 49 pitches one day before their tournament opener. Both will be eligible to pitch Thursday against Italy. ... Zambrano's first pitch to Pujols in the fifth inning was clocked at 99 mph.

Copyright 2006 by The Associated Press
EDITORS' PICKS
Braves' T-shirts read, "Hello, my name is ..."
Jayson Stark »

Schoenfield has 10 things he's excited to watch this spring.
Story »

Christopher Crawford's top 50 fantasy prospects for 2015.
Story

MOST SENT STORIES ON ESPN.COM