Dominican one-hits Venezuela, advances to semis
Updated:
March 15, 2006, 12:53 AM ET
Associated Press
RECAP | BOX SCORE
SAN JUAN, Puerto Rico -- Pitching for his country has brought out the best in Daniel Cabrera.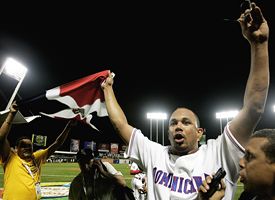 AP Photo/Lynne SladkyDuaner Sanchez pitched 2 1/3 hitless innings to earn the save as the Dominican Republic advanced to the semifinals.
The 24-year-old right-hander threw four hitless innings and the Dominican Republic one-hit Venezuela to advance to the semifinals of the World Baseball Classic with a 2-1 victory Tuesday night.
"From the first moment I heard that there would be a Classic, I started preparing for this," said Cabrera, who was 10-13 with a 4.52 ERA for the Baltimore Orioles last year. "I've never been a part of such an important game like this."
He struck out seven with one walk as the elimination game in Group 2 turned into a classic pitchers duel, with the go-ahead run scoring on a passed ball by Venezuela catcher Ramon Hernandez in the sixth.
"Daniel deserves all the credit," Dominican manager Manny Acta said. "We had several scoring opportunities to break the game open. We didn't do it, but our pitching staff came through."
Francisco Liriano, Miguel Batista and Salomon Torres followed Cabrera, and Duaner Sanchez pitched 2 1/3 hitless innings to earn a save.
Venezuela loaded the bases with two outs in the top of the ninth on two walks and an error by Miguel Tejada, but Edgardo Alfonzo flied out to right for the final out.
Singles by Alberto Castillo and Placido Polanco, and a walk by Tejada loaded the bases in the sixth for the Dominican Republic. With two outs, Albert Pujols took a 2-0 pitch from Kelvim Escobar that brushed off Hernandez's mitt and allowed Castillo to score from third.
Acta said the only change in the roster for the semifinal game in San Diego will be the substitution of pitcher Damaso Marte, who is injured.
"We will using the line up that you saw out there today. It's not time to make big changes. That line up won the last to games for us," Acta added.
The end
It's not common to see professional, millionaire ballplayers cry. But the scene occurred in Venezuela's clubhouse after being eliminated from the WBC.

"Long faces, with tears in their eyes" is how manager Luis Sojo described his players' mood following the loss to the D.R.

"It's sad to see a team of this magnitude be eliminated," he added. "Really sad."

With a roster full of major leaguers, Team Venezuela was one of the favorites to win the Classic, but its offense never took off.

"We were not able to get in a groove offensively, and that's why we're out," said Sojo.

Venezuela's two best power hitters -- Miguel Cabrera and Bobby Abreu -- were a combined 0-18 in the second round.

"Cabrera started well, but just couldn't get it going in this second round," said Sojo. "I still give credit to the pitchers."

-- Ricardo Zuņiga
The Dominican Republic will play the winner of Wednesday's Puerto Rico-Cuba game in the semifinals Saturday. Bartolo Colon will pitch for the Dominican Republic.
"There is no tomorrow," Acta said. "If we don't win the next game we're not going to the final, so we're not going to be holding off on anyone. Bartolo is the ace of our staff, and he's going to pitch that game."
The Dominicans took a 1-0 lead in the first against starter Freddy Garcia. Polanco singled, moved to third on a double by Tejada and scored on Moises Alou's infield single. But it could have been much worse for Garcia.
After the first two hitters reached, Pujols made the first out with a grounder to third and Garcia intentionally walked David Ortiz to load the bases. Adrian Beltre lined to right for the second out, but Alou drove in Polanco with a soft grounder to third. Juan Encarnacion grounded out to Garcia to close the inning.
Omar Vizquel doubled off Liriano for Venezuela's first hit with one out in the sixth to put runner's at second and third.
Bobby Abreu tied the game at 1 with an RBI groundout to second and Miguel Cabrera made the third out on a grounder to third. Abreu and Cabrera went 0-for-18 in the second round.
"These guys are proven hitters in the major leagues," manager Luis Sojo said. "There really wasn't much to do. They're our best hitters and I wasn't going to sit them on the bench or put them at the bottom of the order."
"I wish good luck to Many Acta and his team and I hope they win this trophy for the Caribbean because we've shown the whole world the talent that we have," Sojo added.
Garcia allowed one run on four hits and a walk. He struck out four in four innings. Escobar pitched three innings, giving up an unearned run on two hits and one walk.

Copyright 2006 by The Associated Press
EDITORS' PICKS
Baseball in the Beltway is quickly turning into a hot ticket.
Crasnick »

Great matchup: Madison Bumgarner vs. Zack Greinke.
Szymborski

Elimination could come any day now for the Yankees.
Top stats »