Commentary
Japan, Korea engage in a true Classic
Updated:
March 24, 2009, 12:28 PM ET
By
Eric Neel
| ESPN.com
LOS ANGELES -- Here's what I saw Monday night:
The players from Japan and Korea lined up on the dugout rail, from the first pitch to the last.
Fans of each side clapping ThunderStix and chanting for four hours straight.
Japanese cleanup hitter Kenji Johjima, who has exactly one sacrifice in three years in the major leagues, trying to lay down a sac bunt because he so wanted his team to get on the board first.
Japanese starter Hisashi Iwakuma so in command of Korean hitters through the first three innings that I wondered if maybe I'd be writing my first no-hitter story.
Korean right fielder Shin-Soo Choo driving a ball so hard over the center field wall in the fifth inning that thoughts of a no-no seemed an absurd and distant memory.
Hitters running to first base after drawing walks like they had snatched some jewel from the hands of their enemies, and pitchers sprinting to the mound at the start of each inning as if they thought maybe they could sneak a strike over before the hitter stepped into the box.
Japanese left fielder Seiichi Uchikawa skidding to cut off a sharply hit ball in the corner later in the fifth, and then popping up and firing to nail Korean second baseman Young Min Ko at second base -- a play from start to finish I cannot imagine a single current major leaguer even attempting, let alone pulling off.
Japan collecting 13 singles and 15 total hits, but Korea making them strand 29 runners, twice stemming the tide with critical 5-4-3 double plays, the second of which featured a stout, quick turn and was, in the words of one of my colleagues in the press box, "a legitimate 180-footer like you almost never see."
Two strike-'em-out-throw-'em-out double plays, one by Korea in the fifth and one by Japan in the sixth.
Japan taking the lead four times and Korea battling back to tie the game on three separate occasions.
Guys in each dugout, in the heat of the battle, playing catch, as if they were too jacked to stand still.
[+] Enlarge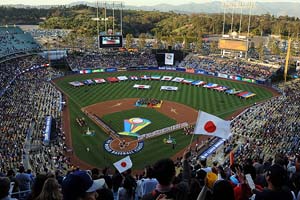 Kirby Lee/US PresswireThe environment inside Dodger Stadium made Monday's WBC final even more special.
People still coming into Dodger Stadium in the seventh and eighth innings, just for a glimpse of the action from the upper deck, like word had gotten out in Koreatown and Little Tokyo in Los Angeles about what was happening.
Ko laying out to stab a Hiroyuki Nakajima screaming liner with a runner on in the ninth to keep Korea within striking distance.
Ichiro, who had come into the night hitting a meager .211 in the WBC, collecting four hits on the night in classic Ichiro fashion, including two singles back through the box, a double to right and a bunt single down the third-base line.
Team Japan manager Tatsunori Hara riding young stud Yu Darvish late in the game for a second straight night and being rewarded when the kid hit 100 mph on the gun and pitched two complete innings to earn the win.
Team Korea manager In-Sik Kim deciding to have reliever Chang Yong Lim pitch to Ichiro with first base open in the top of the 10th and paying the price when the Mariners right fielder laced a ball up the middle to drive in the deciding runs.
Players from Team Japan, basking in the postgame moment, jogging up and down the third-base line with an unfurled Japanese flag, saluting the thousands of fans who lingered more than 30 minutes after the last out.
And players from Team Korea, stung by a rubber-match loss in this World Baseball Classic to their rivals, unceremoniously removing their silver medals from around their necks as they walked off the field.
I didn't see a game so much as a happening, an event in which every moment, from the plays made in the field to the explosive cheers in the stands, felt charged with intense desire and fierce competition.
I hope you saw it too. I hope, like me, what you saw made you think the lingering questions about whether the WBC is here to stay seem silly. I hope, like me, what you saw made your worrying and wondering about what happened to Team USA and about why the U.S. has failed to win this tournament twice now seem entirely beside the point.
I hope you saw Japan 5, Korea 3 for what it was: A great night of baseball, a great night for baseball.
Eric Neel is a senior writer for ESPN.com.
SPONSORED HEADLINES
MORE MLB HEADLINES
MOST SENT STORIES ON ESPN.COM