Commentary
Oswalt is Team USA's calm after storm
Updated:
March 7, 2009, 10:54 PM ET
By
Amy K. Nelson
| ESPN.com
TORONTO -- The night before his first start in this year's World Baseball Classic, Roy Oswalt headed out to a nice dinner with his best friend. It's a ritual he and Jake Peavy usually share when they're in the same city.
They are both right-handed power pitchers for Team USA who like hunting and guns, but that's where their similarities end. On the mound, they could not be more different in temperament. "He's a little more intense than me," Oswalt said. "You won't see me on the field talking to myself, that's for sure."
[+] Enlarge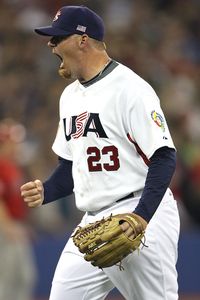 Elsa/Getty ImagesJ.J. Putz gave up a run in the ninth inning, but he still earned the save.
Oswalt, the Astros' ace, will be pitching Sunday night trying to give Team USA an automatic berth in the second round of the tournament. He's in this position after an exciting 6-5 win over Canada on Saturday in front of a crowd of 42,314 in the Rogers Centre.
J.J. Putz, the Mets' new set-up man who gave up a run in the ninth inning before saving the game, said it was his most intense experience as a pitcher.
"It was unbelievable; that was definitely the loudest crowd I've ever pitched in front of," the former Mariner said. "Before I went out to the bullpen today, Peavy came in and said, 'Hey, take a deep breath because this is something you've never been a part of.'"
Peavy could relate. His intensity is one of his best characteristics, and at times one of his most frustrating. The Padres' ace, a former Cy Young winner, will yell and huff and puff his way around a mound, mostly out of a sheer desire to win. Sometimes that determination leads to overthrowing, and in the first three innings Saturday, Peavy threw 58 pitches, walked three batters and allowed two runs.
Oswalt, meanwhile, emits an energy on the mound that's the equivalent of shrugging his shoulders and sighing.
"Roy is just so low-key, man; nothing bothers that guy," Peavy said.
Although he's a WBC rookie, Oswalt -- whose 129 wins since 2001 are the most in the big leagues -- has pitched internationally before, when he won gold in the 2000 Sydney Olympics. He said he feels that experience will help Sunday.
Talking with Peavy, who pitched in the 2006 WBC, has also helped, along with watching the opener, in which Team USA used seven pitchers and the game came down to the final at-bat.
That was when Putz retired Red Sox outfielder Jason Bay with a runner on second and Canada down a run. Putz demonstratively slapped his glove when Bay flied out to right field to end it, and it seemed as though the entire team collectively exhaled.
This WBC is viewed as a chance at redemption for the Americans, who say they were shamed by losing in the second round in 2006's inaugural tournament. Peavy said losing this year would be a failure for the Americans.
Heading into Saturday's game, they all talked a good game about an improved effort and making America proud, and then they backed it up.
Some were surprised at the level of emotion for a game held in early March.
"I didn't really know what to expect," second baseman Dustin Pedroia said. "To jump out there gets the blood flowing fast; it's an awesome environment to play in."
If there was any doubt about Team USA's desire, it was evident after the game, when general manager Bob Watson saw shortstop Jimmy Rollins outside the clubhouse. In the ninth inning, Rollins threw out leadoff hitter Adam Stern by just a half-step.
[+] Enlarge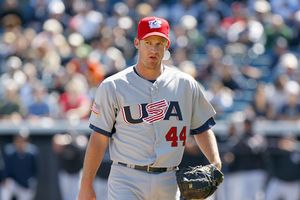 Kim Klement/US PresswireRoy Oswalt has pitched in big games before, including one World Series game and two All-Star Games.
"Jimmy, you gave me a heart attack!" Watson said with a chuckle, as Rollins smiled.
With his team's nerves out of the way, Oswalt's cool demeanor will likely complement his teammates' attitude in their second game. Oswalt said he prefers to not show any emotion because he thinks it helps the fielders relax behind him. LaTroy Hawkins, Oswalt's teammate in Houston and the winning pitcher Saturday, said he never knows what's going through Oswalt's mind, but that he's an extremely tough competitor.
Hawkins said that on days he starts, Oswalt usually sits in the trainer's room watching TV and will talk to any of his teammates. Usually, though, he'll get animated only if they mention guns or hunting.
"He is just as smooth as the other side of the pillow," Hawkins said. "Cool, calm and collected."
Oswalt will begin his preparation Saturday night. First it will be dinner with Peavy, and then he'll retire to his hotel room and watch a movie. Oswalt says he usually likes to stay up late the night before a start so he can sleep in the next morning. It leaves less time to think about the lineup he has to face.
What kind of movie will he watch?
"Something action-packed, probably," he said, "where it kind of gets you going a little bit, but not too much."
That's all Team USA can hope for Sunday.
Amy K. Nelson is a staff writer for ESPN.com. She can be reached at amy.k.nelson@espn3.com.
SPONSORED HEADLINES
MORE MLB HEADLINES
MOST SENT STORIES ON ESPN.COM
EDITORS' PICKS
Why Boston's starters are easing into spring.
Jayson Stark »

Carlos Santana making every effort to become Indians' 3B.
Crasnick »

Speedy Billy Hamilton will quickly achieve fantasy impact.
Olney