Commentary
Panic sets in for Cuba
Cubans' victory over Mexico prolongs tournament stay
SAN DIEGO -- In the moments after a deflating loss to Japan, Cuban manager Higinio Velez told Cuban fans to stay calm and remain patient. This is not the time to panic, he warned.
So of course, several moments before they were scheduled to take the field for pregame warmups Monday, the Cuban national players walked out of their dugout in single file to the left-field area for early stretching exercises wearing all-red uniforms, the invincible all-reds worn only in the most important of games. Think of them as Cuba's version of Notre Dame's green jerseys, except unlike Notre Dame, Cuba actually wins most of its games in crimson.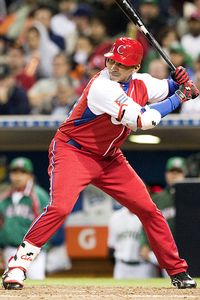 Christophe Elise/Icon SMIFrederich Cepeda, who's hitting .600 in the WBC, drove in four of Cuba's seven runs.
After stretching, the Cubans took batting practice, something they usually don't do and something they didn't do Sunday. Lastly, when the Cubans finally presented their lineup, not surprisingly less than an hour before the start of the game (nobody beats the Cubans in gamesmanship), a combination of players appeared on the sheet that was different than any previously seen in this tournament.
For the first time in the tournament, speedy reserve outfielder Leonys Martin led off and started in the outfield. Infielder Hector Olivera, whom one scout described as a more physical Alexei Ramirez, started for the first time since March 10. In fact, the top three hitters in the Cuban order were different than the top three hitters from Sunday.
"Those changes, when we saw the playing field, we noticed that it was a different situation from when we were at Foro Sol [Stadium] in Mexico," Velez said. "We figured that the ball does not carry as well here, so we needed to insert more line-drive hitters rather than home run hitters. We were looking to insert speed and line-drive hitters, and we took out our big home run hitters. We played small ball."
For Cuba, despite assurances from Velez, it certainly was panic time. Monday's 7-4 win against Mexico guaranteed Cuba at least two more days in the tournament. Cuba, which has a day off Tuesday, must still defeat the loser of the Korea-Japan matchup Tuesday to avoid becoming the first Cuban national team since 1959 not to reach the final round of a major international competition. So panic will continue to grip the Cubans.
The situation had grown so dire that a woman affiliated with the Cuban team and dressed in a team jacket chastised outfielder Frederich Cepeda because he had not received the customary good luck hug before the Japan game.
"That's why you guys lost," the woman told Cepeda. "So come here and let me give you a hug."
Before the game against Mexico, the woman grabbed Cepeda and gave him a tight embrace, causing Cepeda to cringe; he appeared as uncomfortable as a little boy receiving a sloppy kiss from an overly affectionate aunt. But perhaps it was the luck of the hug that caused Cepeda to go 3-for-4 with four RBIs, raising his tournament average to .600 with a WBC-leading 10 RBIs.
"I think that Frederich is important, not only for his work at the plate, but in every aspect of the game, including rallying the team," Cuban pitcher Pedro Lazo said. "He'll say, 'Don't worry about that home run you gave up; we're still winning.' He is a wonderful baseball player. I wish I could have him on my Pinar del Rio team back in Cuba."
Before the game, the Cubans were dealt a blow when they found out relievers Yunesky Maya and Yulieski Gonzalez were not available due to a misunderstanding of the WBC rules. Both Gonzalez and Maya threw 30 pitches in Sunday's 6-0 loss to Japan. According to the WBC rules, a pitcher may not pitch on consecutive days if "he threw 30 or more pitches when he last pitched."
The misunderstanding occurred as a result of a misprint on a rules card printed in Spanish and given to the Cuban team before the start of the first round in Mexico City. Team Mexico and Cuba both received the cards, according to union official Gene Orza, who met with Cuban officials for 15 minutes before Monday's game. No other Spanish-speaking teams were given the card.
"It was our fault," Orza said. "We made a mistake. We are the ones to blame. They were very gracious about it."
Said Velez: "They apologized to us, and we do recognize here in public that all of these officials have been very respectful with us. We knew there was a mistake, and we agreed not to use the pitchers."
After Mexico tied the game at 2 in the fourth, the Cuban team met just outside the dugout for several minutes. Velez did most of the talking. The sense of urgency was palatable throughout the team, as even team doctor Antonio Castro, son of Fidel Castro, at times helped coaches position players defensively during the game.
"It wasn't anything out of this world, you know; we weren't singing the national anthem or anything," Velez said of the meeting. "We were simply making adjustments based on the characteristics of the game."
For one day at least, the Cubans made the right adjustments.
Jorge Arangure Jr. is a senior writer for ESPN The Magazine.
Senior writer for ESPN The Magazine
Joined ESPN in May 2007
SPONSORED HEADLINES
MORE MLB HEADLINES
MOST SENT STORIES ON ESPN.COM