December, 5, 2013
Dec 5
8:00
AM ET
Days before
Chael Sonnen
fought
Rashad Evans
at UFC 167 in Las Vegas in November, he gave an interesting take on his previous opponent,
Mauricio Rua
.
In August, Sonnen submitted Rua via guillotine choke in the first round of their light heavyweight bout at UFC Fight Night 26. When asked if he went into the bout thinking he had a chance to submit "Shogun," Sonnen gave a candid response.
"I don't think Shogun was ready to go that night," Sonnen said. "I think he was too much of a sportsman to make excuses, unlike most guys. I think he let me have my moment. I don't think that was the real Shogun I faced."
It was an honest answer, but one that begged another question: Who is the real Shogun these days?
Rua (21-8) will look to prove a growing number of doubters wrong Friday when he faces up-and-comer James Te Huna at UFC Fight Night 33 in Brisbane, Australia.
A living legend of mixed martial arts, Rua has struggled since winning a UFC title in May 2010, losing four of his next six fights. The talented Brazilian, now 32, hasn't just lost either -- he has taken a ton of damage in the process.
As much as it breaks the hearts of fight observers, the words "Shogun" and "done" have run together a lot leading up to this fight -- a reality that has not been lost on Rua.
"I have heard those remarks," said Rua, who maintains there was nothing physically wrong with him in the Sonnen fight. "This is really something that should only matter to me and my team, though.
"We should decide what I can and can't do. It doesn't really matter to anyone else. We're the ones who know what's going on and we'll call the shots."
It's exactly the type of answer you'd expect (and, quite frankly, hope) to hear from a fighter with as much heart as Rua -- but it doesn't change the situation.
Prior to his last fight, Rua had never suffered back-to-back losses in an 11-year career. Over the course of that career, he has undergone three knee surgeries. And despite recent reports of a willingness to revamp his career as a middleweight, Rua says there is a "misconception" of his intent to change divisions. It sounds as though it would be a very difficult cut.
"I just answered a fan at a Q&A," Rua said, adding he hasn't weighed 185 pounds in about eight years.
What Rua needs, more than a different weight class, is to look like the "real Shogun" again. He sounds confident he will Friday.
He spent this training camp in Sao Paulo, Brazil, as opposed to his home base in Curitiba, Brazil -- working with UFC veterans such as
Demian Maia
,
Luiz Cane
,
Daniel Sarafian
and
Antonio Mendes
. He says he's 100 percent healthy.
If his skill set and athleticism aren't declining, there has to be another reason for the skid. Rua doesn't generally like to talk about his losses, but he believes he has gotten into the habit of throwing out game plans too quickly after getting hit.
"Sometimes you have a strategy when a fight starts, but you get hit with a punch with small gloves and everything can change," Rua said. "It's tough sometimes to keep a game plan when you get hit. It changes the whole dynamic of the fight."
Rua has been so dangerous for so long, you want to believe Sonnen was right. Rua isn't done, it's just the "real Shogun" didn't show up in Boston that night. Maybe he'll be in Australia.
December, 4, 2013
Dec 4
11:55
AM ET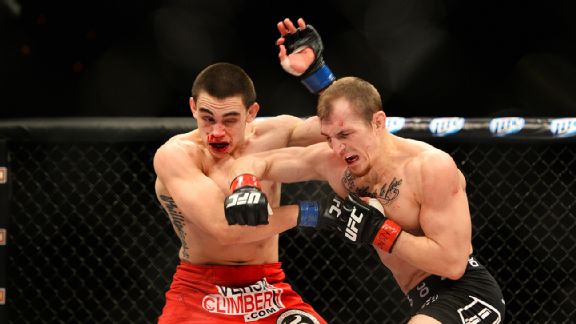 Al Powers for ESPNRyan Benoit, left, lost his fight against Josh Sampo, but still managed to earn a hefty paycheck.
At some point last weekend, you may have run across the name
Ryan Benoit
.
Benoit is a 24-year-old martial artist fighting out of the Dallas suburb area. He made his UFC debut at The Ultimate Fighter Finale in Las Vegas on Saturday. He lost via second-round submission to
Josh Sampo
, but pocketed $100,000 in Fight Night bonus money.
If you're like me, you might wonder: What exactly happens next when a kid in his early 20s, in Vegas, who just debuted for the biggest fight promotion in the world, earns $100,000 on the spot?
The answer is not what you might think.
"I got all my stuff together [from the hotel] and went to my uncle's house," said Benoit, who has family in Las Vegas. "We hung out and watched TV. We did go to dinner actually -- some Thai restaurant.
"I went to the mall [on Monday] and spent $25 on some t-shirts."
"

My manager called and I could hear he was kind of excited. He goes, 'Man, you got Fight of the Night...' I dropped the phone and started screaming. I ran into the hall and was yelling at the top of my lungs. It felt like I had won the lottery, literally.

"

-- Ryan Benoit on winning $100,00 in bonus money
Here's where you should probably know a little of Benoit's backstory. Two weeks ago, he wasn't signed to a UFC contract. He was working several jobs, counting the hours in his head to predict what his paychecks would be.
Early this year, he found out his longtime girlfriend, Marilyn, was pregnant. They got married in February, in Las Vegas. The wedding cost about $50, according to Benoit.
"We went to the courthouse, signed the papers and we were done," he said.
Benoit's daughter was born in October, one week after he fought
Cody Fuller
on a Legacy Fighting Championships card in Dallas. He and Marilyn decided to combine their two names into one, and named her Rylyn.
Saving money for Rylyn's arrival has been a yearlong struggle for Benoit. He had fought twice this year, prior to the UFC debut. For the Fuller fight, a first-round TKO win, Benoit says he was paid about $3,500.
In regards to the other fight, a unanimous decision loss to
Anthony Birchak
on a Canadian event in May, well ...
"You would not believe how much I made for the a--beating I got up there," Benoit said. "One thousand dollars. A three-month camp for $1000."
Maybe Benoit (7-3) would have fought more frequently, except he's had terrible luck with his hands. He's broken each of them three times and has required surgery on his right.
His left hand, in fact, was still bothering him when he received a call from his manager on Nov. 20, asking if he could make weight in 10 days. That in itself is a complicated question for Benoit. What weight was his manager referring to? He's fought the majority of his career at 135 pounds, although two of his more recent bouts were at 130. He'd been contemplating a permanent move to 125.
The UFC wanted Benoit at 125 pounds. He had never, as a professional fighter, cut to that weight, let alone competed at it. Additionally, because of the hand injury, he hadn't been in the gym much since his last fight. He weighed 148 pounds.
"I asked him what weight and he said 125 pounds," Benoit said. "I asked for who, and he said the UFC. I was like, 'Yeah, I can make it. For the UFC, I can make it.'"
Benoit, a former high school wrestler, did manage to cut the weight. It was actually his opponent who did not. At the official weigh-in at The Mandalay Bay Events Center the day before the fight, Sampo weighed-in 1.5 pounds heavy, at 127.5 pounds.
Sampo missing weight didn't bother Benoit at all, because it meant he received 5 percent of his opponent's fight purse. His guaranteed payday of $8,000 had just increased a little.
It's worth mentioning here that an $8,000 payday doesn't exactly mean an $8,000 payday. There are taxes, of course, but also a cut that typically goes to a fighter's trainer.
Benoit, however, doesn't pay that trainer fee. Early in his career, his coach, Saekson Janjira, told Benoit he would never charge him.
"When I signed up at the gym, I was training a couple months but then I stopped because I couldn't pay the membership," Benoit said. "Saekson told me to not worry about paying him. He said I would never have to pay him any of my fight purse.
"He comes from Thailand -- if you've ever seen those documentaries about kids who get sold and grow up in Muay Thai camps, fighting since they are 10. It's crazy. When he was younger, they would take 50 percent of his fight purses. He told me he knows how much that hurts, so he would never do it to me."
The actual fight, for Benoit, went incredibly fast. He broke his left hand in the first round. He and Sampo traded punches in the first round before Sampo eventually submitted him via rear-naked choke, after Benoit had escaped several other submission attempts.
Benoit was heartbroken by the loss, but he did ask his corner immediately after if the bout had Fight of the Night potential.
"Everybody was giving me this answer like, 'Eh, maybe,'" Benoit said. "Them telling me that made me think I didn't get it. No chance. I had already made myself content that I was only going home with my fight purse."
The flyweight bout was the first fight on the card and the only one non-televised. By the time the main event between
Nate Diaz
and
Gray Maynard
ended, more than six hours had passed since Benoit's fight.
He was in his hotel room with Marilyn. They weren't watching the event because he couldn't find the channel. He was kind of depressed and had downed two shots when the phone rang.
"My manager called and I could hear he was kind of excited," Benoit said. "He goes, 'Man, you got Fight of the Night.' And I said, 'Don't say that, don't tell me that.'
"Then he said, 'You get his bonus, too, since he didn't make weight.' I dropped the phone and started screaming. I ran into the hall and was yelling at the top of my lungs. It felt like I had won the lottery, literally."
Benoit hugged his wife. He called his mom. His mom cried, which made him cry.
And as I mentioned, that's pretty much the story. The night ends with an off-strip Thai restaurant and TV shows at an uncle's house.
There were no nightclubs, girls, blackjack tables or hotel suites. No waking up at 10 a.m. the next morning with a missing finger and no explanation of where it went. Benoit has gotten married and won $100,000 in Las Vegas -- and he doesn't really have the crazy story you might assume comes with either one of them.
Unless, of course, you look at the full story start to finish.
"In my head, I'm thinking this is karma," Benoit said. "This year, we've tried to be as good of people as we can because we have the mentality that good things happen to good people.
"God puts obstacles in front of us to teach us we can be strong and get through tough times and it works, man. It's completely worked."
November, 29, 2013
Nov 29
2:07
PM ET
LAS VEGAS -- When it comes to scoring controversies in Las Vegas, UFC lightweight
Gray Maynard
knows a thing or two.
Maynard (11-2-1), who fights
Nate Diaz
this weekend at
The Ultimate Fighter Finale
inside Mandalay Bay Events Center, came as close as one can get to winning a UFC title when he fought then-champion
Frankie Edgar
to a draw in January 2011.
Judges selected by the Nevada State Athletic Commission that night scored the bout 48-46 for Edgar, 48-46 for Maynard and a 47-47 draw. Edgar retained the belt and went on to defeat Maynard in a rematch nine months later.
Even before the draw with Edgar, Maynard said he has believed mixed martial arts needs to alter the way it scores fights -- and a half-point system would do that.
"If they did half-points, it would be better for the sport," Maynard told ESPN.com. "It's always 10-9, 10-9, 10-9. There's no way to add in that 'this guy did more in that last round.' The half-points would help choose who won the fight."
In the first round of that 2011 title bout, Maynard appeared to be on the verge of a finish when he knocked Edgar down multiple times with punches.
All three judges gave Maynard a 10-8 score in the first round. Some argued that if that dominant of a round was 10-8, then a 10-7 round doesn't really exist.
Edgar went on to recover, somewhat miraculously, between the first and second rounds. On one judge's card he won each of the next four rounds, thus the fight. Those rounds Edgar won were much closer than the one-sided first.
Under a half-point system, it's possible that one or two close rounds scored for Edgar would have rendered 10-9.5 scores, therefore altering the final result.
A similar situation occurred earlier this month in Las Vegas during a welterweight title fight between
Georges St-Pierre
and
Johny Hendricks
at
UFC 167
. St-Pierre retained his title via split decision.
[+] Enlarge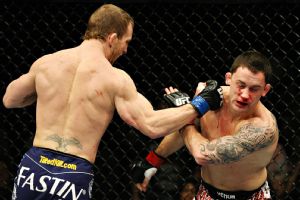 Donald Miralle/Getty ImagesGray Maynard believes a switch to a half-point scoring system might have helped him win a UFC title in his second bout with Frankie Edgar.
The result basically came down to how each judge scored a close first round. Two scored it for St-Pierre 10-9, the same score Hendricks would receive for a far more dominant effort in the following round. Had the half-point system been used, Hendricks would have likely won unanimously.
In Maynard's opinion, the scoring of these types of fights isn't ruining the sport (a concern voiced by UFC president Dana White at UFC 167), but it demonstrates athletic commissions' unwillingness to evolve with the sport.
"The scoring system isn't ruining the sport, but it's not helping it grow," Maynard said. "There has been a lot of talk about judging, and you have to take that into account and evolve. The sport changes every year, every month, every day. That change has to happen with the scoring as well."
Several athletic commissions have tested the half-point system through trial runs, although a committee ultimately advised the Association of Boxing Commissions against its use in 2012. The system has its fair share of detractors, including White.
Obviously, Maynard has history to consider when it comes to his stance. The 34-year-old lightweight, whose fight with Diaz on Saturday could very well go to a close decision as it did in 2010, said if commissions don't change the scoring system, they should at least clarify more what they're scoring in a fight.
"It's just kind of hard to tell what they want," Maynard said. "There are a couple that look at the points, that look at damage as points. Some don't look at the ground game at all.
"I don't know. That's the question. What do they want, what do they look at, how will they score it?"
November, 18, 2013
Nov 18
3:13
PM ET
By Andrew R. Davis
ESPN Stats & Information
Archive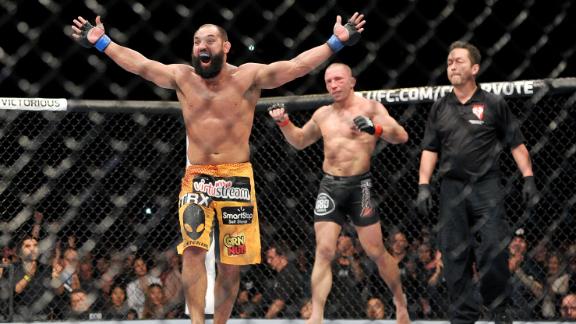 At UFC 167, many felt that
Johny Hendricks
did enough damage against
Georges St-Pierre
to become the new UFC welterweight champion. On Glenn Trowbridge's scorecard, Hendricks did just that. The other two judges (Sal D'Amato and
Tony Weeks
) saw the first round for the champion, giving him the 48-47 decision and the victory for St-Pierre's UFC record-breaking 19th win inside the Octagon.
While the decision can be argued for both fighters, it marks just another recent example of champions barely leaving the Octagon with their titles.
UFC 165 - Jon Jones defeats Alexander Gustafsson (48-47, 48-47, 49-46)
In September of this year, Jon Jones made the sixth defense of his UFC light heavyweight title against his toughest challenger to date, Alexander Gustafsson. While Jones outstruck the challenger 28-19 in significant strikes in the opening round, Gustafsson scored a takedown while Jones was stuffed on all three of his attempts.
Gustafsson won Round 1 on all three scorecards. Rounds 2 and 3 are where things got tricky with the judging. Neither man gained a takedown (Jones 0-for-3, Gustafsson 0-for-2), but Jones held the striking advantage in Round 2 26-15 and Round 3 29-26.
Jones won four of the six cards in those two rounds. Round 4 was again close in significant strikes (27-26 Jones), but the champion did more damage, winning all three scorecards.
Round 5 was again close, with the significant strikes even at 24 for both fighters and Jones landing a takedown while stuffing all four Gustafsson attempts.
When the final scorecards were read, Jones was ahead on all cards, earning the unanimous decision.
UFC on FOX 7 – Benson Henderson defeats Gilbert Melendez (48-47, 47-48, 48-47)
Benson Henderson made the third defense of his UFC lightweight title in April 2013, defeating former Strikeforce lightweight champion Gilbert Melendez.
Round 1 went to the challenger despite landing fewer significant strikes 9-7. Melendez did land his only takedown of the fight and landed the better strikes in the eyes of the judges.
Round 2 was again close, with the champion holding a 15-13 significant strikes advantage. Both fighters landed hard shots in the cage, but Henderson won the round on two of the three judges' scorecards. Henderson responded with his best round of the fight, landing 15 of 29 significant strikes (52 percent) and landed two leg kicks during the round that knocked Melendez off balance.
Rounds 4 and 5 were virtually even on the cards despite Henderson outlanding Melendez 29-16 in significant strikes. Henderson landed 12 leg kicks to help him win Round 4 on two of the three cards.
In the final round, Melendez won two of three cards despite landing only 15 percent of his significant strikes. Melendez won the fight 48-47 according to the first card, but Henderson won 48-47 on the other two cards, retaining his title.
UFC 125 – Frankie Edgar draws with Gray Maynard (48-46, 46-48, 47-47)
Frankie Edgar held onto his UFC lightweight title after a very tough fight with the only man to beat him, Gray Maynard, to start the fight calendar in 2011.
The first round of the 2011 Fight of the Year was its most memorable, with Maynard knocking the champ down three times and furiously landing punches to the head. Maynard would win the round 10-8 on all cards, outstriking Edgar 47-10, with 25 of those deemed significant.
Edgar would rebound in Round 2, outstriking a hesitant Maynard 21-6 to win the round as well as landing the slam that you see in the UFC PPV entrance video today.
Round 3 was the closest round of the fight, with Edgar holding a 21-17 significant strike advantage, but Maynard landed two takedowns.
Round 4 went to Edgar across the board as he landed 52 percent of his significant strikes, the highest in any round. Edgar also landed two takedowns.
With the fight on the line, Round 5 was a 20-16 advantage to Edgar with neither man gaining a takedown (Edgar 0-for-3, Maynard 0-for-7).
Maynard would win on two of three judges' scorecards to close out the fight. The first announced card of
Glenn Trowbridge
(only one to pick Hendricks) was 48-46 Maynard, while Edgar won a card 48-46 and the final judge scored the bout 47-47 for a split decision draw.
UFC 104 – Lyoto Machida defeats Mauricio Rua (48-47, 48-47, 48-47)
In October 2009, Lyoto Machida made the first and only defense of his UFC light heavyweight title against Mauricio "Shogun" Rua. Rua came out the gates with his best statistical round, landing 70 percent of his significant strikes (19 of 27).
Machida landed nine significant strikes and stopped Rua's lone takedown attempt, winning the round on two of three judges' scorecards. Machida unanimously won Rounds 2 and 3 on the scorecards, but was outstruck 40-16 in significant strikes. Machida did stop each of Rua's takedown attempts in the rounds and quality kicks the body and legs to win each of the rounds.
The fourth round was a 10-1 striking advantage to Shogun, and he won on two of the three cards. Round 5 was unanimous to the challenger, who mixed in 11 significant strikes to the head and legs while the champion Machida landed six.
In total, Rua outlanded Machida 80-38, with a 49-4 advantage in strikes to the legs. Machida did his damage with punches and kicks to the body, holding a 24-16 advantage. When the scorecards were read, Lyoto Machida won all three cards with identical 48-47 scores to retain his UFC light heavyweight title.
In the UFC's 20-year history, only one champion has ever lost his title by way of split decision (
Kevin Randleman
to
Bas Rutten
at UFC 20). Whether it's intended to be or not, the words of the famous wrestler Ric Flair come to mind: "To be the man, you have to beat the man." In the world of the UFC, most of us are still wondering if there's an exact definition to what that means.
November, 15, 2013
Nov 15
10:14
PM ET
More than likely,
Johny Hendricks
is going to need a lot more than just his left hand to beat
Georges St-Pierre
on Saturday at
UFC 167
in Las Vegas.
Hendricks will need confidence, patience, discipline, intelligence, offensive and defensive grappling, stamina, feints, level changes, head movement, footwork and, maybe, some luck for good measure. A little luck never hurt anybody in a UFC title fight.
That left hand, though -- the reason you hear so much about it is because even though Hendricks (15-1) must take every tool he has into the Octagon against St-Pierre, at any moment that one left hand might be all it takes.
What is it about that left hand that makes it so dangerous and gives us reason to believe Hendricks could become just the third man to ever defeat St-Pierre (24-2), and first since 2007?
ESPN.com asked that question of Hendricks, as well as St-Pierre and five previous Hendricks opponents with firsthand knowledge of that stinging left.
Hendricks:
"Realistically, [the power] comes from my legs and my butt. I walk around at 225. I have big legs and a big butt. That's where all the power comes from. And, you know, wrestling -- always being in that stance and ready to explode."
Handling Hendricks' power
T.J. Grant
(lost to Hendricks via majority decision at UFC 113 in May 2010): "The thing is, he doesn't have to try to throw for power -- he just has it. He has always got his legs involved in every punch, too. That's when you murder guys, when you have your feet and hips involved in every punch. That's why Johny has so much power is all his life in wrestling. When he throws that big Popeye forearm at your head, you're going to go down."
St-Pierre:
"His left is his signature move but he works on many things. He's a very complete fighter. He's probably one of the best in the division in knockout power and the reason why is he's so good you don't see it coming. The way he throws it, I believe you don't see it coming."
Martin Kampmann
(lost to Hendricks via knockout at UFC 154 in November 2012): "I think the problem was I was preparing too much for the left hook and then he came straight with one. The one he got
[Jon] Fitch
with, he was throwing it wide, wide. With me, he came straight down the middle."
Rick Story
(defeated Hendricks via unanimous decision at TUF 12 Finale in December 2010): "During the fight, when he was punching me, I thought, 'Eh, this is nothing I haven't felt before.' He's placing them. His punching power isn't seriously superior. To be able to place them you have to throw them and some people hesitate. He has got confidence in it now so he's throwing a lot more."
Josh Koscheck
(lost to Hendricks via split decision at UFC on Fox in May 2012): "For me, it was no big deal. I like fighting southpaws. I prefer it. They are better for my style. When he throws the left, I throw the right. I think he has definitely got power in his hands because he has knocked out a lot of guys and the ones he hasn't have felt it because they've been knocked down, but for me it was no big deal."
Mike Pierce
(lost to Hendricks via split decision at UFC 133 in August 2011): "It wasn't his straight left hand that caught me off guard. His left uppercut is kind of funky and then his coach [Marc Laimon] yelling, 'Cheeseburger, cheeseburger!' code names for combinations. He hits pretty hard but not the hardest. I got thumped pretty hard by
Aaron Simpson
, that was probably the hardest I've ever been hit."
Making adjustments
[+] Enlarge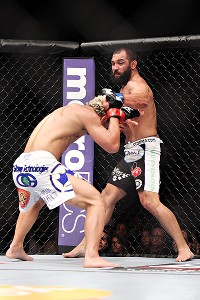 AP Photo/Gregory PayanJosh Koscheck withstood Johny Hendricks' power, but was unable to win a decision in their 2012 bout.
Story:
"The main concern going into the fight was he knew he was heavy-handed, but the thing is, with all his previous fights, he was always pushing forward. My coach, Pat White, told me, 'If you get him going backward, he's not going to have any power on his punches.' That was my biggest focus."
Koscheck:
"The game plan for Johny was to mix it up on the feet. You can hear [trainer] Bob Cook in the corner, it's crazy, he's always saying, 'Get off first! Be first!' That was pretty much our game plan -- get off first, get on him. With Hendricks, it's much easier to get off first and then get away from the big left hand."
Grant:
"He has got timing. He puts his whole body behind his punches. He is accurate but a lot of times he also level changes with his head and hips and that kind of brings the guys' hands down. He 100 percent commits. He's a confident fighter. When you're confident, you don't hesitate and those milliseconds of hesitation are the difference between knocking a guy out or taking him down."
Story:
"What's important for Georges is to stay out of Johny's range. What's important for Johny is to get into Georges' range. He's going to have to mix it up and get pretty creative. Georges has been doing this a long time."
Hendricks:
"Whenever you're wrestling in college, you've got to do all these setups and your reaction from [outside of an opponent to inside] has to penetrate through all these distractions and get to the legs very quickly and explosively. That's what has really helped me out [in fighting]. They try to keep me at bay because I'm so short, but I use that explosiveness to close the distance."
Predictions
Kampmann:
"If Johny catches him on the button he'll hurt him, but St-Pierre is going to fight him smart. He's going to try to jab him from the outside the whole fight. Johny is good at closing the distance but he's going to get jabbed the whole fight. If Johny commits hard, that's how I think St-Pierre will take him down. Even though Johny is the better wrestler, I think St-Pierre can still take him down. That's how I think St-Pierre is going to fight him, but sometimes s--- don't go to plan."
Koscheck:
"Johny Hendricks is a tough young fighter and I wish him the best but I think St-Pierre will outpoint him. Georges is smart. He's a game planner. He'll jab, use his wrestling at times, keep Johny at a distance and get off first. Georges is a lot faster than Johny. He'll end up winning a decision."
Pierce:
"I'm definitely going for Johny Hendricks. I want to see him knock Georges St-Pierre out. In his past several fights Johny has really excelled at catching guys. St-Pierre has shown in the past he doesn't have the best chin in the world. We all saw him fall to
Matt Serra
and I think Hendricks has all the capabilities to do the same sort of thing and even more so."
Grant:
"You can never count Georges out of any fight, but I think this is probably the most dangerous fighter he has fought just because Johny has that great wrestling pedigree. Unlike Koscheck, I feel like he's really good at making the knockout happen, whereas Koscheck wings a lot of right hands and if it doesn't land, he doesn't always have the second and third option -- I think Johny does. I give the advantage to Johny, personally."
Hendricks:
"Whenever you get a guy that walks in at 190 to 195 pounds -- that's usually what I walk into the Octagon at -- and you get that moving pretty quick, he can throw a 50 percent punch and lay somebody out. It's about accuracy. You touch that jawline and anybody is going night-night."