Arenas edges Carter for starting nod; LeBron is top pick
Updated:
February 17, 2007, 3:10 PM ET
Associated Press
NEW YORK -- Gilbert Arenas pulled out another late victory.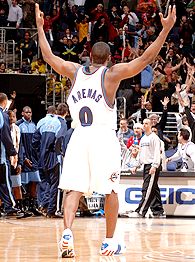 Mitchell Layton/NBAE via Getty ImagesGilbert Arenas is second in the league in scoring at 29.7 points per game. He was named an All-Star starter for the first time.
The Washington star surged past Vince Carter in the final days of All-Star voting to claim the second Eastern Conference guard spot by 3,010 votes Thursday, the fourth-closest margin for a starting spot.
LeBron James, the MVP last year, led all players with more than 2.5 million votes for the Feb. 18 game in Las Vegas.
The first All-Star Game held outside an NBA city will maintain one traditional look: Shaquille O'Neal was chosen to his 14th straight All-Star Game, tying Jerry West and Karl Malone for the most consecutive selections.
Arenas was 214,460 votes behind Carter two weeks ago but finished with 1,454,166 to Carter's 1,451,156.
"It is an unbelievable feeling," Arenas said. "Two years ago, I was voting myself in for the game. Now fans are voting me in, and I'm going to do what they are looking for. I've got something to give back to the fans during All-Star weekend."
WALTON'S ALL-STAR PICKS
EAST STARTERS

G

Gilbert Arenas, Wizards

G

Dwyane Wade, Heat

C

Shaquille O'Neal, Heat

F

LeBron James, Cavs

F

Caron Butler, Wizards
EAST RESERVES

C

Dwight Howard, Magic

F

Chris Bosh, Raptors

G

Jason Kidd, Nets

G/F

Vince Carter, Nets

G

Richard Hamilton, Pistons

G

Joe Johnson, Hawks

G

Chauncey Billups, Pistons
Didn't make the cut: Ben Gordon, Bulls; Luol Deng, Bulls; Jermaine O'Neal, Pacers; Antawn Jamison, Wizards; Michael Redd, Bucks
WEST STARTERS

G

Kobe Bryant, Lakers

G

Steve Nash, Suns

C

Amare Stoudemire, Suns

F

Dirk Nowitzki, Mavs

F

Josh Howard, Mavs
WEST RESERVES

F

Shawn Marion, Suns

F

Carlos Boozer, Jazz

F/C

Tim Duncan, Spurs

F

Kevin Garnett, Wolves

G

Tracy McGrady, Rockets

C

Yao Ming, Rockets

G

Allen Iverson, Nuggets
Didn't make the cut: Ray Allen, Sonics; Pau Gasol, Grizzlies; Elton Brand, Clippers; Marcus Camby, Nuggets; Chris Paul, Hornets; Carmelo Anthony, Nuggets; Deron Williams, Jazz; Manu Ginobili, Spurs; Tony Parker, Spurs; Leandro Barbosa, Suns

-- Bill Walton
Arenas' rally was the latest January highlight for the guard who has forced his name into the MVP discussion with a series of clutch performances. He hit long 3-pointers to win games against Milwaukee and Utah, is second in the NBA with 29.7 points per game and will become the first Washington player to start since Michael Jordan in 2003. Jordan wasn't voted in by fans but started in place of Carter, who gave up his spot in the lineup.
Arenas, O'Neal and James will be joined in the East lineup by Dwyane Wade and another first-time starter, Toronto forward Chris Bosh.
Injured Houston center Yao Ming led all West players with more than 2.4 million votes. Kevin Garnett and Tim Duncan were voted in at forward, while Kobe Bryant and Tracy McGrady won the guard spots.
McGrady held off Denver newcomer Allen Iverson, who would have finished ahead of Arenas to earn a starting spot if he were still in Philadelphia. Iverson started the last seven All-Star Games and was the MVP in 2001 and 2005.
"That was a blessing in disguise," Arenas said about Iverson's move. "It potentially opened years of getting in because of him going out West. He ate up all of the votes, along with Dwyane Wade. Now all I had to do is catch Vince Carter, and that is what I did."
James couldn't quite catch Yao. His total of 2,516,049 votes has been topped only by Yao's 2005 total of 2,558,278.
"That's something I've never dreamed of," James said. "I've always wanted to be an All-Star, but being the leading vote-getter over guys like Vince Carter, Shaquille O'Neal, Dwyane Wade and Allen Iverson, you never think that's going to happen. Just getting the opportunity to be the leading vote-getter is kind of unbelievable."
Elias Says
The players voted to start the NBA All-Star Game were announced and four of the five individuals selected for the Eastern Conference are 25 years old or younger: Gilbert Arenas and Dwyane Wade are both 25; Chris Bosh and LeBron James are both 22. In the past 50 years there has been only one NBA All-Star Game in which four (or more) starters from one conference were no older than 25. The 2002 West team had a quartet of starters each 25 or younger: Kevin Garnett, Steve Francis, Tim Duncan and Kobe Bryant. Story
A.C. Green edged Malone by 1,226 votes in 1990 for a starting forward spot; Kareem Abdul-Jabbar was 1,817 ahead of Ralph Sampson in 1984; and John Stockton won the West's second guard spot by 2,562 votes over Derek Harper in 1990.
The selection represents an amazing turnaround for Arenas, who was perhaps the biggest snub for last year's game. Eventually added to the East team as an injury replacement, he played only 10 minutes in Houston and had just one point.
"It feels great. I am guaranteed now, and I do not have to leave it in the hands of the coaches voting for me," Arenas said.
With Yao unable to play, commissioner David Stern will choose a replacement for the West roster after the reserves are announced next week. Phoenix's Mike D'Antoni, who will coach the team, will decide who inherits Yao's starting spot.

Copyright 2007 by The Associated Press
NBA ALL-STAR GAME
The West blew out the East 153-132 in the 2007 NBA All-Star Game. ESPN.com provided wall-to-wall coverage of all the All-Star events on and off the court. John Hollinger ranked every player's performance starting with the Rookie-Sophomore game on Friday night and culminating with the All-Star Game on Sunday.
•
Hollinger scorecard
SPECIAL SECTION
• NBA All-Star Game Index

ON THE COURT
• Kobe leads West All-Star romp
• Kobe takes second MVP trophy
• Abbott: That's entertainment?
• Green, Kapono, Wade win
• Abbott: Howard wows crowd
• Sheridan: Barkley beats Bavetta
• Williams: D-League stars
• Sophs teach rooks record lesson

COLUMNS
• Helyar: Is Vegas an NBA town?
• Bucher: All-Quasar Team
• Scoop: All-Star weekend preview
• Simmons: Best All-Star game
• Stein: Superstar soundbites
• Hollinger: Best rooks | Sophs
BLOGS
• Hollinger: Live from the mix zone
• Sheridan: Weekend wrap up
• Simmons: Off to Vegas
• Hollinger: Media Day highlights
• Sheridan: No new rules

• Sheridan: Bet on Bavetta

• Sheridan: Stern's gamble?

• Stein: Leather sticks around

• Stein: Raise Rim? No dunk you
MOTION
• All-Star Saturday Night

• Sophomores run over rookies


• Wheelchair All-Star Game


• Reggie Bush: Ankle is ok

• Celebs show their skills


• Join ESPN Magazine in Vegas


• Hall of Fame names finalists

ESPN RADIO
• Dwight Howard

• LeBron James

• Steve Nash

• Dwyane Wade

• Chris Bosh

• T-Mac and Yao

• Dirk Nowitzki

• Tony Parker

• Kevin Garnett

• Carmelo Anthony

• Richard Hamilton

• Gilbert Arenas

• Jason Kidd