Vegas cheers Kobe as he wins second All-Star MVP
Updated:
February 19, 2007, 2:14 AM ET
Associated Press
LAS VEGAS -- The first time Kobe Bryant won this award, he got booed in his hometown of Philadelphia.
He picked up his second Most Valuable Player trophy from the NBA All-Star Game much closer to his West Coast home -- and the Los Angeles Lakers' guard got nothing but love in a city that adores its showmen.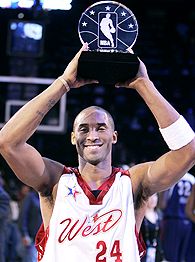 AP Photo/Mark J. TerrillThe crowd reaction to All-Star MVP Kobe Bryant was much different than at the 2002 game in Philadelphia.
Bryant scored 31 points in the Western Conference's 153-132 victory Sunday night, leading a dominant offensive effort as a scorer and playmaker for a roster short on point guards.
Five years ago, Bryant also scored 31 points in the West's victory in Philadelphia -- but the famously crusty fans booed him every time he touched the ball, eventually roaring their disapproval when the kid from the upper-class suburbs got his MVP trophy.
While declining to directly address the Philadelphia brouhaha, insisting "Philly was great," Bryant was determined to enjoy this moment under neon lights.
"As players, we always want to feel like we're appreciated for what we do," Bryant said. "To have this type of reaction here in this All-Star game is very humbling. I just feel very blessed to be able to come out and put on a really good show."
Bryant was visibly shaken by that reaction in Philly -- but five years afterward, he got nothing but cheers all weekend long. The rehabilitation of Bryant's national image after his well-documented sexual-assault controversy also took yet another step forward with a sterling performance in the league's midseason showcase.
Multiple NBA All-Star MVPs

Player

Times

Years

Bob Pettit
4
1956, 1958, x-1959, 1962
Michael Jordan
3
1988, 1996, 1998
Oscar Robertson
3
1961, 1964, 1969
Kobe Bryant
2
2002, 2007
Allen Iverson
2
2001, 2005
Shaquille O'Neal
2
2000, x-2004
Magic Johnson
2
1990, 1992
Karl Malone
2
1989, x-1993
Isiah Thomas
2
1984, 1986
Julius Erving
2
1977, 1983
Bob Cousy
2
1954, 1957
x-Named co-MVP
"He played within the flow of the game," fellow West starter
Tracy McGrady
said. "It wasn't like he was trying to take every shot, come down and get his game off. He had a few assists. He played well. You couldn't tell he was going after the MVP."
That respect from his teammates was yet another sign of Bryant's growing maturity. And it didn't hurt that the nine-time All-Star was easily the Vegas crowd's favorite player, both at Saturday's competitions and in Sunday's showcase event.
Bryant judged the dunk competition after finishing second to Dwyane Wade in the skills competition -- and the crowd even cheered him after he failed four straight times to make a simple chest pass through a hoop.
After all, southern Nevada is Lakers territory -- and Bryant put on a show worthy of a game that began with a performance by Wayne Newton.
"We have two preseason games here normally, and they're extremely supportive here," Bryant said. "I definitely think they could support it."
Bryant scored 17 points in the first half, doing his best to score over Wade whenever possible -- including a dynamite 3-pointer in the Miami star's face late in the half. He went 8-for-14, also throwing down at least one rim-shaking dunk.
Bryant appeared to concentrate on playmaking in the second half, particularly when San Antonio's Tony Parker was out of the lineup. Bryant finished with six assists, including a sweet pass for an alley-oop dunk by Shawn Marion.
"Kobe, regardless of how people feel about him, he's always going to be the fan favorite," Denver's Carmelo Anthony said. "He played great tonight. He deserved it."
With the crowd chanting "M-V-P" in the final minute, Bryant roared through the lane and threw down a vicious under-the-rim dunk over Chris Bosh's head. The shot might have cemented his win over Phoenix's Amare Stoudemire, who scored 29 points in his first All-Star appearance since recovering from microfracture knee surgery.
The crowd chanted Bryant's name again at the end.
"It was great," Bryant said. "I hope we can come back."

Copyright 2007 by The Associated Press
NBA ALL-STAR GAME
The West blew out the East 153-132 in the 2007 NBA All-Star Game. ESPN.com provided wall-to-wall coverage of all the All-Star events on and off the court. John Hollinger ranked every player's performance starting with the Rookie-Sophomore game on Friday night and culminating with the All-Star Game on Sunday.
•
Hollinger scorecard
SPECIAL SECTION
• NBA All-Star Game Index

ON THE COURT
• Kobe leads West All-Star romp
• Kobe takes second MVP trophy
• Abbott: That's entertainment?
• Green, Kapono, Wade win
• Abbott: Howard wows crowd
• Sheridan: Barkley beats Bavetta
• Williams: D-League stars
• Sophs teach rooks record lesson

COLUMNS
• Helyar: Is Vegas an NBA town?
• Bucher: All-Quasar Team
• Scoop: All-Star weekend preview
• Simmons: Best All-Star game
• Stein: Superstar soundbites
• Hollinger: Best rooks | Sophs
BLOGS
• Hollinger: Live from the mix zone
• Sheridan: Weekend wrap up
• Simmons: Off to Vegas
• Hollinger: Media Day highlights
• Sheridan: No new rules

• Sheridan: Bet on Bavetta

• Sheridan: Stern's gamble?

• Stein: Leather sticks around

• Stein: Raise Rim? No dunk you
MOTION
• All-Star Saturday Night

• Sophomores run over rookies


• Wheelchair All-Star Game


• Reggie Bush: Ankle is ok

• Celebs show their skills


• Join ESPN Magazine in Vegas


• Hall of Fame names finalists

ESPN RADIO
• Dwight Howard

• LeBron James

• Steve Nash

• Dwyane Wade

• Chris Bosh

• T-Mac and Yao

• Dirk Nowitzki

• Tony Parker

• Kevin Garnett

• Carmelo Anthony

• Richard Hamilton

• Gilbert Arenas

• Jason Kidd