Cavs' Gibson sinks record 11 3-pointers in blowout vs. rookies
Updated:
February 16, 2008, 2:19 AM ET
Associated Press
NEW ORLEANS -- Daniel Gibson walked away with an MVP award, and had the look of someone who has another trophy coming during All-Star Weekend.
Gibson made a record 11 3-pointers, many coming right in front of Cleveland teammate LeBron James, and scored 33 points to lead the NBA's sophomore stars to a 136-109 victory over the top rookies on Friday night.
Gibson will compete in the 3-point shootout Saturday, and will be hard to beat if he shoots the way he did against the defenseless rookies. He finished three points shy of the game record, set by Amare Stoudemire in 2004.
"My confidence will be high from tonight and hopefully I didn't use them all up," Gibson said.
He had a chance to tie Stoudemire's record, but was short from just inside halfcourt as the buzzer sounded.
Rudy Gay added 22 points, while Brandon Roy and Jordan Farmar scored 17 apiece for the sophomores, who won their sixth straight in the series.
[+] Enlarge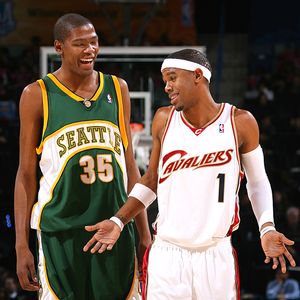 Jesse D. Garrabrant/NBAE/Getty ImagesKevin Durant, left, and the rookies had few answers for the shooting of Cleveland's Daniel Gibson in Friday's Rookie Challenge. Gibson hit a record 11 3-pointers in the sophs' 136-109 win.
Kevin Durant, the No. 2 pick in the draft, scored 23 points for the rookies. Al Horford had 19, while the Nets' Sean Williams finished with 17 points and 10 rebounds.
As usual, there was little defense played. But things fell apart for the rookies when they started trading 2s for 3s.
The rookies led late in the first half before Gibson's surge began. He drilled back-to-back 3s to turn a three-point deficit into a three-point lead, then added three more over the next few minutes to give the sophomores a 55-44 advantage.
"Once he gets in the zone, once he hits two or three, he gets it going. He hit 11 tonight," said Durant, who like Gibson played at Texas. "I'm very happy for him. He went from a second-round pick to win an MVP in the rookie-sophomore game."
Most of Gibson's 3s came from the left side, where James had a courtside seat along with fellow All-Stars Kevin Garnett, Carmelo Anthony and Chris Bosh. James rose and screamed after a couple of them, and once even walked all the way to the scorer's table, perhaps to say something to one of the television announcers.
"Every shot I made, I pointed to him, or I saw him doing something over there," Gibson said. "It's kind of like the chemistry we got on the floor. Just the way we're supportive of each other, that big brother-little brother type of thing."
Gibson, who missed the last four games with a strained hamstring, was 7-of-12 behind the arc in the first half, tying the single-game record set by Kyle Korver in 2005. The sophomores led 66-52 at the break.
Cleveland Rocks!
Daniel Gibson hit a record 11 3-pointers and won the MVP trophy at Friday's Rookie Challenge, but he isn't the first Cavaliers player to do well at All-Star Weekend. Here's a look at other Cavs that left the All-Star festivities with a trophy, too.
| | | |
| --- | --- | --- |
| Year | Player | Award |
| 2008 | LeBron James | All-Star Game MVP |
| 2008 | Daniel Gibson | Rookie Game MVP |
| 2006 | LeBron James | All-Star Game MVP |
| 1998 | Zydrunas Ilgauskas | Rookie Game MVP |
| 1994 | Mark Price | 3-Point Shootout Champion |
| 1993 | Mark Price | 3-Point Shootout Champion |
Gibson added two more 3s in the final 3 minutes and finished 11-of-20. James was still on his feet for the last two, walking to the baseline with his arms in the air in celebration on the final one.
It was a quite an improvement for many of the second-year players, who were run off the floor in a 155-114 loss last year as rookies.
However, they didn't have Gibson, who emerged as a key player for the Cavs late in the season, when his outside shooting sparked their surprising run to the NBA Finals. That included a 19-point fourth quarter in the victory that wrapped up the Eastern Conference finals against Detroit.
"The last time I remember shooting like this was probably Game 6 in the fourth quarter," Gibson said. "I never dreamed I'd come out and shoot the ball as well as I did in an environment, an atmosphere like this."
The sophomores finished 17-of-32 (53 percent) from behind the arc. The rookies were 4-for-9.

Copyright 2008 by The Associated Press
SPONSORED HEADLINES
MORE NBA HEADLINES
MOST SENT STORIES ON ESPN.COM
2008 NBA All-Star Game
We're in New Orleans covering NBA All-Star Weekend (February 15-17). Check out news, analysis and more.
All-Star Game Index
All-Star stories
• James, Allen lift East to All-Star victory
• Shaq-less All-Star Game lacks fun
• All-Stars help lift New Orleans' spirits
• Scoop: Returning to the court
• Adande: It's all about the game in 2008
• Howard proves big men can fly, earns dunk title
• Paul shows his skills from half court
• Adande: Dirk, Kidd team up for Katrina victims
• Sheridan: Making the All-Star Game competitive
• Hollinger: Big weekend for Big Easy
• Scoop's All-Star Weekend preview
• All-Star Saturday preview

Hollinger scorecards
• Rookie grades | Sophomore grades
• Skills competition grades
• 3-point shootout grades
• Slam dunk contest grades

Video
• Kapono ties 3-point single round record
• Dunkin' Dwight Howard Wins in New Orleans
• NBA All-Star legends food drive
• Dirk, Kidd team up for NBA Day of Service
• Rookie Challenge highlights
• T.O. stars in celebrity game
• Sheridan on All-Star selections
• Adande on All-Star selections

TrueHoop in New Orleans
• Michael Lee on Caron Butler's youth
• Brunching with legends
• Flying is hard work
• NBA legends pitching in
• All-Star Wiki experiment
• Talking to Tyrus Thomas
• Saturday morning notes
• Don't get between Stern and his good deeds
• New Orleans East
• Basketball and New Orleans
• Ro Brown on the history of The Barn


• Ro Brown on basketball in New Orleans


• TrueHoop: First thoughts on New Orleans

Rookie Challenge
• Gibson wins MVP with 11 3-pointers
• Thorpe's breakdown of rooks/sophs


• Roy, Durant head up Rookie-Sophomore contest

3-Point Shootout
• Kapono wins second straight 3-point shootout
• Bryant out of 3-point contest; Dirk in
• Kapono will defend title in 3-point shootout

Slam-Dunk Contest
• Howard proves big men can fly in victory
• NBA stuffs Dwight Howard's All-Star dunk request
• Gay seeks dunk inspiration from YouTube
• Green will defend title in NBA slam dunk contest


2008 All-Star Game
• Lakers hope Kobe can skip ASG
• Allen replaces Butler on East squad
• Sheed replaces Garnett on East squad
• New Orleans' security ready for All-Star Weekend
• Nash, Dirk, Paul among All-Star reserves
• All-Star starters announced; KG top vote-getter
ESPN Radio Interviews
• Kobe Bryant
• Dwyane Wade
• Caron Butler
• Brandon Roy
• Dwight Howard
• Chris Bosh
• Chris Paul/David West
• LeBron James
• LaMarcus Aldridge
• Daniel Gibson
• Jeff Green
• Antawn Jamison
• Al Horford

Chat Wraps
• Game day chat
• Carmelo Anthony | Dwight Howard

All-Star Picks
• Stein's All-Star starters | Stein's reserves
• Tim Legler names his West All-Star guards
• Hollinger: East picks | Hollinger: West picks


• Broussard selects his All-Star squad


• Karabell names the fantasy All-Star team