Commentary
Rookie Challenge loaded with talent
Updated:
February 12, 2010, 3:21 PM ET
By
Tim Legler
| ESPN
Legler's Previews: Rookie-Sophs | 3-Point Shootout | Slam Dunk Contest | All-Star Game
Someday down the road, the 2009 NBA draft may go down as the most underrated draft of the past 20 years. Leading up to the event this past summer, most people thought the 2009 class consisted of Blake Griffin and "everybody else." Well, a little more than halfway through the season, a number of rookies are making their mark and contributing at a far higher level than even their own teams thought possible this early in their careers. The best of the rookie crop, along with an outstanding group of second-year players, will be on display at the 2010 Rookie Challenge, taking place Friday as part of the All-Star Weekend lineup in Dallas.
If you haven't seen much of Sacramento Kings guard Tyreke Evans this season, he's a leading candidate for NBA Rookie of the Year honors and one of the many reasons to tune into this game. A year ago, Kevin Durant turned this very stage into his personal coming-out party by scoring 46 points and taking home the game's MVP award. Evans may be poised to put on a similar show.
The knock on Evans coming out of Memphis was that he didn't really have a true position. The doubters said that he couldn't make enough plays off the dribble to play the point and he wasn't a good enough shooter to be a true off guard. Ready for the irony? We are well past the halfway point in the season and we still don't know what his natural position is or should be moving forward. This much, however, we do know: Tyreke Evans is a very good all-around basketball player. He can score, create plays and defend. He's tough, coachable and, most of all, he loves to play.
For the time being, Evans is buried in Sacramento with a team that is very young and, most nights, overwhelmed in a tough Western Conference. Yet being thrust into a leading role on a team hit hard by injuries early in the season will pay huge dividends down the road, as Evans takes a blank canvas and begins to mold himself into a future NBA star.
Evans has been the best rookie, but there are a number of others who have had a significant impact.
Brandon Jennings of the Milwaukee Bucks took the NBA by storm with a 55-point game just three weeks into his rookie season. Not much was known about his game or potential after spending a year in Italy upon leaving high school as one of the top five players in the country. With that scoring explosion in mid-November, Jennings was suddenly on the map. Just as suddenly, however, teams focused their attention on him. The big scoring nights have been hard to come by ever since, but the Bucks have at least learned that they have a guy with potential greatness at the most difficult position to fill.
DeJuan Blair of the Spurs literally fell into the lap of San Antonio in the second round. There were concerns about his knees and his height at the power forward position. It's safe to say that Blair has put those concerns to bed with a first-half showing that highlighted his ability to be a valuable sub or a fill-in starter on a team that should be playing deep into the postseason. Blair is fourth in the NBA in rebounds per 48 minutes and he has shown an ability to get his shot off over bigger defenders around the basket. As his role grows and his minutes increase, Blair is a lock to eventually lead the league in boards and become a future All-Star.
The Warriors' Stephen Curry has been very good as a starter in Golden State. He has shown thick skin and an ability to ignore the doubters and just play his game. As the season has progressed, he has become more aggressive in his search for shots and his ability to make plays with his underrated passing skills and vision. The rookie-sophomore game is made for scorers, and Curry could light it up with the number of open looks that will come his way.
Jonny Flynn (Minnesota), James Harden (OKC), Omri Casspi (Sacramento), Taj Gibson (Chicago) and Jonas Jerebko (Detroit) will also be representing the rookies in Dallas. Together, this class has a solid chance of upsetting the sophomores. The rookies tend to play hard but selfishly in this event as it's the only time all season they can be judged strictly based on how they play against their fellow rooks. It's their show and they really enjoy the freedom -- if only for a night.
As for the other side of the ball, the sophomores have taken the challenge in the past and this year will be no different. There's a lot of pride that kicks in and the second-year guys try to send a message that it won't be easy getting to the next shelf in their career journey.
The sophomores will have plenty of firepower, and can get the win if they move the ball a little bit and even remotely pay attention to their defense down the stretch.
Offensively, they will be led by Michael Beasley, O.J. Mayo and Eric Gordon, all of whom can create his own offense and none of whom saw a shot he didn't think was in his comfort zone. Brook Lopez has put together a very good season statistically for the Nets, but when your team is 4-47, there needs to be an asterisk next to your name on the stat sheet every night. He should have a big game against a rookie team full of guards and wings. That is, if he gets his share of touches.
Another player to watch, and my personal choice for dark horse MVP in the game, is Russell Westbrook. His confidence has grown on a nightly basis and he will thrive in an open court "pickup" style of game in which he can use his burst and athleticism to get to the rim at will. If nothing else, he will give everyone a few highlight-reel dunks that we will all be talking about at work the next day.
The sophomore roster is rounded out by Marc Gasol, Danilo Gallinari and Kevin Love. Derrick Rose was slated to play in the game, but will be pretty busy over the weekend with his participation in the Skills Challenge on Saturday night and his selection as an Eastern Conference reserve for the big game on Sunday.
This game is one of the highlights of the weekend. It gives us all a chance to see the best young players in the NBA go head-to-head without having to defer to the vets they normally share the ball with on their respective teams.
Legler's Previews: Rookie-Sophs | 3-Point Shootout | Slam Dunk Contest | All-Star Game
SPONSORED HEADLINES
MORE NBA HEADLINES
MOST SENT STORIES ON ESPN.COM
2010 NBA All-Star Weekend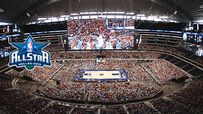 Follow ESPN's NBA coverage on Twitter
ALL-STAR CONTENT
DUNK CONTEST, 3-POINT SHOOTOUT
ROOKIE CHALLENGE
VOTING, SNUBS