Rookies break sophomore hex in Dallas
Updated:
February 13, 2010, 12:57 AM ET
Associated Press
DALLAS -- San Antonio's DeJuan Blair told his fellow NBA rookies before the game that he was going to try to get every rebound. Then he went out and set a record.
Blair grabbed a record 23 rebounds and scored 22 points for the first 20-20 game in the Rookie Challenge, leading the first-year players to a rare 140-128 victory over the sophomores on Friday night.
"He started getting the rebounds for us. He did what he said he was going to do," said Sacramento's Tyreke Evans, who had 26 points and was the game's MVP. "That's why I wanted to share the [MVP] trophy with him."
Russell Westbrook of Oklahoma City scored 40 points for the sophomores, but he was one of seven players on the second-year team who were handed a surprising result -- consecutive losses in this All-Star Weekend event.
[+] Enlarge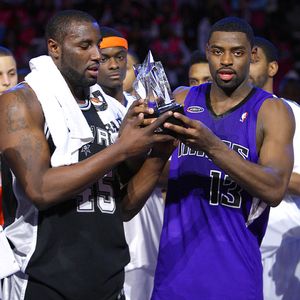 AP Photo/LM OteroDeJuan Blair (left) and Tyreke Evans (right) helped the rookies snap a seven-game Challenge losing streak Friday night in Dallas.
The sophomores had won seven straight games and eight of 10 since that format was adopted in 2000.
"We got our butts kicked in every aspect of the game," said Patrick Ewing, the Orlando assistant coach who headed the sophomore squad. "I know it's an All-Star Game, but we didn't play with enough pride in my eyes. They outplayed us, they outhustled us, they outscrapped us."
Blair had one of the highlight plays after a turnover by the sophomores in the first half. Stephen Curry flipped the ball to Blair, who threw it off the backboard and grabbed it out of the air before slamming it home.
In the closing seconds of the game, Blair chased down a ball in the corner and scooped it underhand and backward to save it from going out of bounds. After getting back on the court and begging for teammates to get him the ball, he scored despite being tackled by New Jersey's Brook Lopez under the basket.
Both players were smiling in a pile on the floor after the ball fell through the hoop at the American Airlines Center, the Dallas Mavericks' home arena. Sunday night's All-Star Game will be played at Cowboys Stadium.
Evans, the league's top-scoring rookie and 14th overall with 20.3 points a game, made 11 of 15 shots to go with six rebounds and five assists. Milwaukee rookie Brandon Jennings had 22 points and eight assists, and James Harden from Oklahoma City also had 22 points.
"Everyone came out and contributed," Jennings said. "DeJuan Blair ... that's amazing right there."
Westbrook's 40-point game came a year after Kevin Durant, this year an assistant coach for the rookies, became the first in the game to break the 40-point mark with a record 46.
"Luckily, they took him out so he didn't get my record," Durant said.
Westbrook hit a 3-pointer with about 6 minutes left to cut the gap to 116-108, then came out of the game for a few minutes. He wanted to get back in, but not to pursue the scoring record.
"I was trying to win at that point," Westbrook said.
Miami's Michael Beasley, who scored 29 points in last year's game, had 26 points this time. Golden State's Anthony Morrow had 15 points and Minnesota's Kevin Love, who had predicted a lopsided victory for the sophomores, had 12 points and six rebounds. O.J. Mayo from Memphis had eight points and 10 assists.
The rookies had a 55-45 lead with just under 4 minutes left in the first half when Evans converted a scoop shot while falling away and being fouled, and made the free throw.
The sophomores then scored six straight points. Eric Gordon had a basket, then a dunk off on an assist from Mayo. Anthony Morrow drove the baseline for a reverse layup, but the newbies got all those points right back with Jennings' breakaway layup making it 61-51.
The biggest lead for the rookies before halftime was the 67-55 score at the break after Omri Casspi's 13-foot turnaround fadeaway shot.
Mayo had six assists by halftime, not including helping Gordon against Toronto's DeMar DeRozan in the first-ever All-Star Slam Dunk-In. DeRozan, not part of the Rookie Challenge game, earned 61 percent of the fan vote to get a spot in the Slam Dunk Contest that is a highlight of the Saturday night activities at the All-Star Game.
The rookies hit the 100-point mark with more than 10 minutes left on a short floater by Jennings that made it 100-86.

Copyright 2010 by The Associated Press
EDITORS' PICKS
Sean Miller, who has led Arizona to the Elite Eight, is one of several intriguing candidates for an NBA job.
Kevin Arnovitz »

Which NBA team will land Kentucky's Karl-Anthony Towns? Take a spin through the Lottery Mock Draft.
Lotto Mock Draft »

In today's NBA, is a team doomed without a star point guard?
Column
MORE FROM ESPN BOSTON

Want to submit a question for Mike Reiss' weekly Patriots mailbag? Click here and come back every Tuesday around noon for the 'bag.
Latest headlines on ESPNBoston.com:
MORE FROM ESPN DALLAS

Check out ESPN Dallas, the place for your local Dallas sports coverage.
MORE FROM ESPN LOS ANGELES

Check out the new ESPN Los Angeles, the place for your local Los Angeles sports coverage.
MOST SENT STORIES ON ESPN.COM