null
Updated:
February 12, 2010, 2:23 PM ET

2010 NBA All-Star
Scorecards
Grades by Tim Legler


B+
Just like his game, Chauncey demonstrated the type of consistency that makes him tough to get rid of. He has a perfect stroke for the shootout with a very short trigger time and grounded release. He just missed too many money balls to win it all.




C-
The defending champ hasn't had much of an impact this season in Miami and he didn't really impact this competition either. Cook never strung together more than three makes in row and let his trophy be taken without putting up much of a fight.




B+
He has the purest stroke in the competition and he had some nice runs throughout the two rounds. Ultimately he will look back on his performance with frustration over his inability to knock down the money balls. The two-point last shot of each rack is critical to win and Curry didn't hit enough. No worries though. He will win a few of these before he's through.




B
He was impressive based on the fact that he was the only true "big" man in the competition. Frye showed off a nice, short compact stroke that gave him a legit chance to win. His downfall was the final two racks, where he faded and rushed more than he needed. All in all, he had a nice showing.




C-
The man Mike D'Antoni called "the greatest shooter I've ever seen" never got into any kind of rhythm and fizzled in a first-round elimination. His score of 15 is certainly not an embarrassment, but it's not what you would expect from a guy leading the league in made 3-pointers and possessing such an easy stroke. With his subpar performance in the Rookie Challenge, Gallinari can only hope for another All-Star Weekend to redeem himself.




A+
I give Pierce a ton of credit because I thought he would struggle with the time constraints. His release is much more deliberate in game action, but Saturday he showed he can get it off much quicker if pressed. His 20-point final round was too much for Curry or Billups to match. Pierce is a great player, phenomenal closer, and now a 3-point champion. Outstanding performance.


2010 NBA All-Star Weekend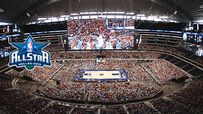 Follow ESPN's NBA coverage on Twitter
ALL-STAR CONTENT
DUNK CONTEST, 3-POINT SHOOTOUT
ROOKIE CHALLENGE
VOTING, SNUBS

MOST SENT STORIES ON ESPN.COM