null
Updated:
February 12, 2010, 2:23 PM ET

2010 NBA All-Star
Scorecards
Grades by Tim Legler

B
It's hard to give out an "A" despite the fact DeRozan made it to the finals because the contest overall could have been the worst of all time. The rookie did impress me, however, with a gravity-defying windmill after taking a pass off the side of the backboard in the first round. He also showed some originality with a two-hand reverse after going between his legs in midair. In the end he couldn't compete with the energy or popularity of the NBA nation's favorite little guy.


D
He was my favorite going in and he really let me down. His first dunk attempt, a miss, would have been spectacular. He tried a Statue of Liberty 360 but hit the back of the rim. Inexplicably, he went in a different direction with his follow-up and settled for a basic hand-switch dunk that 80 percent of the guys in the league could duplicate. It was downhill from there as even Kobe Bryant's assist on his second dunk couldn't bail him out. Very disappointing.




B+
The champ doesn't get an "A" because in this competition -- his third time winning -- Robinson didn't show us as much as he has in other years. Perhaps it was because he didn't need to based on the level of his competition. He still put on a great show that is best appreciated on the super-slow-motion high-definition scoreboard replays that leave the crowd gasping. I mean, the guy is 5-foot-9. Congrats to the little spark plug for giving an otherwise comatose event some life.




C-
Despite the fact that he is having his best year and is very deserving of his first All-Star appearance, Wallace's best dunking days are behind him. He gets a higher score than Brown because the expectations weren't as high. Neither of his dunks generated much buzz but it won't dampen his excitement of appearing in the big game in Cowboys Stadium on Sunday.


2010 NBA All-Star Weekend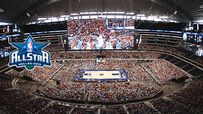 Follow ESPN's NBA coverage on Twitter
ALL-STAR CONTENT
DUNK CONTEST, 3-POINT SHOOTOUT
ROOKIE CHALLENGE
VOTING, SNUBS

MOST SENT STORIES ON ESPN.COM