null
Updated:
February 15, 2010, 9:04 AM ET

2010 NBA All-Star
Scorecards
Grades by Maurice Brooks

A-
He made a late push for MVP honors and got all of Kevin Garnett's leftover minutes. He has been a double-double machine all season, so it should come as no surprise that he had one in Dallas, tallying 23 points (including the game-winning freebies) and 10 rebounds.




C-
"The Big Ticket" played just more than 12 minutes, scoring four points. His biggest contributions came when he was playing the role of cheerleader in the made-for-TV fourth quarter.




B+
Regardless whether you think he deserved to be in the All-Star Game or not, he showed he belonged with the big boys, getting up and down the floor for eight points (4-for-5 shooting) and four boards.




A-
He had one of the game's signature moments, flushing home an alley-oop pass from LeBron James. The defensive player of the year led all players with three blocks and had 17 points (7-for-10 shooting).




A-
The only thing preventing him from earning higher marks was his inconsistent jumper, but then again, when you can get to the cup the way he does, who cares if you fire up the occasional air ball? The league's best player added his share of highlights that will be shown repeatedly.




B
He filled in well for crowd favorite Allen Iverson, knocking down half of his eight shots on his way to being one of four East players to reach double digits in points (10).




C-
The last-minute replacement, who shouldn't have had to wait as long as he did to be invited to the show, somehow turned the ball over a team-high three times in just 12 minutes.




B
I don't agree with his claim of being one of the best shooters in NBA history, but his hot hand from distance continued. The newly crowned 3-point king went 2-for-3 on triples.




B
Despite playing only 19 minutes, he had enough time to give out five assists and spark chat room debates over who is better, him or Derrick Rose.




B+
At East practice Saturday, while the rest of his teammates were launching half-court crowd-pleasing shots, he was busy working on his midrange game. His dedication to his craft is one of the reasons I was happy he was able to overcome his hip injury to score eight points, give out four dimes and make three thefts.




A+
I started calling him the MVP favorite in the first quarter when it was obvious he was trying to get his teammates involved. He still found plenty of time to call his own number, putting on a dazzling all-around display that included 28 points, 11 assists, six rebounds and five steals.




D
I'm having a hard time erasing the memories of his halfway unacceptable performance at the dunk contest, and his 1-for-3 effort on the big stage didn't exactly help.


2010 NBA All-Star Weekend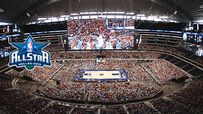 Follow ESPN's NBA coverage on Twitter
ALL-STAR CONTENT
DUNK CONTEST, 3-POINT SHOOTOUT
ROOKIE CHALLENGE
VOTING, SNUBS

MOST SENT STORIES ON ESPN.COM
ESPN.COM PARTNER: NBA.COM