null
Updated:
February 12, 2010, 2:23 PM ET

2010 NBA All-Star
Scorecards
Grades by Tim Legler


B+
He had a very respectable showing in his first skills challenge. He showed his competitive nature by coming out hard and getting through the dribbling obstacle course in great shape, but the passing let him down. Based on his tunnel vision in the rookie game, that's not surprising.




A+
He would have turned in a perfect performance if he hadn't missed a jumper in both rounds. As usual, his passing was precise and saved him valuable time that his competitors lost. After strolling through the first round it was interesting to see Nash pick up the pace around the obstacles once he smelled a chance at winning. Even two-time MVPs love picking up a little extra hardware.




C
Judging by his casual pace, Westbrook may have been worn out from his 40-point performance in the Rookie Challenge. Though the passing skills were particularly challenging, he never really had an easy time with any part of the challenge.




A-
It looked like Williams was going to steal the competition from Nash with a flawless performance through the first 15 seconds of the finals. Then, of all things, his passing let him down. His hopes for a trophy faded as he missed on four consecutive outlet passes and had to settle for runner-up.


SPONSORED HEADLINES
MORE NBA HEADLINES
MOST SENT STORIES ON ESPN.COM
2010 NBA All-Star Weekend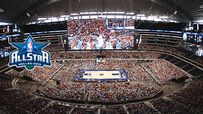 Follow ESPN's NBA coverage on Twitter
ALL-STAR CONTENT
DUNK CONTEST, 3-POINT SHOOTOUT
ROOKIE CHALLENGE
VOTING, SNUBS