null
Updated:
February 12, 2010, 2:22 PM ET

2010 NBA All-Star
Scorecards
Grades by Tim Legler


C-
Beasley tried to turn the game into his personal showcase, and he had some memorable poster shots, but he was oblivious to anyone else on the court. His shots per touch set a Rookie Challenge record, and he simply forced too many shots to impress me.




D
I was expecting more from a guy that can flat-out light it up. He had the first five points for the sophs and was barely heard from again. I hope he's got more up his sleeve for the 3-Point Contest on Saturday.




C-
Same story as the rest of the bigs. No touches means no production. The big guys get pretty disinterested early when they realize there's no reason to run the floor. Fortunately, Gasol is appreciated for what he does for an up-and-coming Memphis team full of young talent.




C-
Maybe he was deflated by losing the halftime "dunk-in," but Gordon never really looked into it in the second half. He is a future All-Star, without a doubt, but on this night he was just another guy.




D
I really like him, but he looked completely out of place all night. I understand centers never get the rock in pickup games, but you have to find some way to leave your mark. He'll fare better in the All-Star Game if he gets there one day.




B+
Love found a way to make his presence felt despite the tempo not really favoring big guys. He knows how to play, and it shows, even when he isn't really involved in the flow.




A-
He might not have put up huge scoring numbers, but he was the best passer on the court, and he showed an unselfishness rarely seen in this game. His maturity stood out. Well done.




C-
With his ridiculous ability to torch people in isolation situations, I really expected Morrow to have a big game. He looked good early, but then the game MVP candidates took over and he never really got any legit opportunities.




A+
He will be playing in the varsity game on Sundays maybe as early as next season. He had an opportunity to show his scoring ability without having to worry about feeding a certain MVP candidate (Kevin Durant) as he does every night during the season. This guy has the whole package.


SPONSORED HEADLINES
MORE NBA HEADLINES
MOST SENT STORIES ON ESPN.COM
2010 NBA All-Star Weekend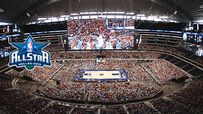 Follow ESPN's NBA coverage on Twitter
ALL-STAR CONTENT
DUNK CONTEST, 3-POINT SHOOTOUT
ROOKIE CHALLENGE
VOTING, SNUBS