null
Updated:
February 15, 2010, 9:24 AM ET

2010 NBA All-Star
Scorecards
Grades by Henry Abbott


B-
His 27 points and 10 rebounds were great. But they came with George Karl at the helm, which bought Anthony the most minutes and shots. He had as many turnovers (two) as assists, and the lasting memory of the game will be his badly missing a shot the locals wanted Dirk Nowitzki to take.




A-
It would have been natural to play Dallas favorite and starter Steve Nash in crunch time, but Billups scored five of the seven points that tied up at 137 a game that had been 137-130 in the final two minutes, and as the game tightened up, so did his defense. He was the night's best shooter, finishing 5-for-8 from downtown.




F
For not really caring. He's one of the NBA's finest players, but his approach to this game screamed, "I'm not into All-Star games." The most memorable part of his 13 minutes was when he skillfully pretended he couldn't see big man Dwight Howard rolling down the lane. Howard got a wide-open dunk. Did I mention the East won by two? It would be appropriate, from this point forward, to make him an honorary 13th All-Star every year.




B
Durant would have been a good choice to shoot with the game on the line, but Karl was subbing him in and out with Nowitzki. He made half of his 14 shots, along with five rebounds and two turnovers.




B+
After a few minutes of playing time, he was as good as anybody. Then he missed a few shots, did some fouling and mostly watched from the bench. He finished 5-for-9 with 13 points and six rebounds in 20 minutes.




D
Kaman played little and did less. In a game that's about virtuoso creativity, he's a system player.




F
The hometown point guard joined Duncan in blatantly not wanting to be in the game, and who can blame him? But what other grade can you give a guy who missed his only shot, and had one turnover, one steal and one assist?




A-
Nash had 13 assists in 20 minutes and did his part to make it a night to remember for Dallas basketball fans. "Steve, when he was out there," Nowitzki said, "always dribbled to me and flipped the ball back and forced me to shoot all game long." With a few more minutes and makes, Nash might have delivered Nowitzki the MVP, as a special reminder of when the close friends were teammates in Dallas.




B
It was a setup for him to get the MVP -- Nash was force feeding him the ball -- but while he was extremely good, he was not transcendent. Nowitzki never shook loose to launch 3s (attempted just one), couldn't get open to shoot the game winner and didn't throw up the post-foul field goal attempt that might have gotten him a game-winning three free throws.




C
Randolph managed only eight points off his 10 shots, although he dug in on defense a couple of times, remarkably, and came up with two steals and six rebounds.




B-
On this night, 24 players adopted Stoudemire's casual approach to defense. So he looked right at home, as evidenced by the big man's zero fouls in 20 minutes. He made half of his 10 shots to go with 10 rebounds. He gets bonus points for gamely switching onto his potential future teammate (James) on a key final possession.




B
His stat line was similar to Billups', only instead of ramping up the shooting in crunch time, he ramped up the turnovers. He finished with a spectacular five, in 28 minutes, including one with 17.8 seconds left in a tie game. He did scrounge four steals, however.


2010 NBA All-Star Weekend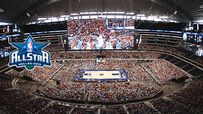 Follow ESPN's NBA coverage on Twitter
ALL-STAR CONTENT
DUNK CONTEST, 3-POINT SHOOTOUT
ROOKIE CHALLENGE
VOTING, SNUBS

MOST SENT STORIES ON ESPN.COM