Commentary
2011 NBA All-Star Game Scorecard: Dunk Contest
Updated:
February 19, 2011, 11:34 PM ET
By
By TBD
| ESPN.com

2011 NBA All-Star
Scorecards
Grades by Kevin Arnovitz

A-
DeRozan might have a good case for larceny as his vicious second dunk was one of the highlights of the night. The young Rap lobbed an alley-oop, which he plucked out of his hand with one hand, cupped, then threw down with ferocity. His first exhibition -- the East Bay Funk Remix -- was no slouch either.


A
Things got stressful when the clock ticked down on Griffin in Round 1, but Griffin rallied, then made noise in the second round with a one-handed crush that produced a welt on his arm. The coup de grace? He soared over a car, collecting an alley-oop from Baron Davis peeking out of the sunroof, and rocked it home.


B+
Borrowing from the GOAT on his first dunk, Air Congo took off from the FT line, and flew nonstop to Brazzaville. For his follow-up, Ibaka snatched a stuffed animal off the rim with his teeth. He got low-balled on both attempts and it's fair to say he was one of the strongest last-place finishers in recent years.


A-
McGee's portfolio of dunks might have won him a title any other year. He went double the pleasure on his first attempt, dunking a pair, then later upped the ante and threw down a trio of balls. His acrobatic one-handed windmill also elicited oos and ahhs. But none of it was enough to top the hometown favorite.
SPONSORED HEADLINES
MORE NBA HEADLINES
MOST SENT STORIES ON ESPN.COM
2011 NBA All-Star Game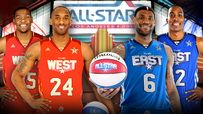 Follow the NBA on ESPN: Twitter / Facebook
2011 All-Star Index | ESPN Los Angeles
LATEST FEATURES
ALL-STAR SATURDAY
ROOKIE CHALLENGE, CELEB GAME
ALL-STAR VOTING, SNUBS