Commentary
2011 NBA All-Star Game Scorecard: Rookies

2011 NBA All-Star
Scorecards
Grades by Kevin Arnovitz


C
He turns the ball over on more than a third of his transition opportunities, and that pattern held true Friday. Bledsoe is blazing fast with sick hops but needs to dial down his game.


A
In addition to having one of the most thunderous dunks of the game, Cousins rumbled end to end with the ball for a layup and made beautiful music with fellow former Wildcat Wall. His 33 points led all scorers.


C+
In what might have been his last game in a Nets uniform, Favors looked good on a couple of pick-and-pops but was the beta member of the rooks' frontcourt, getting far fewer opportunities than Griffin and Cousins.


A-
He clearly is not the most athletic guy on the floor, but Fields displays patience, even in a glorified AAU game. He found seams, spotted up, didn't do anything silly and made smart choices.


A-
For a guy who was supposed to be conserving his energy, Griffin spent an awful lot of time above the rim and didn't disappoint the locals. He was on the receiving end of two alley-oops from Wall in the first half, then finished a pair from Neal in the second.


A
We've heard a lot about Johnson's versatility, and he brandished his full arsenal of skills against a permissive defense. He shot well, drove with abandon, and showed off the polished mechanics and explosiveness that vaulted him up the draft charts.


B+
The Pistons big man was the official winner of the Good Sanitation Award for excellence in garbage collection. The opportunistic Monroe made a killing on second-chance buckets, following his teammates' misses.


A
We saw what Neal could do as a spot-up shooter at the 2010 summer league, and he replicated those performances. But we also saw some nice passes, a pretty teardrop through the lane and the off-balanced dagger to seal the game.


A
The game's MVP had the slickest play of the night when he bounced a 30-foot alley-oop pass off the floor to Griffin. Whether he was feeding his boy Cousins, slinging a behind-the-back pass in transition or floating alley-oops, Wall was an exquisite playmaker.
ESPN.com
NBA writer for ESPN.com since 2008
Editor of the TrueHoop Network
Former contributor and editor at NPR
2011 NBA All-Star Game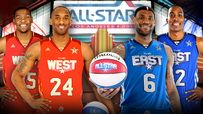 Follow the NBA on ESPN: Twitter / Facebook
2011 All-Star Index | ESPN Los Angeles
LATEST FEATURES
ALL-STAR SATURDAY
ROOKIE CHALLENGE, CELEB GAME
ALL-STAR VOTING, SNUBS