Commentary
2011 NBA All-Star Game Scorecard: Sophomores

2011 NBA All-Star
Scorecards
Grades by Kevin Arnovitz


A
The Spurs' othersized big man has only one gear -- kill. He hit from midrange, played a little pick-and-roll with Curry, took Blake Griffin off the dribble, and even tossed one to himself off the glass and followed it with a slam. Nobody on that floor gets more out of less than Blair.


C
Even when Steph is missing -- and he did plenty of that Friday night -- his stroke is always textbook perfect. Curry's nonparticipation in the fireworks display was one of the few disappointments of the game.

B+
A rookie-sophomore game offers DeRozan the perfect platform. He can show off his athleticism without having to make any defensive decisions or pass the ball. No one expected him to initiate plays, only to finish them -- and he obliged.


B-
The Bulls power forward had the thankless task of covering the paint in an up-and-down affair. This is a lousy exhibition for Gibson's nuanced, defensive talents, although he drained a couple of midrange shots.


A
"The Beard" was lethal from every corner of the floor en route to 30 points. Not only did he deliver both a tomahawk jam and a half-windmill, but he had the distinction of draining a 3 on a three-on-zero break. He also added his own signature flourish to Matthews' 3-point goggles.


C
The Sixers point guard logged the fewest minutes of anyone not named Griffin and played a bit of off-guard alongside Jennings when he was on the floor. He was a quick trigger, but not a particularly accurate one.


B
Pop quiz -- Who was the only player on the court to go perfect from beyond the arc? "Air Congo" spent the evening working on his long-range game (2-for-2 from downtown) and did his share of clearance on the glass off rookie misses.


B-
Along with John Wall, Jennings is a guy who comes into an exhibition game looking to make passes. He made a series of pretty ones -- no-look, between-the-legs, etc. Jennings has struggled with his shot since returning from injury, and that held true Friday.


A-
Matthews took his share of shots and had the opportunity to flash the goggles, but he also looked like the grown-up on the floor -- willing to forego a shot for a pass or clear through to give a teammate some space.
ESPN.com
NBA writer for ESPN.com since 2008
Editor of the TrueHoop Network
Former contributor and editor at NPR
SPONSORED HEADLINES
MORE NBA HEADLINES
MOST SENT STORIES ON ESPN.COM
2011 NBA All-Star Game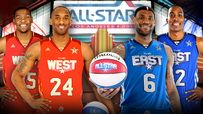 Follow the NBA on ESPN: Twitter / Facebook
2011 All-Star Index | ESPN Los Angeles
LATEST FEATURES
ALL-STAR SATURDAY
ROOKIE CHALLENGE, CELEB GAME
ALL-STAR VOTING, SNUBS