MVP Race: Familiar Feeling At the Top
1. Kobe Bryant, Lakers
G
MIN
FG%
3P%
FT%
STL
BLK
REB
AST
PTS
PER
5
33.2
.473
.333
.786
1.8
0.8
5.6
3.4
24.4
25.0
My buddy Marc Stein handles the ESPN.com Power Rankings, but the undefeated Lakers look like the top team to me. Kobe's stats don't jump off the screen like they used to, but that doesn't change his importance.
2. Chris Paul, Hornets
G
MIN
FG%
3P%
FT%
STL
BLK
REB
AST
PTS
PER
6
37.8
.519
.417
.830
3.3
0.2
5.2
11.7
21.3
32.4
Call it the NBA Awards Watch curse: The team with the player in the top spot loses two games that week. CP3's league record streak of 20 points and 10 assists to open the season is at six games and counting.
3. Joe Johnson, Hawks
G
MIN
FG%
3P%
FT%
STL
BLK
REB
AST
PTS
PER
5
37.4
.505
.440
.789
1.4
0.2
5.2
3.8
25.2
24.2
Even with Josh Smith (sprained left ankle) out, the Hawks stayed perfect with a win against the Thunder. JJ was brilliant in Atlanta's impressive win in New Orleans, notching 24 points, seven rebounds and four assists.
4. LeBron James, Cavaliers
G
MIN
FG%
3P%
FT%
STL
BLK
REB
AST
PTS
PER
7
36
.456
.192
.773
1.7
1.0
8.9
7.0
28.1
32.4
He became the youngest (23 years, 308 days) and fastest (395 games) player to top the 10,000 points, 2,500 rebounds, 2,500 assists, 700 steals and 300 blocks marks, and the Cavaliers have won four straight.
5. Amar'e Stoudemire, Suns
G
MIN
FG%
3P%
FT%
STL
BLK
REB
AST
PTS
PER
8
38.4
.620
.000
.880
1.1
1.1
8.4
2.5
24.6
28.5
The 49 points, 11 rebounds, six assists, five steals and two blocks by the West player of the week against the Pacers was as good a performance as I've ever seen -- and apparently stats guru John Hollinger agrees.
6. Dwight Howard, Magic
G
MIN
FG%
3P%
FT%
STL
BLK
REB
AST
PTS
PER
7
37
.659
.000
.523
1.1
3.6
14.4
1.3
23.0
32.4
When Superman II is playing, you might get an e-mail like the one I received Monday: "Dwight Howard has 20 and 10 ... in the first half." Imagine how ridiculous his numbers would be if he could shoot free throws.
7. Dwyane Wade, Heat
G
MIN
FG%
3P%
FT%
STL
BLK
REB
AST
PTS
PER
7
35.9
.481
.250
.785
2.9
1.6
5.9
7.6
27.1
33.1
His support for this award will depend on how Miami looks this season. He has scored at least 29 points in four straight and has reclaimed his spot as one of the top all-around players in the game.
8. Chris Bosh, Raptors
G
MIN
FG%
3P%
FT%
STL
BLK
REB
AST
PTS
PER
7
41.6
.526
.000
.810
0.4
0.7
10.4
2.3
24.1
22.0
Turns out CB4 is human -- after six great games, he finally had a subpar one, posting only nine points and seven rebounds against the Celtics on Monday. More troubling is the three L's in four games for Toronto.
9. Carlos Boozer, Jazz
G
MIN
FG%
3P%
FT%
STL
BLK
REB
AST
PTS
PER
6
33
.607
.000
.808
1.0
0.3
11.0
2.7
20.5
28.0
He has been consistently good while leading Utah to five victories in its first six games without Deron Williams. Ironically, he had his best game of the season in a loss -- 19 points and 17 rebounds against the Knicks.
10. Paul Pierce, Celtics
G
MIN
FG%
3P%
FT%
STL
BLK
REB
AST
PTS
PER
8
38.3
.391
.400
.735
1.1
0.4
7.6
4.0
18.8
15.9
KG gets credit for being Boston's emotional and defensive leader, but after the C's win on Monday against the Raptors, there is no way to deny Pierce's value -- 22 of his game-high 36 points came in the fourth quarter.
Defense Watch: Superman II

1. Dwight Howard, Magic:
The strongest, most athletic center makes playing defense a lot easier for his Orlando teammates.
2. Kevin Garnett, Celtics: The Celtics, who haven't given up 100 points in a game this season, play the Hawks on Wednesday in an early-season must-see game.
3. Ron Artest, Rockets: There isn't a better one-on-one defender in the league, although it does help when you get away with grabbing and wrestling with the person you are covering.
4. Dwyane Wade, Heat: Fans are probably well aware of his 2.7 steals per game, but did you know he also averages 1.7 rejections? As hard as it is to believe, he is actually playing better than he did during the Olympics.
5. Marcus Camby, Clippers: His numbers in Los Angeles aren't what they were in Denver, but he is still a rebounding and shot-blocking machine.
Coach Watch: Perfect Hawks

1.Mike Woodson, Hawks:
Atlanta is getting it done on both ends of the floor. Can he keep it together for the next few weeks without do-everything forward Josh Smith?
2. Mike D'Antoni, Knicks: The best point guard on the team wears a suit instead of a uniform during games, but somehow D'Antoni has New York two games over .500 after the Knicks knocked the Jazz from the ranks of the unbeaten on Sunday.
3. Terry Porter, Suns: Phoenix has won six of its first eight and he looked like a genius for resting Shaquille O'Neal during back-to-backs.
4. Erik Spoelstra, Heat: Miami needs to win 11 of its next 75 games to equal last year's win total.
5. Jerry Sloan, Jazz: He won his 1,000th game with the Jazz, who are 5-1 without the second-best point guard in the league.
Most Improved Watch: Salmons

1. John Salmons, Kings:
Now a full-time starter, he's averaging career highs in points (17.3) and assists (3.6) while shooting 50 percent.
2. Thaddeus Young, Sixers: You saw this coming. He's doubled his points per game (16.5), and the most impressive part of his package is his shooting percentages: 52 percent on FGs, 48 percent on 3-pointers and 89 percent on FTs.
3. Roger Mason, Spurs: Manu Ginobili has been injured all season and Tony Parker just joined him on the sidelines. Mason, who figures to improve on his 16.2 PPG average while they are out, has been a bright spot for San Antonio.
4. Nene, Nuggets: He is putting up career numbers across the board. Amazing what happens when you stay healthy and get a big boost in playing time.
5. Nick Young, Wizards: The Wiz are the only winless team in the league, but don't blame Young, who has emerged as a Sixth Man of the Year candidate. He is averaging 16.6 points per game and has scored in double digits in all five Washington games.
Rookie Watch: Rose Still the 1

1. Derrick Rose, Bulls:
Talk about learning fast. Rose is getting his teammates involved lately, dishing for 22 assists in his last three games, while his scoring average hasn't taken a hit.
2. O.J. Mayo, Grizzlies: He was born to score, but it wasn't supposed to come this easy in the pros. He followed up his 31-point, 8-rebound, 3-assist performance Sunday with a 33-point, 3-rebound, 5-assist show Monday.
3. Michael Beasley, Heat: It didn't take long for him to replace Shawn Marion as the Heat's second-best player, did it?
4. Rudy Fernandez, Blazers: Portland is one of the hottest teams in the league (winners of three straight) and its spark plug off the bench is a key reason.
5. Marc Gasol, Grizzlies: He's pulling down 8.3 per game to go along with his double-digit scoring average. Jason Thompson is in the running, too, but as the Kings began their three-game winning streak, his numbers started to decline.

ESPN'S NBA AWARDS WATCH
Maurice Brooks, former Race to the MVP columnist at NBA.com, is an NBA editor at ESPN.com.
Sixth Man Watch: We See You, Nate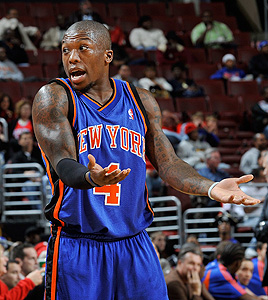 David Dow/NBAE/Getty Images
New York's Nate Robinson no longer has to plead his case to enter the conversation for top reserve player. His play during the first few weeks of the season has been heard loud and clear.
Robinson, who energizes not only the crowd but his teammates, too, when he goes into the game, is having a career season, with 15 points, 4.3 assists and 2.8 steals per game. He has been the second-best sixth man this season, one place behind the Jazz's Andrei Kirilenko, but in front of the Bulls' Ben Gordon, the Blazers' Rudy Fernandez and the Lakers' Lamar Odom.
Speaking of Odom, Dave McMenamin of NBA.com gives the NBA Awards Watch his thoughts on just how valuable Odom has been in his new role with Los Angeles:
"The Lakers' 5-0 start might have some people thinking that a record-breaking 73-9 season is possible, but barring injury, I'm positive the L.A. bench will set a mark of its own.
"There's only been one time dating back to the 1995-96 season that three players on the same team have received votes for the distinction, and that's destined to become two times when voters send in their ballots this April.
"The 2005-06 Dallas Mavericks went 60-22, Avery Johnson won coach of the year and Jerry Stackhouse, Erick Dampier and Devin Harris all got votes for the top sub honors. Stackhouse came in third place overall with 12 first-place votes en route to 162 of a possible 615 points, while Dampier and Harris took home one fourth-place vote apiece.
"Lamar Odom (9.8 ppg, 6.0 rpg), Jordan Farmar (10.2 ppg, 3.8 apg) and Trevor Ariza (9.4 ppg, 2.0 spg) are neck and neck (and neck) in the competition in my book, and their play together as a unit off the bench makes me wish there were Seventh and Eighth Man Awards as well."
The two-time MVP breaks down the Suns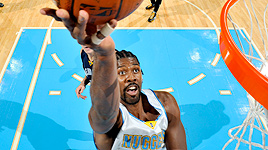 Garrett W. Ellwood/NBAE via Getty Images
Points per game
LeBron James, Cavaliers (28.1)
NBA scoring leaders

Rebounds per game
Dwight Howard, Magic (14.4)
NBA rebounding leaders

Assists per game
Chris Paul, Hornets (11.7)
NBA assists leaders
Steals per game
Chris Paul, Hornets (3.3)
NBA steals leaders
Blocks per game
Dwight Howard, Magic (3.57)
NBA blocks leaders
Field goal percentage
Nene, Nuggets (.667)
NBA field goal leaders
3-point field goal percentage
Spencer Hawes, Kings (.750)
NBA 3-point shooting leaders
Free-throw percentage
5 players tied (1.000)
NBA free-throw shooting leaders