Most Valuable Player Watch
1. LeBron James, Cavaliers
G
MIN
FG%
3P%
FT%
STL
BLK
RPG
AST
PTS
PER
20
35
.485
.269
.790
2.1
1.1
7.0
6.5
26.5
32.6
The Cavs have won each game during their current eight-game win streak by at least 12 points and James is turning into a lockdown defender -- ask Indiana's Danny Granger. (Last week: 1 | Team record: 17-3)
2. Dwyane Wade, Heat
G
MIN
FG%
3P%
FT%
STL
BLK
RPG
AST
PTS
PER
21
36.8
.499
.277
.759
2.3
1.7
5.0
7.5
29.5
32.1
He is top 15 in points (first), assists (eighth), steals (third) and blocks (15th); Miami is on a four-game win streak; and his facial on Emeka Okafor is a play of the year candidate. (Last week: 5 | Team record: 12-9)
3. Kobe Bryant, Lakers
G
MIN
FG%
3P%
FT%
STL
BLK
RPG
AST
PTS
PER
19
33.8
.468
.250
.866
1.6
0.5
5.3
4.4
24.7
25.0
Dropping Bryant will make me real popular with Lakers Nation, but with Pau Gasol, Lamar Odom and Andrew Bynum contributing, he just doesn't have to do all the heavy lifting anymore. (Last week: 2 | Team record: 17-2)
4. Dwight Howard, Magic
G
MIN
FG%
3P%
FT%
STL
BLK
RPG
AST
PTS
PER
21
37.5
.572
.000
.568
0.9
4.2
14.8
1.6
21.5
28.0
The Clippers got rough with Howard -- Marcus Camby elbowed him in the mouth, Zach Randolph threw him down -- and he still ended up with 23 points, 22 rebounds and 6 blocks. (Last week: 3 | Team record: 16-5)
5. Chris Paul, Hornets
G
MIN
FG%
3P%
FT%
STL
BLK
RPG
AST
PTS
PER
17
37.5
.526
.355
.874
2.8
0.2
5.6
11.8
20.6
31.7
Alvin Robertson is the NBA record holder for consecutive games with a steal with 105. CP3, who currently leads the league in steals, has made a theft in 101 straight games. (Last week: 4 | Team record: 11-6)
6. C. Billups, Nuggets
G
MIN
FG%
3P%
FT%
STL
BLK
RPG
AST
PTS
PER
19
34.6
.429
.424
.903
1.4
0.3
2.5
6.9
18.2
22.1
Carmelo Anthony is the best player in Denver, but Billups is the team's leader. The Nuggets have improved to 13-4 since he arrived, while the Pistons are 7-8 with Allen Iverson. (Last week: 7 | Team record: 14-7)
7. Joe Johnson, Hawks
G
MIN
FG%
3P%
FT%
STL
BLK
RPG
AST
PTS
PER
19
39.4
.455
.395
.843
1.3
0.4
4.5
5.2
23.1
20.0
He's eighth in the league in scoring, and his Hawks have won three of four, with the one loss coming at the hands of the red-hot Mavs despite a furious fourth-quarter rally. (Last week: 9 | Team record: 12-7)
8. Devin Harris, Nets
G
MIN
FG%
3P%
FT%
STL
BLK
RPG
AST
PTS
PER
16
35.8
.485
.333
.821
1.4
.1
3.4
6.1
24.4
27.6
He plays well at home and great on the road (league-high 27.9 points per game). And he shook off a cold to hang 27 points and eight dimes on Philly in the Nets' ninth win in 12 games. (Last week: NR | Team record: 11-8)
9. Brandon Roy, Blazers
G
MIN
FG%
3P%
FT%
STL
BLK
RPG
AST
PTS
PER
22
36
.455
.333
.833
1.0
0.1
4.4
5.2
20.4
22.2
Although his stats aren't as flashy as others' above him, he gives Portland, which has the second-best record in the West, exactly what it needs. He saves his best for late in games. (Last week: NR | Team record: 15-7)
10. Tim Duncan, Spurs
G
MIN
FG%
3P%
FT%
STL
BLK
RPG
AST
PTS
PER
19
34.5
.525
.000
.695
0.3
1.7
10.4
3.4
20.8
26.1
He has three straight games of at least 20 and 12. For the season, he has 12 double-doubles and the Spurs have currently won six of eight. If he stays healthy, they are contenders. (Last week: 10 | Team record: 11-8)
Awards Watch:
Preseason
|
Week 1
|
2
|
3
|
4
|
5
|
6
Defensive Player of the Year Watch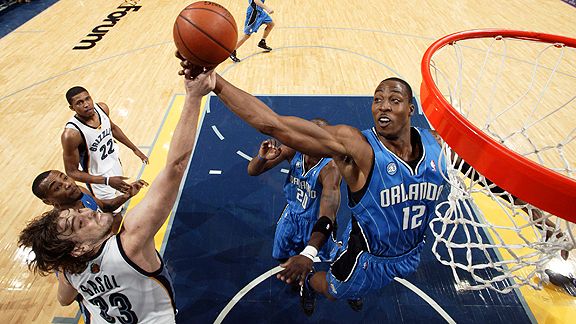 Fernando Medina/NBAE/Getty Images
1. Dwight Howard, Magic: According to the Magic PR department, Howard, who currently leads the league in blocked shots and rebounds, is trying to join the following short list of players to accomplish that feat for a full season: the Lakers' Kareem Abdul-Jabbar (1975-76), the Blazers' Bill Walton (1976-77), the Rockets' Hakeem Olajuwon (1989-90) and the Pistons' Ben Wallace (2001-02). (Last week: 1)
2. Dwyane Wade, Heat: He wasn't selected as the Eastern Conference Player of the Week this week on offense alone. His effort on the defensive end of the floor often turns into easy buckets. (Last week: 2)
3. Marcus Camby, Clippers: He is doing his best to make sure voters don't hand the award over to Howard too quickly, pulling down 36 rebounds and blocking 10 shots in his last two games combined. He is second in the league in blocks (3.0) and third in rebounds (11.3). (Last week: 3)
4. Kevin Garnett, Celtics: As if we needed it, KG provided more proof that his intensity and the fact that he holds everyone accountable are the biggest reasons the Celtics play D like they do. After the Blazers cut the Celtics' 25-point lead to 12, he ripped into his teammates, leaving Glen Davis near tears. (Last week: 4)
5. Ben Wallace, Cavaliers: This blast from the past is here to point out that the Cavs are leading the league in in fewest points allowed per game and defensive field goal percentage, and are fourth in blocked shots, with Wallace contributing big-time to that effort despite playing only half the game. (Last week: NR)

1. Derrick Rose, Bulls:
In an effort to get healthier, he decided to lay off fast food and gummi bears. Then, he ended up getting stitches in his arm after cutting himself with a knife he was using to slice an apple. My advice: Hire a chef. (Last week: 1)
2. O.J. Mayo, Grizzlies: Mayo, who has scored in double digits in all 21 of his NBA games, is averaging 21.1 ppg -- the highest per-game total for a first-year player since Allen Iverson. A.I. averaged 23.5 points as a rookie in 1996-97. (Last week: 2)
3. Russell Westbrook, Thunder: All of the losing in Oklahoma City has overshadowed the solid play of Westbrook, who exploded for 30 points and seven rebounds against the Heat on Saturday. (Last week: 5)
4. D.J. Augustin, Bobcats: His assists-to-turnover ratio is 2:1 and he has scored in double digits in four straight games off the bench. (Last week: 3)
5. Michael Beasley, Heat: His minutes are declining in his new role off the bench, but he is now being counted on to provide scoring punch. (Last week: 4)

1. Lawrence Frank, Nets: He had the smarts to turn Devin Harris loose and has instilled confidence in his young squad. (Last week: 2)
2. Jerry Sloan, Jazz: Sloan celebrates his 20th season as coach of the Jazz with a visit to Minnesota, where Kevin McHale is replacing Randy Wittman. (Last week: 4)
3. Erik Spoelstra, Heat: Of the seven new coaches in the league -- including Phoenix's Terry Porter (12-9), Detroit's Michael Curry (11-8), Chicago's Vinny Del Negro (9-11), Toronto's Jay Triano (0-2), Oklahoma City's Scott Brooks (1-8) and Washington's Ed Tapscott (2-5) -- only Spoelstra (12-9), Porter and Curry have winning records. And the Heat have a lot less talent than the Suns and Pistons. (Last week: 1)
4. Mike Brown, Cavs: Just like with Spoelstra in Miami, you can argue that having one of the top three players on the planet makes winning simple. Still, it is Brown who has the Cavs playing defense at such a high level, and Cleveland never takes a night off. (Last week: 5)
5. Nate McMillan, Blazers: Despite their tough schedule, the Blazers have emerged at the top of the Northwest Division. They have shown great team chemistry and are one of just two undefeated teams at home. (Last week: NR)

ESPN'S NBA AWARDS WATCH
Maurice Brooks, former Race to the MVP columnist at NBA.com, is an NBA editor at ESPN.com.
Sixth Man of the Year Watch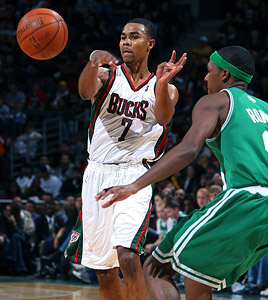 Gary Dineen/NBAE/Getty Images
1. Jason Terry, Mavericks: In an effort to keep him on the court with Jason Kidd and the steadily improving J.J. Barea, Terry actually saw time at small forward. Regardless of the position, pencil him in for 20 points a night. (Last week: 1)
2. Andrei Kirilenko, Jazz: When Carlos Boozer returns, Kirilenko may have some competition on his own team for this award. Reserve Paul Millsap showed what he can do with increased minutes, averaging 16 points and 10 rebounds in the 10 games Boozer has been out of the lineup. Meanwhile, AK-47 looks healed from his ankle injury, dropping 17 on the Suns on Friday. (Last week: 2)
3. Ramon Sessions, Bucks: I have yet to figure out why he hasn't taken the starting point guard job away from Luke Ridnour. Sessions averages more points and assists per game and fewer turnovers than Ridnour. (Last week: NR)
4. Manu Ginobili, Spurs: His versatility was on display last week when he scored 21 points in a win against the Nuggets and gave out seven assists in a victory over the Warriors. (Last week: 4)
5. Trevor Ariza, Lakers: The Lakers' second unit hasn't done a great job maintaining big leads. But Ariza, who has also emerged as a most improved player candidate because of the energy he brings on both ends, is not to blame. (Last week: 5)
NBA Fantasy Rookie To Watch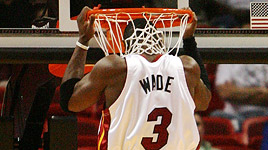 Doug Benc/Getty Images
Points per game
Dwyane Wade, Heat (29.5)
NBA scoring leaders

Rebounds per game
Dwight Howard, Magic (14.8)
NBA rebounding leaders

Assists per game
Chris Paul, Hornets (11.8)
NBA assists leaders
Steals per game
Chris Paul, Hornets (2.8)
NBA steals leaders
Blocks per game
Dwight Howard, Magic (4.2)
NBA blocks leaders
Field goal percentage
Nene, Nuggets (.632)
NBA field goal leaders
3-point field goal percentage
Jason Kapono, Raptors (.515)
NBA 3-point shooting leaders
Free throw percentage
Jose Calderon, Raptors (1.000)
NBA free throw shooting leaders
Roy, McMillan Movin' On Up

NBA Awards Watch columnist Maurice Brooks talks about moving the Heat's Dwyane Wade up to No. 2 in the MVP rankings and shows a lot of love for the Trail Blazers.
NBA Today