Most Valuable Player Watch
1. LeBron James, Cavaliers
G
MIN
FG%
3P%
FT%
STL
BLK
RPG
AST
PTS
PER
27
36
.507
.286
.796
2.0
1.1
6.7
6.4
27.7
33.6
"I will consider it," James told the Cleveland Plain-Dealer about the possibility of signing an extension. "The direction we are headed is everything I expected and more." (Last week: 1 | Team record: 23-4)
2. Dwyane Wade, Heat
G
MIN
FG%
3P%
FT%
STL
BLK
RPG
AST
PTS
PER
26
36.8
.487
.263
.765
2.2
1.6
5.1
7.0
28.8
30.4
Miami improved to 9-3 when Wade scores at least 30 points after he lit up Kobe's crew for 35 points and followed that performance by shaking loose for 43 against the Nets. (Last week: 2 | Team record: 14-12)
3. Chris Paul, Hornets
G
MIN
FG%
3P%
FT%
STL
BLK
RPG
AST
PTS
PER
23
37.5
.515
.375
.888
3.0
0.2
5.3
11.8
20.3
31.8
He set the record for consecutive games with a steal (107 and counting) and was named Western Conference Player of the Week, and the Hornets have won four in a row. (Last week: 3 | Team record: 16-7)
4. Dwight Howard, Magic
G
MIN
FG%
3P%
FT%
STL
BLK
RPG
AST
PTS
PER
26
36.2
.563
.000
.570
0.9
3.7
13.9
1.4
20.3
26.6
Andrew Bynum has a long ways to go to get to Howard's level. In their matchup, Bynum posted three points, one rebound and five fouls. Howard had 18 points and 12 rebounds. (Last week: 5 | Team record: 22-6)
5. Kobe Bryant, Lakers
G
MIN
FG%
3P%
FT%
STL
BLK
RPG
AST
PTS
PER
27
35.1
.468
.322
.867
1.4
0.4
5.3
4.2
26.1
24.3
Following back-to-back losses in Florida, the Lakers cleared the air during a closed-door meeting. Bryant has picked up his scoring lately, dropping 103 his past three games. (Last week: 4 | Team record: 22-5)
6. Tim Duncan, Spurs
G
MIN
FG%
3P%
FT%
STL
BLK
RPG
AST
PTS
PER
27
35
.518
.000
.701
0.4
1.7
10.3
3.2
20.3
24.5
It was a slow week for Tim, with the Spurs losing road games to both the Hornets and the Magic. Duncan has scored in double digits in every game this season. (Last week: 7 | Team record: 17-10)
7. Brandon Roy, Blazers
G
MIN
FG%
3P%
FT%
STL
BLK
RPG
AST
PTS
PER
28
36.9
.466
.359
.849
1.1
0.4
4.6
5.2
22.8
24.7
Over five games, he averaged 36.4 points (52 against the Suns), 5.6 rebounds and 5.0 assists and shot 52 percent. We'll excuse his eight-point dud against the Nuggets. (Last week: 9 | Team record: 17-11)
8. Joe Johnson, Hawks
G
MIN
FG%
3P%
FT%
STL
BLK
RPG
AST
PTS
PER
27
39.8
.455
.359
.817
1.1
0.5
4.5
5.4
22.7
19.8
The Hawks have won five of six with Johnson quietly leading the way. Is there a more underappreciated superstar? While were on the subject of overlooked, kudos to Mike Woodson. (Last week: 8 | Team record: 17-10)
9. Yao Ming, Rockets
G
MIN
FG%
3P%
FT%
STL
BLK
RPG
AST
PTS
PER
27
34
.551
.000
.871
0.4
1.8
9.8
1.6
20.2
23.9
Houston has won six of seven and Yao has been clogging the lane, making scoring difficult for opponents. His scoring and rebounding have been consistently good. (Last week: NR | Team record: 19-9)
10. C. Billups, Nuggets
G
MIN
FG%
3P%
FT%
STL
BLK
RPG
AST
PTS
PER
26
35
.424
.415
.896
1.4
0.2
2.5
7.0
17.7
20.7
Dallas' Dirk Nowitzki almost got this spot, until I watched Billups will Denver past Portland on Monday without Carmelo Anthony, snapping the Nuggets' three-game losing streak. (Last week: 6 | Team record: 18-10)
Awards Watch:
Preseason
|
Week 1
|
2
|
3
|
4
|
5
|
6
|
7
|
8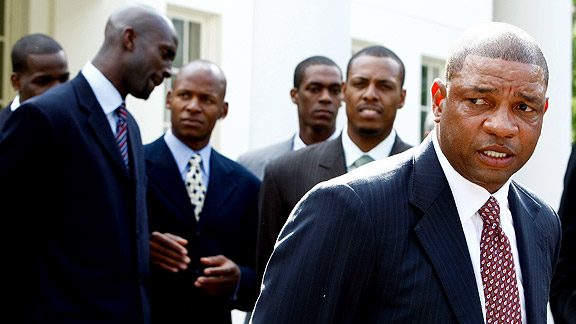 NBAE/Getty Images
1. Mike Brown, Cavaliers: His team is unbeaten at home, has the second-best record and is near the top of the rankings for offensive and defensive efficiency. (Last week: 1)
2. Doc Rivers, Celtics: The defending champs have not suffered a letdown and could be even better than they were a season ago. They have won 27 of their 29 games to start the season, including 19 in a row. Is another visit to the White House (pictured above) in Boston's future? (Last week: 4)
3. Gregg Popovich, Spurs: Yes, having the big three makes his job easier, but what makes him special is his ability to get the most from his role players. (Last week: 3)
4. Stan Van Gundy, Magic: Dwight Howard is more dominant than ever, Jameer Nelson is having a career season and the Magic have joined the conversation -- along with the Celtics, Cavaliers and Lakers -- as far as title contenders are concerned. (Last week: NR)
5. George Karl, Nuggets: After trading away Marcus Camby, Denver was expected to slip, but Karl has the team clicking on all cylinders thanks to Nene, who has shown what he can do when healthy, and the leadership provided by newly acquired point guard Chauncey Billups. (Last week: NR)

1. Dwight Howard, Magic:
Not only is he the league's leading rebounder and shot blocker, but his Orlando squad also ranks third in defensive efficiency. (Last week: 1)
2. Kevin Garnett, Celtics: He is the anchor of one of the top defenses in the league and the biggest reason Boston appears even hungrier than it was a year ago. (Last week: 4)
3. LeBron James, Cavaliers: Not only has he become an excellent one-on-one defender, he is also helping shut down opponents by improving his weakside defense. (Last week: 5)
4. Dwyane Wade, Heat: Besides averaging 2.2 steals per game, there are numerous tips and deflections that he gets that don't show up in the box score. (Last week: 2)
5. Marcus Camby, Clippers: He missed the Clippers' game against the Raptors on Monday because of personal reasons, but is second in the league in blocks (2.8 per game) and boards (12.3). (Last week: 3)
Sixth Man of the Year Watch

1. Jason Terry, Mavericks: His scoring hasn't dropped a bit even though Josh Howard has returned to Dallas' lineup. And Terry was the biggest reason the Mavericks won nine of 13 while the talented forward was injured. (Last week: 1)
2. Manu Ginobili, Spurs: The Spurs took off when he got healthy and they are still winning (11-4 in games he has played). He has failed to reach double digits only once this season. (Last week: 2)
3. Nate Robinson, Knicks: With his across-the-board increase in production, don't be surprised to see his name on the Most Improved Player watch soon. He has scored at least 19 points in his past five games, although New York is just 1-4 in those contests. (Last week: 5)
4. Andrei Kirilenko, Jazz: After starting off on fire in November, AK-47 has cooled in December with per-game drops in points, rebounds and assists. (Last week: 3)
5. J.R. Smith, Nuggets: With Carmelo Anthony sidelined (elbow), Smith has been inserted into Denver's starting lineup and is being counted on to provide scoring punch. (Last week: 4)

ESPN'S NBA AWARDS WATCH
Maurice Brooks, former Race to the MVP columnist at NBA.com, is an NBA editor at ESPN.com.
Most Improved Player Watch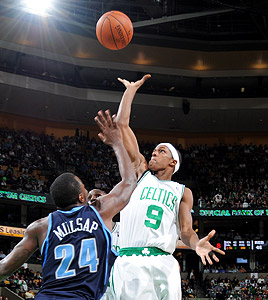 NBAE/Getty Images
1. Devin Harris, Nets: Nets fans already thought they had gotten the better of the Harris-for-Jason Kidd deal. Kidd's visit to New Jersey last week confirmed it, as Harris roughed him up for 41 points and 13 assists. (Last week: 1)
2. Paul Millsap, Jazz: His consecutive double-double streak got up to 15 before ending on Tuesday night. It appears he is not coming out of the starting lineup anytime soon because Carlos Boozer (strained left quadriceps) is going for his third MRI. (Last week: 2)
3. John Salmons, Kings: He takes all of the clutch shots and has emerged as the team's No. 1 scoring option. Not bad for someone who averaged double digits only once in six prior seasons. His scoring (up from 12.5 points per game last season to 20) jumps off the page, but he is also posting career highs in field goal percentage, 3-point shooting, steals and assists. (Last week: 3)
4. Nene, Nuggets: The league's top shooter has posted three straight double-doubles. (Last week: 5)
5. Rajon Rondo, Celtics: Rajon, I acknowledge that you are probably the fastest player in the league with a ball in your hand, but challenging Olympic sprint champ Usain Bolt to a race is silly. (Last week: NR)
A Pair of All-Time Lakers Greats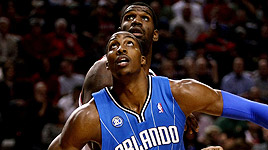 NBAE/Getty Images
Points per game
Dwyane Wade, Heat (28.8)
NBA scoring leaders

Rebounds per game
Dwight Howard, Magic (13.9)
NBA rebounding leaders

Assists per game
Chris Paul, Hornets (11.8)
NBA assists leaders
Steals per game
Chris Paul, Hornets (3.0)
NBA steals leaders
Blocks per game
Dwight Howard, Magic (3.8)
NBA blocks leaders
Field goal percentage
Nene, Nuggets (.609)
NBA field goal leaders
3-point field goal percentage
Jason Richardson, Suns (.482)
NBA 3-point shooting leaders
Free throw percentage
Jose Calderon, Raptors (1.000)
NBA free throw shooting leaders
All About the Defending Champions

Awards Watch columnist Maurice Brooks talks about the Celtics' Rajon Rondo and Doc Rivers, and explains why nobody from Boston is in the top 10 in the MVP race.
NBA Today