Most Valuable Player Watch
1. LeBron James, Cavs
G
MIN
FG%
3P%
FT%
STL
BLK
RPG
AST
PTS
PER
81
37.7
.489
.344
.780
1.7
1.1
7.6
7.2
28.4
31.8
Regardless of the selection criteria, James is the MVP. He has improved his outside shot and defense, he is the vocal leader of a 66-win squad and is the best player on the best team. On May 4, the NBA officially named James the 2008-09 MVP. (Last week: 1 | Team record: 66-15)
2. Kobe Bryant, Lakers
G
MIN
FG%
3P%
FT%
STL
BLK
RPG
AST
PTS
PER
81
36.2
.467
.350
.858
1.5
0.5
5.3
4.9
27.0
24.5
The Lakers and Cavs almost have the same record (despite Andrew Bynum's injury). Combine that with Kobe's stats, defense and leadership and most years he would be MVP. (Last week: 2 | Team record: 64-17)
3. Dwyane Wade, Heat
G
MIN
FG%
3P%
FT%
STL
BLK
RPG
AST
PTS
PER
79
38.6
.491
.317
.765
2.2
1.3
5.0
7.5
30.2
30.4
MOP? Yes. MVP? No. He accomplished the most with the least, but LeBron and Kobe backers would counter they would have had similar stats if they had the same supporting cast. (Last week: 3 | Team record: 42-38)
4. Dwight Howard, Magic
G
MIN
FG%
3P%
FT%
STL
BLK
RPG
AST
PTS
PER
78
35.9
.574
.000
.594
1.0
2.9
13.9
1.4
20.7
25.5
He transformed the Magic into a defensive power by himself and on offense he gets you 21 points on 57 percent shooting and frees up the perimeter players to do their thing. (Last week: 4 | Team record: 58-23)
5. Chris Paul, Hornets
G
MIN
FG%
3P%
FT%
STL
BLK
RPG
AST
PTS
PER
77
38.4
.504
.360
.870
2.8
0.1
5.5
11.0
22.8
30.1
He helped the Hornets overcome injuries by having a historic season for a point guard. He is the first player to lead the league in steals and assists in back-to-back seasons. (Last week: 5 | Team record: 49-32)
6. Chauncey Billups, Nuggets
G
MIN
FG%
3P%
FT%
STL
BLK
RPG
AST
PTS
PER
78
35.3
.419
.407
.912
1.2
0.2
3.0
6.4
17.8
18.8
Carmelo Anthony is the Nuggets' best player, but nobody means more to the franchise than Billups, who provides the veteran leadership and winning attitude Denver was missing. (Last week: 6 | Team record: 54-27)
7. Brandon Roy, Blazers
G
MIN
FG%
3P%
FT%
STL
BLK
RPG
AST
PTS
PER
77
37.4
.481
.381
.823
1.1
0.3
4.7
5.2
22.8
24.2
He was named the West's player of the week after leading Portland to four wins and its first playoff berth since 2003. The Blazers' 53 wins are tied for sixth most in team history. (Last week: 7 | Team record: 53-28)
8. Yao Ming, Rockets
G
MIN
FG%
3P%
FT%
STL
BLK
RPG
AST
PTS
PER
76
33.6
.548
1.000
.866
0.4
1.9
9.9
1.8
19.6
22.8
After missing a game with a sore foot, he had 22 and 7 Monday as Houston won its fifth straight. One more win and the Rockets secure their first division title since 1993-94. (Last week: 9 | Team record: 53-28)
9. Paul Pierce, Celtics
G
MIN
FG%
3P%
FT%
STL
BLK
RPG
AST
PTS
PER
80
37.6
.453
.380
.830
1.0
0.3
5.7
3.6
20.3
17.5
He takes the big shots, is the team's leading scorer and the main reason that, despite Kevin Garnett's injury, the defending champs finished with the East's second-best record. (Last week: NR | Team record: 60-20)
10. Tony Parker, Spurs
G
MIN
FG%
3P%
FT%
STL
BLK
RPG
AST
PTS
PER
71
34
.505
.292
.784
0.9
0.1
3.1
6.9
21.9
23.4
While still effective, Tim Duncan isn't the player he once was, and Manu Ginobili is out, but the Spurs are within striking distance of another division title thanks to the play of Parker. (Last week: 10 | Team record: 53-28)
Pre.
|
1
|
2
|
3
|
4
|
5
|
6
|
7
|
8
|
9
|
10
|
11
|
12
|
13
|
14
|
15
|
16
|
17
|
18
|
19
|
20
|
21
|
22
Sixth Man of the Year Watch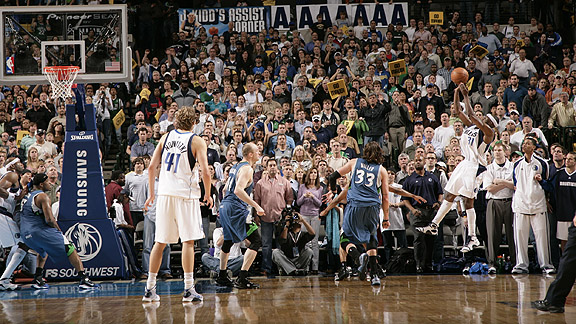 NBAE/Getty Images
1. Jason Terry, Mavericks:
The league's highest-scoring nonstarter showed the Timberwolves on Monday why he is really a starter pretending to be a sixth man by hitting the game-winning jumper with 0.2 seconds left after begging for the ball in the huddle. He finished with 22 points. On April 24, the NBA officially named Terry the Sixth Man of the Year. (Last week: 1)
2. J.R. Smith, Nuggets: How do you punctuate the best season of your young career? Scoring a career-high 45 points, including a franchise-best 11 3-pointers in a division-clinching win over the Kings is one way. (Last week: 4)
3. Nate Robinson, Knicks: Sure, he averages more points per game than Smith, and for a stretch this season, he was the best scoring reserve in the league, but Smith gets extra credit for stepping up his game during the Nuggets' run to the Northwest Division title. (Last week: 2)
4. Travis Outlaw, Blazers: Portland probably wishes starter Nicolas Batum gets sick more often. Outlaw took his place in the lineup Monday against the Thunder and scored 21 points on 9-of-14 shooting in 32 minutes. (Last week: 3)
5. Flip Murray, Hawks: Atlanta has home-court advantage in the first round of the playoffs, and Ronald and his 12 points-per-game average are a big reason why. (Last week: NR)

1. Derrick Rose, Bulls:
Not only has he been the most consistent of the first-year players, but he plays the league's toughest position and is the only player amongst the elite rookies who has a team playoff-bound. On April 22, the NBA officially named Rose the Rookie of the Year. (Last week: 1)
2. Brook Lopez, Nets: With youngsters Lopez and Devin Harris, the future is bright in New Jersey. So much for hitting the rookie wall: Lopez has scored in double digits in 10 straight and roughed up the Bobcats on Sunday for 18 points, a career-high 20 rebounds and 2 blocked shots. (Last week: 2)
3. O.J. Mayo, Grizzlies: He leads all first-year players in scoring and minutes played, and along with Rose will be the face of this deep draft class for years to come. (Last week: 4)
4. Russell Westbrook, Thunder: Maybe the combo guard is trying to put to rest any doubts about whether he would be best suited as a 2 instead of a point by averaging seven assists in April -- his most for any month. (Last week: 3)
5. Eric Gordon, Clippers: Is he just another player putting up big offensive numbers on a bad team? I don't think so. He is averaging 16 points per game on 45 percent shooting, can drain it from deep and is strong enough to take the contact and finish in the lane. (Last week: 5)

1. Mike Brown, Cavaliers: The 66 wins, the home-court advantage throughout the playoffs and being on the verge of tying the all-time record for home victories in a season give him a narrow edge over SVG. On April 20, the NBA officially named Brown the Coach of the Year. (Last week: 1)
2. Stan Van Gundy, Magic: Even though the Magic have stubbed their toe the past week, SVG should be applauded for the way Orlando never lost its focus after All-Star point guard Jameer Nelson went down. The Magic won an East-best 27 road games, wrapped up a second-straight Southeast Division title and finished with the fourth-best overall record in the league. (Last week: 2)
3. Rick Adelman, Rockets: Despite the trade and injury issues that Houston has had this season, he has the Rockets, who are peaking at the right time, in position to grab the Southwest Division title. (Last week: 3)
4. George Karl, Nuggets: Doubted by many, Karl has led the Nuggets to a possible No. 2 seed in the West, a franchise-best-tying 55 wins and the Northwest Division crown. (Last week: 4)
5. Nate McMillan, Blazers: I wrestled with the idea of putting Erik Spoelstra in this spot after the first-year coach not only replaced a legend in Pat Riley, but guided the Heat from a 15-win campaign a season ago to the postseason. He falls short in the COY love department because the biggest reason for Miami's turnaround was a healthy Dwyane Wade, not anything Spoelstra wrote on the dry-erase board. McMillan's young Blazers have overcome injuries and meshed quicker than expected to win 53 games. (Last week: 5)

ESPN'S NBA AWARDS WATCH
Maurice Brooks, former Race to the MVP columnist at NBA.com, is an NBA editor at ESPN.com.
Defensive Player of the Year Watch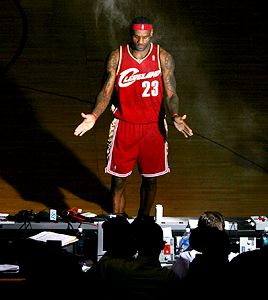 NBAE/Getty Images
1. Dwight Howard, Magic:
He has been the front-runner for this award all season. Besides becoming the youngest player to grab 5,000 rebounds, he became just the fifth player in NBA history to lead the league in blocked shots and rebounds (Kareem Abdul-Jabbar, Bill Walton,
Hakeem Olajuwon
and
Ben Wallace
were the others). On April 21, the NBA officially named Howard the Defensive Player of the Year. (Last week: 1)
2. LeBron James, Cavaliers: Cleveland is allowing a league-low 91 points per game. James has accepted the challenge of guarding the opponents' best player in critical situations and he leads the Cavs in steals and is third in blocks. (Last week: 3)
3. Shane Battier/Ron Artest, Rockets: The reason Battier and Artest are handcuffed in the rankings is because Houston plays some of the best team defense in the league and the two are equally effective in helping to shut down the opposition. (Last week: 4)
4. Dwyane Wade, Heat: By simply outworking his opponents, he has put up terrific numbers in the steals (2.2 per game) and block (1.3) categories while making game-changing plays on the defensive end of the floor. (Last week: 2)
5. (tie) Chris Andersen, Nuggets and Chris Paul, Hornets: Andersen completed his comeback season by harassing would-be shooters on the way to 2.5 blocks per game -- second to Howard. Paul was a pest to opposing guards on both ends of the court, leading the league with 2.8 thefts per game. (Last week: 5)
Most Improved Player Watch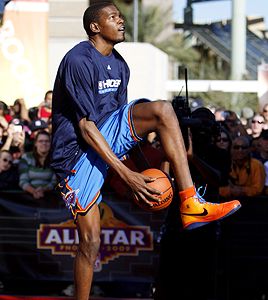 NBAE/Getty Images
1. Kevin Durant, Thunder:
Just because he was rookie of the year last season, doesn't mean that despite his obvious transformation from no-conscience gunner to franchise-building superstar, he shouldn't be rewarded. (Last week: 1)
2. Devin Harris, Nets: He deserves props for posting the league's biggest one-season jump in points caused by all of the extra playing time he had in New Jersey after the trade from Dallas, but at the very least he should split the MIP trophy he is going to receive in a few weeks with Durant. (Last week: 2)
3. Danny Granger, Pacers: He is the first player in NBA history to increase his scoring average by at least five points in three consecutive seasons. In addition to his 25.2 points per game, he also set career highs in assists, blocks and free throw percentage. (Last week: 3)
4. Nene, Nuggets: The unofficial NBA comeback player of the year (sorry Shaq) has managed to stay healthy this season and the results were career highs in points, rebounds, blocks, free throw and shooting percentage. (Last week: 4)
5. Paul Millsap, Jazz: He took advantage of Carlos Boozer's absence to average 16.2 points, 10.3 rebounds and 2.4 assists, while shooting 54.5 percent from the floor in 38 games as a starter. He has also been effective off the bench for Utah. (Last week: 5)

Points per game
Dwyane Wade
, Heat (30.2)
NBA scoring leaders
Rebounds per game
Dwight Howard, Magic (13.9)
NBA rebounding leaders

Assists per game
Chris Paul, Hornets (11.0)
NBA assists leaders
Steals per game
Chris Paul, Hornets (2.8)
NBA steals leaders
Blocks per game
Dwight Howard, Magic (2.9)
NBA blocks leaders
Field goal percentage
Shaquille O'Neal, Suns (.609)
NBA field goal leaders
3-point field goal percentage
Anthony Morrow, Warriors (.464)
NBA 3-point shooting leaders
Free throw percentage
Jose Calderon, Raptors (98.0)
NBA free throw shooting leaders

Awards Watch columnist Maurice Brooks talks with Frank Dale and Joe Mead about who will win the MVP, rookie, sixth man, defensive player, most improved and coach of the year awards.
NBA Today