Commentary
In Clippers Country, Brand's departure is business as usual
Originally Published:
July 9, 2008
By
J.A. Adande
| ESPN.com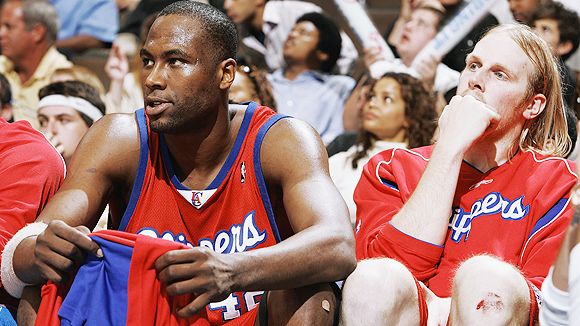 Brian Bahr/Getty ImagesWith Brand and Kaman in the middle, the Clippers were supposed to be set for years to come.

As it turns out, Elton Brand is an NBA player, the Clippers are the Clippers and the joke's on all of us who ever thought otherwise.

When Brand agreed to a five-year, $82 million contract with the Philadelphia 76ers, Brand did what 99.9 percent of all players would do: Choose more money and a better chance to win.

When he opted out of his contract with the Clippers last week, he said, "My intention is to stay." His agent, David Falk, painted it as a generous opportunity to give the Clippers a chance to bring in a star free agent, which they promptly did by nabbing Baron Davis. For a brief moment, there was euphoria in Clippers Country.

Then the Warriors threw more money at Brand to give him pause, the Sixers cleared room to make a handsome offer to Brand, and suddenly Brand is off to Philly.

As a longtime member of the NBA circle said, "Right when you thought they had just pulled it off, right when you thought the Clippers were not going to be the Clippers, they're going to end up being the Clippers."
The thing is, you can't blame this on owner Donald Sterling's miserly ways. That hasn't been the issue for a while now, even if old labels don't fade easily. He tried to spend what he could to get Kobe Bryant in 2004 and Ray Allen in 2005, but Bryant stayed with the Lakers and Allen stayed with Seattle. It wasn't money that kept the Clippers from building on their run to the second round of the 2006 playoffs; Sterling kept that team intact, even committing $52 million to lock up Chris Kaman long term. Injuries and then player apathy did them in.
But this is also about the lengthy history of failure that surrounds this team and how the past can dictate the future. Brand has had his doubts about this franchise, whether it would ever commit the full resources to being a winner, or maybe if it was simply jinxed. Because in addition to the legacy of comically erroneous draft choices and past-their-prime player acquisitions, there is also a tradition of devastating injuries, the latest to Shaun Livingston. Something always goes wrong.
Just when the Clippers appeared ready to change their fortune, after they uncharacteristically struck with the first bold move of free agency in landing Davis, Brand bolted on them and took the heart of the team with him. Yes, the Clippers could have shipped people out to clear more cap room to re-sign Brand. But that would have weakened the team's depth. And besides, they shouldn't have had to jump into an escalating salary race once they satisfied what he told them was his primary objective, to bring in more talent.
So this one's on Brand. Not that I blame him entirely. Even with Davis, the Clippers weren't guaranteed a spot in the Western Conference playoffs with the Lakers, Spurs, Hornets, Jazz, Suns, Mavericks, Rockets, Nuggets and Trail Blazers around. In the Eastern Conference, simply fielding a 12-man roster gives you a chance to make the playoffs, and even an inexperienced Sixers squad managed to take a couple of games off the veteran Detroit Pistons in the first round. Brand is the exact piece they needed: a low-post presence who can help their half-court offense, because Philadelphia's formula of turnovers and transition baskets doesn't work so well in the postseason. In that sense Falk stayed true to his word when he said Brand's top priority was winning a championship.
But he and Brand gave signals that they wanted to do that with the Clippers, where he also could have stayed close to Hollywood for his nascent movie-producing career.
When it came down to it, Brand did what all NBA players do come contract time. He got selfish. And Clippers fans feel betrayed.
That's a new emotion. They've been upset before. Ashamed, even. But never before had they had their hearts ripped out by someone they wanted to believe and felt safe in trusting. Brand was someone who actually brought honor to the Clippers uniform, someone who was hard-working, classy and real, a peanut-butter-and-jelly-sandwich guy in a tofu town. Now he's just like so many other promising players who pass through Clippers Country: gone.
"I wish ill will upon him," a Clippers fan friend of mine said.
That's pretty much the sentiment among the non-purple-and-gold set in L.A.
Many of those wondering how Brand could leave forget that he left once before: in 2003, when he signed an offer sheet with the Miami Heat. But that time he was a restricted free agent, so the Clippers retained his services by matching the terms of Miami's six-year, $82 million offer.
That year the Clippers also kept Corey Maggette around for a $42 million commitment as part of an unprecedented spending spree. That ended this summer too, when Maggette opted out and wound up with the Golden State Warriors.
Good luck trying to replace Brand's 20 points and 10 rebounds a game, or the two blocks a night he made as the long-armed last line of defense. His career year in 2005-06, coupled with the arrival of Sam Cassell, resulted in the best season in Clippers history.
They'll also be hard-pressed to find another 22-point-per-game scorer like Maggette. But he wasn't as essential to the team as Brand. For a while Brand gave the team an identity -- a brand name, you could say.
It was our mistake to look at the back of the jersey. The real story, all along, could be found on the front.
They're the Clippers.
J.A. Adande joined ESPN.com as an NBA columnist in August 2007 after 10 years with the Los Angeles Times. Click here to e-mail J.A.
ESPN.com senior writer since 2007
Around The Horn panelist
Formerly at Los Angeles Times
SPONSORED HEADLINES
MORE NBA HEADLINES
MOST SENT STORIES ON ESPN.COM
FREE AGENCY 2008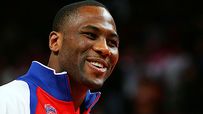 The NBA offseason has been busier than expected, thanks in part to Elton Brand's joining the 76ers. Keep up with the latest moves.
Transactions
News
•
George's deal with Mavs made official
•
Brown returns to New Orleans to back up Paul
•
Veteran Finley re-signs with Spurs
•
Nuggets re-sign Smith to multiyear deal
•
Miles signs with champion Celtics
•
George, Mavs agree to two-year deal
•
Clips re-sign free-agent center Paul Davis
•
Iguodala signs six-year deal with Sixers
•
Sources: 76ers, Iguodala agree to multiyear deal
•
Hawks match Grizzlies' $58M offer, retain Smith
•
Heat's Williams reaches terms with Clippers
•
Bobcats' Boykins signs European contract
•
Restricted free agent Williams re-signs with 76ers
•
Cavs shore up backcourt, sign ex-Grizzly Kinsey
•
Arroyo signs with Maccabi Tel-Aviv
•
Ex-Clipper draftee Skinner signs deal with team
•
Bulls sign Deng to six-year extension
•
Sources: Deng, Bulls on verge of deal
•
Hawks sign ex-Magic G Evans to contract
•
Sources: Okafor, Cats agree on new deal
•
Nets lose Krstic to Moscow team
•
Clippers sign swingman Davis from Heat
•
Vujacic officially signs multiyear deal with Lakers
•
Agent: Brown, Pistons agree to deal
•
Warriors re-sign Biedrins to 6-year, $62M deal
•
Sources: Biedrins, Warriors agree to 6-year deal
•
Wolves agree to deal with Gomes
•
Lakers, Vujacic agree to 3-year, $15 million deal
•
Ellis inks $67 million deal to stay with Warriors
•
Summer star Roberson signs with Knicks
•
Andersen bolts Hornets to return to Denver
•
Telfair re-signs with Timberwolves
•
Childress leaves NBA for Greece
•
Spurs re-sign Kurt Thomas
•
Suns sign ex-Warrior Barnes to one-year deal
•
Turiaf to play for Warriors
•
Jazz, Williams agree to 4-year extension
•
Sources: Clippers, Azubuike agree to offer sheet
•
Bucks add veterans Allen, Lue
•
Posey agrees to 4-year deal with Hornets
•
Arenas signs six-year deal with Wiz
•
Mason's hard work pays off in contract with Spurs
•
Wright re-signs with Mavericks
•
Clippers officially sign Davis to multiyear contract
•
Family ties: Brent is 3rd Barry to play for Rockets
•
Warriors ink forward Maggette to deal
•
Magic sign, introduce ex-Warrior Pietrus
•
Nets agree to terms with forwards Najera, Hayes
•
Sixers give frontline big boost, sign Brand to deal
•
Agent: Bucks to sign Bogut to $60M extension
•
Diop rejoins Mavs on 5-year, $31M contract
•
Gasol in Memphis: Marc, not Pau, signs contract
•
Kings re-sign point guard Udrih to five-year deal
•
Heat sign 3-point specialist Jones to 5-year deal
•
Sources say Brand will sign with 76ers
•
Sources: NBA cap at $58.68 million
•
Sources: 76ers confident of getting Brand
•
Sixers making run at Brand
•
Hawks free agent Smith visits 76ers
•
Brand opts out, and Clippers await decision
•
Calderon reaches agreement on new Raps deal
•
Wizards hang on to Jamison
•
Reports: Arenas agrees to six-year contract
•
For 2nd year in row, Cats, Okafor to discuss deal
•
Artest not opting out of final year of deal
•
Paul agrees on four-year, $68M deal
•
Davis leaving Warriors for Clippers
•
Free Agents:
2008
|
2009 and 2010
Analysis
•
Hollinger: Hornets pay heavily for Posey's ring
•
Martin: Najera's 3-point skills help seal Nets deal
•
Stein: Which teams in hot pursuit of free agents?
•
Adande: Why Brand left the Clippers
•
Broussard: Crushing blow for Clippers
•
Arnovitz: Clipper Nation in world of hurt
•
Adande: Brand's departure is business as usual
•
Hollinger: Brand new Sixers are East challengers
•
Hollinger: Five big questions on free agents
•
Stein: Davis verbally agrees to go to Clippers
•
Broussard: The Clippers' other free agent
•
TrueHoop: What is Corey Maggette Worth?
Podcast
•
Stein on Elton Brand and Baron Davis
•
Hollinger on players who may switch teams
•
Broussard on the money given to Arenas
•
Sheridan on Brand, Davis, Artest and Smith
Video
•
Bucher on how the Brand deal got done
•
Bucher on the latest NBA news
•
Arenas agrees to six-year extension