Commentary
Backstage drama: Why Brand took the smallest offer
Originally Published:
July 9, 2008
By
J.A. Adande
| ESPN.com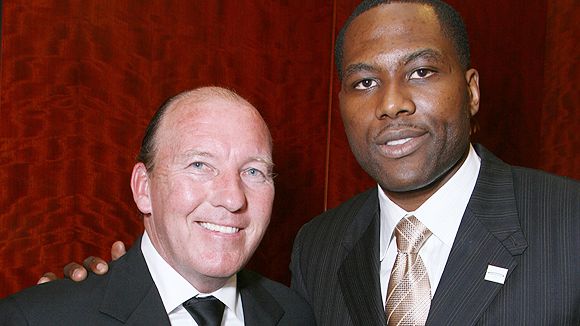 Alberto E. Rodriguez/Getty ImagesMike Dunleavy, the coach with a voice in personnel matters, and Elton Brand, the go-to power forward, were expected to guide the Clippers' ship for years to come. Until things came apart in recent days.

For once you can believe an athlete when he says it's not about the money. In Elton Brand's case, it was about the timing of the money.

In the end, he took what appears to be the smallest offer he had available. In the process, he has taken a cyberspace beating from Clippers fans who are seething that Brand left Los Angeles to sign a five-year, $79.8 million contract with the Philadelphia 76ers and abandoned their dream duo with Baron Davis before it could even get started.

Whenever things go wrong these days our first instinct is to find someone to blame.
The Clippers could have made Brand's decision for him by dazzling him with the right combination of opportunity and finances, taking away his incentive to look elsewhere. But technically, Brand is the one who is responsible because he made the choice to depart, even if it meant leaving a more lucrative offer and a talented roster behind.
That's why, after hearing from agent David Falk and Clippers president Andy Roeser, I had to get Brand's explanation for how he wound up in the unaccustomed role as villain.
"I feel like Hulk Hogan when he went to the bad side or something," Brand wrote in a text message Wednesday night. "Hollywood Hogan. It was a negotiation that fell [through]. That wasn't my intent, but it didn't work out.
"Sometimes enough is enough. … I shouldn't have to go get an outside offer to make the same money."
Fans scream about loyalty, but they're speaking in a different language. In the NBA, loyalty is spelled with lots of zeroes and a couple of commas.
But the Clippers have never been proactive when it came to rewarding Brand. They let the Miami Heat dictate the market in 2003 when Brand -- a restricted free agent at the time -- signed a six-year, $82 million offer sheet that the Clippers matched.
Loyalty should go both ways. Look at what the Washington Wizards did with Gilbert Arenas. Like Brand, Arenas missed most of the season with an injury, then opted out of his contract. The Wizards offered Arenas the maximum amount -- $127 million over six years -- then let him negotiate downward to $111 with the understanding that the lower salary would give the Wizards more roster flexibility.
Falk said the Clippers blew it this time when they lowballed Brand with a $70 million contract out of the gate and presented it as a take-it-or-leave it offer. In their comments to ESPN.com on June 30, when Brand announced he was opting out of the final year of his contract with the Clippers, Brand and Falk painted it as magnanimous gesture, saying Brand would take less money if it would help the Clippers sign another free agent. The Clippers, as Flo Rida would say, got low-low low-low-low-low-low-low.
In classic Falk-speak, the agent said Brand "was willing to take less money, but not as less as they offered."
He said, "They just squeezed him too hard. They thought he had no place to go and they squeezed him right out of town."
Falk said he gave the Clippers a warning before the free agency period began and was stunned by their response. Working with his estimate at the time that the 76ers could make a $75 million offer to Brand, Falk said he asked, "'If I told you right now we were going to opt out and go to Philadelphia, what would you say?' An executive on the team said, 'I would tell you, go to Philadelphia.'"
The Clippers underestimated the marketplace and -- to borrow one of my all-time favorite Pat Riley phrases -- they underestimated the extent of Falk's animus. The Clippers didn't exactly have a stack of goodwill chips on the table with Falk to start with. When Brand signed the offer sheet with Miami in 2003, Falk bellowed as loudly as he could to try to scare the Clippers away from matching it. They went against his wishes and re-signed his client.
This time, Falk was telling the world Brand wanted to re-sign … but the landscape quickly turned when the Golden State Warriors reacted to Davis' departure by offering $90 million to Brand.
Roeser said the Clippers came in with one strategy, then made the necessary adjustments when the game changed.
"We came up with a plan to basically give Elton $70 million and Baron $65 million," Roeser said. "We were given to understand that that was workable. After we were given to understand it wasn't, we tried to make a better offer."
Falk said the Clippers "gave us an ultimatum and told us to take it or leave it."
But can it really be called an ultimatum when the Clippers showed a willingness to negotiate? Wouldn't that just be called an initial offer? These things happen at the negotiating table.
I asked Falk whatever happened to "it's not over 'til it's over."
He responded: "It's over when you tell a franchise player the offer is take-it-or-leave-it."
Again, in the NBA the only soothing sounds are financial lullabies, so the Clippers tried to rectify Brand's hurt feelings with larger contracts.
"When it became clear they were more interested in more money, we increased the offer to $75 million," Roeser said. "When it became clear they were looking for most they can get, we ended up offering $81 million. They ended up [signing for] $79.8 million.
"Bottom line, the player has a right to choose where he wants to go in this process. At the end of the day we've got to accept that's the decision that he made and he moved forward."
So the Clippers are taking the $12 million in salary cap space they have left and are moving on to other power forwards, starting with Atlanta Hawks restricted free agent Josh Smith.
But the Brand-Clippers split is too ugly to leave on its own. The Clippers believe Falk didn't give them access to Brand to pitch him directly. Brand says the Clippers didn't give him a chance to talk to Clippers owner Donald Sterling, and that their $81 million offer came only after he had agreed to terms with the Sixers. Falk said the Clippers never played their hole card: the sixth year they could have added on to their offer.
Those are all the ugly details, the stuff the fans don't want to hear about.
Or, as Roeser said, "This is the NBA. It's just part of the business."
J.A. Adande is an ESPN.com senior writer and the author of "The Best Los Angeles Sports Arguments." Click here to e-mail J.A.
ESPN.com senior writer since 2007
Around The Horn panelist
Formerly at Los Angeles Times
SPONSORED HEADLINES
MORE NBA HEADLINES
MOST SENT STORIES ON ESPN.COM
FREE AGENCY 2008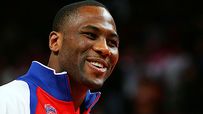 The NBA offseason has been busier than expected, thanks in part to Elton Brand's joining the 76ers. Keep up with the latest moves.
Transactions
News
•
George's deal with Mavs made official
•
Brown returns to New Orleans to back up Paul
•
Veteran Finley re-signs with Spurs
•
Nuggets re-sign Smith to multiyear deal
•
Miles signs with champion Celtics
•
George, Mavs agree to two-year deal
•
Clips re-sign free-agent center Paul Davis
•
Iguodala signs six-year deal with Sixers
•
Sources: 76ers, Iguodala agree to multiyear deal
•
Hawks match Grizzlies' $58M offer, retain Smith
•
Heat's Williams reaches terms with Clippers
•
Bobcats' Boykins signs European contract
•
Restricted free agent Williams re-signs with 76ers
•
Cavs shore up backcourt, sign ex-Grizzly Kinsey
•
Arroyo signs with Maccabi Tel-Aviv
•
Ex-Clipper draftee Skinner signs deal with team
•
Bulls sign Deng to six-year extension
•
Sources: Deng, Bulls on verge of deal
•
Hawks sign ex-Magic G Evans to contract
•
Sources: Okafor, Cats agree on new deal
•
Nets lose Krstic to Moscow team
•
Clippers sign swingman Davis from Heat
•
Vujacic officially signs multiyear deal with Lakers
•
Agent: Brown, Pistons agree to deal
•
Warriors re-sign Biedrins to 6-year, $62M deal
•
Sources: Biedrins, Warriors agree to 6-year deal
•
Wolves agree to deal with Gomes
•
Lakers, Vujacic agree to 3-year, $15 million deal
•
Ellis inks $67 million deal to stay with Warriors
•
Summer star Roberson signs with Knicks
•
Andersen bolts Hornets to return to Denver
•
Telfair re-signs with Timberwolves
•
Childress leaves NBA for Greece
•
Spurs re-sign Kurt Thomas
•
Suns sign ex-Warrior Barnes to one-year deal
•
Turiaf to play for Warriors
•
Jazz, Williams agree to 4-year extension
•
Sources: Clippers, Azubuike agree to offer sheet
•
Bucks add veterans Allen, Lue
•
Posey agrees to 4-year deal with Hornets
•
Arenas signs six-year deal with Wiz
•
Mason's hard work pays off in contract with Spurs
•
Wright re-signs with Mavericks
•
Clippers officially sign Davis to multiyear contract
•
Family ties: Brent is 3rd Barry to play for Rockets
•
Warriors ink forward Maggette to deal
•
Magic sign, introduce ex-Warrior Pietrus
•
Nets agree to terms with forwards Najera, Hayes
•
Sixers give frontline big boost, sign Brand to deal
•
Agent: Bucks to sign Bogut to $60M extension
•
Diop rejoins Mavs on 5-year, $31M contract
•
Gasol in Memphis: Marc, not Pau, signs contract
•
Kings re-sign point guard Udrih to five-year deal
•
Heat sign 3-point specialist Jones to 5-year deal
•
Sources say Brand will sign with 76ers
•
Sources: NBA cap at $58.68 million
•
Sources: 76ers confident of getting Brand
•
Sixers making run at Brand
•
Hawks free agent Smith visits 76ers
•
Brand opts out, and Clippers await decision
•
Calderon reaches agreement on new Raps deal
•
Wizards hang on to Jamison
•
Reports: Arenas agrees to six-year contract
•
For 2nd year in row, Cats, Okafor to discuss deal
•
Artest not opting out of final year of deal
•
Paul agrees on four-year, $68M deal
•
Davis leaving Warriors for Clippers
•
Free Agents:
2008
|
2009 and 2010
Analysis
•
Hollinger: Hornets pay heavily for Posey's ring
•
Martin: Najera's 3-point skills help seal Nets deal
•
Stein: Which teams in hot pursuit of free agents?
•
Adande: Why Brand left the Clippers
•
Broussard: Crushing blow for Clippers
•
Arnovitz: Clipper Nation in world of hurt
•
Adande: Brand's departure is business as usual
•
Hollinger: Brand new Sixers are East challengers
•
Hollinger: Five big questions on free agents
•
Stein: Davis verbally agrees to go to Clippers
•
Broussard: The Clippers' other free agent
•
TrueHoop: What is Corey Maggette Worth?
Podcast
•
Stein on Elton Brand and Baron Davis
•
Hollinger on players who may switch teams
•
Broussard on the money given to Arenas
•
Sheridan on Brand, Davis, Artest and Smith
Video
•
Bucher on how the Brand deal got done
•
Bucher on the latest NBA news
•
Arenas agrees to six-year extension