Commentary
Pistons' t-e-a-m approach now a thing of the past
Originally Published:
November 3, 2008
By
J.A. Adande
| ESPN.com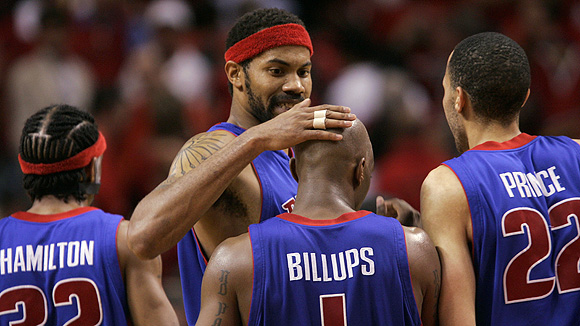 Brian Bahr/Getty ImagesThe Pistons' core of nonsuperstars is no more now that Chauncey Billups has been shipped to Denver.

Now that Chauncey Billups' departure brings an end to an era in Detroit, we have to look at these Pistons' lone championship as an aberration, and their attempt to become a sans-superstar dynasty a failure. They shocked the world, but they didn't change the game.
When they beat the Los Angeles Lakers in the 2004 NBA Finals, it was a tale of extremes, a unit of solid players who all were unwanted elsewhere knocking off a glittering roster stocked with four future Hall of Famers.
(In reality, though, the Lakers' HOF count stood at two by then; Karl Malone was so wounded he couldn't play in the last game, and Gary Payton had fallen so out of favor with Phil Jackson that he barely got off the bench. And one of the remaining superstars wouldn't pass the ball to the other.)
That 2004 banner still stands out among the past 30 NBA championships as the only one claimed without a surefire, Springfield-bound player on the roster. In fact, to claim the crown, you usually needed multiples. Magic, Kareem and Worthy. Bird, Parish, McHale. Moses and Doc. Shaq and Kobe. Duncan and Robinson.
What the Pistons were attempting was nothing less than a paradigm shift in the NBA, like taking a NASCAR track in a Prius.
Joe Dumars built his roster by seeing value where others saw risk. The core players consisted of a point guard who had already been with four other teams (Chauncey Billups), a guy seen as unfit to play alongside Michael Jordan in Washington (Richard Hamilton), a very limited offensive player on his third team (Ben Wallace), a late first-round draft pick (Tayshaun Prince) and a volatile, technical-happy head case (Rasheed Wallace).
As Dumars said when the Pistons got back to the Finals to face the Spurs in 2005, "I think what this team really shows is sometimes -- not all the time, but sometimes -- the fact that you show a player that you believe in him probably more than he believes in himself at the time, can elevate guys."
It was practically scouting by psychoanalysis. "I just observe people's tendencies," Dumars said. "See what their personalities are like, try to look beyond the dribbling and running and jumping, try to see what's inside someone."
Had the Pistons finished off the Spurs in that seven-game series, or at the very least if they had become a fixture in the Finals, the Pistons' approach might have worked. But Rasheed Wallace made the felonious mistake of leaving Robert Horry open in Game 5. Then in 2006, Dwyane Wade did them in. Next they were LeBronned. And finally, as if to certify the return to the 1980s marquee mode, Boston used a Big Three 2.0 to end them last season.
The t-e-a-m thing ultimately didn't work. The reason superstars matter more in the NBA than in any other pro league is that great players can take over a basketball game more easily. In fact, you practically need someone who can take over when you're playing playoff-level defenses programmed to neutralize your pet plays.
But you can't stop the unstoppable. Sometimes it really did come down to a matter of Jordan, or Bird, or Hakeem. It's not just a matter of having that one player, it's a matter of having that one player who can go by one name.
The Detroit way, asking a sum to be greater than one or two parts, didn't work.
In June, Dumars said things were going to change, and now he's made it happen. The Pistons finally have a big name, although at this point Iverson is big in name only. But at least Iverson has a big salary ($20.8 million) that can come off the team's salary cap after the season and put the Pistons in the free-agent market for real.
Here's the problem if they're going to go the big-name route: Who's going to come to Detroit? It's not a dream destination. The Pistons can't offer up Hollywood or South Beach. If LeBron craves a bigger stage than Cleveland, he won't find it in Detroit.
It might be easier to lure someone if the Pistons were to appear to be on the brink of a championship. But they've been moving in the opposite direction, and no longer are the favorites in the Eastern Conference. The irony is that the Pistons' fruitless attempts to win without a superstar could hurt their chances to get a superstar.
We'd like to think that an outside-the-box approach such as Dumars' could flourish, that a savvy GM could concoct a way to build a better rocket ship with only spare parts.
Sorry. This will drive all the quantum theory stats analysts and Trader Bob armchair GMs crazy, but it really does come down to luck. The difference can be as small as the coin flip that brought Magic Johnson to the Lakers or the bouncing pingpong balls that brought Tim Duncan to the Spurs. As great as the front offices of those two franchises have been, the Lakers' five championships in the '80s and the Spurs' four since 1999 simply don't happen without those random, fortunate events.
If it's not pure probability, it's also an almost incalculable sequence of events that lead to top players changing teams at or near their peak: the Kobe-Shaq impasse in Lakerland that led to Miami winning a championship in 2006; the chain reaction that started with the Celtics not winning the lottery in 2007 and wound up with a jubilant Kevin Garnett in green and white, bellowing on the court in the new Garden in June.
You can try running computer algorithms or you can try it the Dumars way, getting into people's heads. But in the end, you might be better off rubbing a rabbit's foot.
J.A. Adande joined ESPN.com as an NBA columnist in August 2007 after 10 years with the Los Angeles Times. Click here to e-mail J.A.
ESPN.com senior writer since 2007
Around The Horn panelist
Formerly at Los Angeles Times
A.I., BILLUPS, MCDYESS TRADE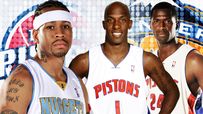 Detroit's Chauncey Billups and Antonio McDyess were traded for Denver's Allen Iverson, writes Marc Stein.
Story
|
Watch: Ric Bucher
---
Henry Abbott

In another blockbuster trade to sweep the NBA, Joe Dumars grabs one of the league's stars and is ready to cast his net again.
Joe Dumars strikes big
---
Chad Ford

How big a risk will this deal be for the Pistons this season? Was Joe Dumars smart for letting Chauncey Billups go to Denver?
Trade risk for Pistons
---
John Hollinger

Detroit had its reasons for making the trade, but Denver came away by winning on the court and on its bottom line.
Denver's trade advantage
---
J.A. Adande

With Chauncey Billups moving on, it's now safe to say that the Pistons' no-superstar approach didn't work out.
End of an era in Motown
---
David Thorpe

How does this deal work out for each team? Do the Pistons get that explosive player they've been lacking?
Expectations for A.I., Billups
---
Jemele Hill

Now that he doesn't have to carry a franchise on his back, Detroit might be the best thing to happen to A.I.
Iverson's comfort level in Detroit
---
More Trade Content
•
NBA Live 09: Trading Places
•
Fantasy: Biggest winners in deal
•
Watch: Stephen A. Smith's trade breakdown
•
Trade Machine: The deal details
•
Vote: Which team got the better deal?
•
Watch: Nuggets' players react
•
Watch: Ric Bucher breaks down the deal

MOST SENT STORIES ON ESPN.COM