Commentary
Oden following in footsteps of misfortune in Portland
Originally Published:
September 13, 2007
By
J.A. Adande
| ESPN.com
Kevin Durant will most certainly not be the next Michael Jordan, but now we have to wonder if Greg Oden will be another Sam Bowie.
The Portland Trail Blazers, the franchise that passed on the G.O.A.T. to take the perpetually injured Bowie, now gets socked with the whammy that top draft pick Greg Oden will miss the season following microfracture knee surgery. From what we've seen of Oden, he's capable of being on an impact player on the court, especially on the defensive end. The question is, will he get to prove it?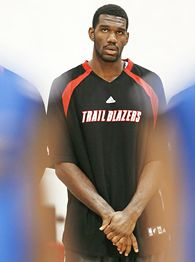 Jeffrey Bottari/Getty ImagesThe news of Greg Oden's surgery has Portland fans flashing back.
With Jordan available, the Portland Trail Blazers drafted Bowie No. 2 in 1984, after the injury-prone center had missed two full seasons at Kentucky. He played in 76 games as a rookie, then played in a total of only 63 games over the next three seasons in Portland.
Oden missed the start of his lone college season at Ohio State because of surgery on his right wrist, which was slow to heal. Before the draft, he was diagnosed with a bulging disc in his back. He was sidelined this summer because of tonsillitis, and he also complained of fatigue after making the news conference-talk show-promotional appearance-ESPY rounds in the weeks after the NBA draft. Now, after a college season of 32 games (50 fewer than in the NBA regular season), he has a serious knee injury.
If his body can't hold up while he's a 19-year-old, what's going to happen in the long run? Will these be chronic problems? Given Oden's blog report that he first noticed the pain while getting up off a couch this summer, you have to wonder: If it hurts to do that, how much damage will a night of banging against Yao Ming inflict?
And (Seinfeld voice), what is the deal with Portland centers? Even the most celebrated center in Portland history was beset with serious injury problems: Bill Walton played in only 35 games as a rookie, and 51 in his second year. Even in 1976-77, the year he led the Blazers to their only championship, he missed 17 games.
European Reaction To Oden News

Sergio Rodriguez heard the news about Greg Oden, but didn't want to believe it. Out for the season? The entire season?
Rodriguez wanted to hear that news from the Trail Blazers themselves, which is why he planned to place phone calls to Trail Blazers general manager Kevin Pritchard and some of his Trail Blazers teammates as soon as he exited the Madrid Sports Palace, where he had played just eight minutes in Spain's 83-55 rout of Germany in the EuroBasket quarterfinals.
"I'm going to call now, then worry about that. But I don't know, I can't talk now," said Rodriguez, who had hoped to be lobbing alley-oop passes to the 7-foot Oden for the next seven months.
Now, he'll have to wait another year.
"Wow, that's bad news," Germany's Dirk Nowitzki said upon learning of Oden's setback. "I mean, I think he would be good for the league, and anytime a player gets hurt it's tough. He's going to be a good prospect for this league, and it's sad to hear."
The news of Oden's surgery traveled around the world relatively quickly, but it didn't reach the ears of Spain's Rudy Fernandez until ESPN.com let him know about it in the hallway leading to the players' locker room at Madrid's Palace Arena.
Fernandez's eyes shot wide open when he heard.
"Really? Greg Oden is a really good player. I look forward to playing with him one year from now," said Fernandez, whose rights were traded from Phoenix to Portland on draft night in late June. He plans to play one more year in Spain before going to the NBA, and now it appears Fernandez will be a rookie in Portland the same season in which Oden is a rookie in Portland.
The injury also means Fernandez and the rest of the Spanish team will have no chance of seeing Oden in Beijing next summer. Not that it was likely, but there was an outside chance, given his age and his size, that Oden could have been added to Team USA's roster for next summer's Olympics. Now, in addition to likely not being able to wear a Portland jersey until the fall of 2008, Oden won't get to wear a Team USA jersey for at least another three years.
-- Chris Sheridan in Madrid
So is the best-case scenario now a Waltonesque Portland career of one championship and years of wondering what could have been if the star center could stay healthy? Walton himself doesn't think so.
"The medical advances are so much greater than when I played," Walton said. "The screening, the tests. Look at the success that Amare Stoudemire has had [after microfracture surgery]."
Walton said he remains optimistic for the "big picture." But that's the image that looks so gloomy to me. Even Stoudemire, right now the model case for recovery from microfracture surgery, wasn't quite himself until a full year after the surgery. So when Oden does take the first steps of his NBA career next season, they will be tentative ones. Meanwhile, we'll be wondering what's next.
We were looking forward to the Oden vs. Durant battle. Their first meeting was scheduled in one of the showcase Christmas Day slots. Now the initial stage is over before it got started. Round 1 goes to Durant as soon as he scores his first point of the season.
Durant already had a more polished skill package and was poised to make a bigger initial impact. The rationale behind taking Oden with the top overall pick was that he could develop into a franchise big man. It was supposed to be a long-term decision.
But we can't ignore the brief, recent history of injuries when projecting Oden's career arc. How many chronically injured players magically get better later on?
This is bad news for a league that could hardly afford it. Oden's a likeable guy, and he would have been a welcome change from all of the negative headlines. After the Tim Donaghy setback, the Isiah Thomas sexual-harassment trial has been providing tabloid follies and head-shaking details.
Now, on the other side of the country, a franchise that has spent a disproportionate amount of time associated with the judicial can't even get a player onto the right kind of court.
That's why Walton's initial reaction was one of sadness for his former franchise and its newest player.
"I know he wants more than anything else to make this happen," Walton said. "You don't get to be the best, you don't get to the top of your field unless you're extremely self-motivated.
"It's a setback that he has no control over. He has to take the time to get better and not succumb to the outside pressures. He just has to wait and do his rehab and take however much time it requires to get all the way better."
I tried to ask Walton if there was some kind of curse with Portland's high-draft-pick centers. But the cell phone connection keep cutting out, through multiple attempts. Left wanting more from a Portland center, once again. Let's hope it's not an omen for Oden.
J.A. Adande joined ESPN.com as an NBA columnist in August 2007 after 10 years with the Los Angeles Times. Click here to e-mail J.A.
ESPN.com senior writer since 2007
Around The Horn panelist
Formerly at Los Angeles Times
ODEN SURGERY
Portland Trail Blazers rookie center Greg Oden, the No. 1 pick in the NBA draft, will miss the 2007-08 season after undergoing knee surgery.
News
•
Oden talks about his post-surgery rehab
•
Oden's first season lost to knee surgery
Commentary
•
Katz: Oden driven to get in paint
•
Stein: Bowie feels Oden's pain
•
Simmons blog: Blazers don't deserve Bowie 2.0
•
Adande: More misfortune in Portland
•
Ford: Silver linings for Oden, Blazers, NBA

•
Hollinger: Injury costs Blazers playoff shot

•
Vandeweghe: Go slow with Oden, Portland
•
TrueHoop: Grieving with Oden
•
TrueHoop: Worst case scenario
•
Fantasy spin: Who does it impact
•
Vitale: Injury blow for Portland's Oden
•
Broussard blog: Don't count Oden out yet

Audio
•
Bill Walton on Oden's situation

•
Blazers' Pritchard: Oden was still right pick


•
Ric Bucher reacts to injury
•
Agent: He will be back
SportsNation
•
Vote: What does Oden's future hold