Commentary
Why the Suns' way inspires more concern than confidence
What's wrong with having the best record in the West? J.A. Adande tries to figure out what's not quite right about the Suns.
Originally Published:
January 10, 2008
By
J.A. Adande
| ESPN.com
PHOENIX -- The Phoenix Suns are whatever you want them to be, depending on your predisposed notions, perhaps even the tint of your glasses.
I came to Phoenix because I'm curious about the Suns. Concerned might be a better word. I'd like to see this way work, to think that sharing the ball, running teams into submission, shooting at will can work in this league. That we'll be liberated from what feels like a decade of defense and discipline serving as the only formula for winning a championship. After everything NBA fans have been subjected to during the past year, the least we should get back in return is a Suns-Warriors conference finals.
[+] Enlarge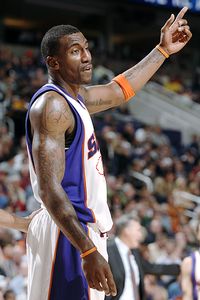 Barry Gossage/NBAE via Getty ImagesAmare Stoudemire can point to a magic number -- the Suns usually win when he scores at least 20 points.
No Western Conference team has more victories, yet no division leader has as many nagging questions as the Suns, the team that can't seem to satisfy anyone.
"What's wrong with the Phoenix Suns?" I asked Raja Bell.
"I would put the question to someone: 'What's wrong with the Phoenix Suns?'" he responded.
It's all in the inflection. Say it the way Bell says it and it becomes rhetorical. It implies, what's wrong with a 25-10 record? What's wrong with having the highest-scoring, best-shooting offense in the league, along with a defense that quietly has gone from the bottom of the league to the middle of the pack?
The Suns are as much a matter of voice tone as visual perception. Sometimes there's a disconnect between the results you see and the means by which they arrive.
A team with such a prolific offense should produce more blowouts. But the Pistons, Celtics and Lakers all have more double-digit victories.
Should the Suns be pleased with their comeback from a 16-point deficit to beat Indiana 129-122 in overtime Wednesday night? Or should they be upset that they were down 16 at home in the first place to a 16-20 team playing the second half of a back-to-back set without injured center Jermaine O'Neal?
Should the Suns be encouraged because they rallied after Steve Nash left the game with the stomach flu? Or should they be worried because the last Sun who felt flu-like symptoms, Grant Hill, wound up getting his appendix removed?
Hill's appendectomy Wednesday evening is the latest little setback to a team that has yet to get an extended run with its full lineup (Bell's back and ankle problems being the most notable). Hill will miss two to three weeks, right after he had adjusted to his new team and found his groove. He had not missed a game before Wednesday, and his 34 starts already represent a higher total than in four of his previous six injury-plagued seasons.
With Hill, coach Mike D'Antoni thinks the Suns have a better roster than they did last season. He also concedes, "We're not as sharp."
"It's not a cancer," D'Antoni said. "It's not something that looms. But when you lose, it puts it back out there."
D'Antoni admits that his players feel the pressure from a fan base that feels the Suns should win every game, that craves substance delivered with style. The Suns have won an average of 59 games the past three seasons, coinciding with Nash's second go-round in Phoenix.
Those three seasons "looked fantastic, they were shiny and new," Bell said. "And we didn't win [the title, despite two trips to the Western conference finals]. Maybe this time everybody's doubting and there's some concerns, and we're learning and getting better. Maybe that's the way."
But they're dealing with issues a team this good, this successful, with so many quality players, shouldn't have to. For example, who is the leader? There's no single voice that holds sway in the locker room. Nash, with his two MVP awards, would seemingly have the credentials. But you don't get the feeling his teammates play for him the way, say, the Hornets do for Chris Paul. When he does air the occasional public criticism of his team's efforts, it doesn't exactly have the same effect as Larry Bird calling out the Celtics in the middle of the 1984 NBA Finals.
And you never get the sense the team's other stars -- Shawn Marion and Amare Stoudemire -- are content to play subordinate roles and let Nash get the bulk of the credit.
Is Stoudemire selfish to want more touches, which was the implication by his words and actions after the ball didn't come his way in a loss to New Orleans on Saturday night? Or does he want what's best for the team? Because the numbers indicate the more Amare scores, the more the Suns win. They're 16-2 when he scores 20 points or more this season.
It's Stoudemire who gives them the inside scoring threat they need in the half-court set. He was the one who drew three trips to the free-throw line in overtime (making 5 of 6) to help the Suns prevail Wednesday over the Pacers.
"My team depended on me, and I came through," Stoudemire said. But he also was partly responsible for Indiana's 17 offensive rebounds and 22 second-chance points, a reminder of how costly his defensive and box-out lapses can be.
We learned from his costly suspension during the San Antonio series last May just how vital Stoudemire is to the Suns when he's playing well. His mood also dictates the biorhythms of this team. There was enough doubt about his motives when he said he missed practice Sunday to tend to his son's fever that Suns GM Steve Kerr said the matter would be "handled internally" -- a strange phrase for something that normally would be summarized with just a quick announcement from the public relations director.
Kerr met with Stoudemire to address the situation. Any and all fires need to be doused immediately; the Suns don't have the luxury of what firefighters call a "controlled burn." There isn't enough time. Inevitably, salaries (such as Marion's?) will continue to get dumped to avert the luxury tax. Nash will have a tougher time staying healthy. Teams will continue to adjust to Phoenix's style, including the Pacers' strategy of defending Nash with a bigger guard.
So the question remains: Can the Suns win it all this way? They've come close, with two trips to the Western Conference finals (in 2005 and 2006). They've been close enough to make one old-school NBA executive who always believed you win with size say, "They're making me wonder."
They have won six of their past seven, but only one of the victories came against a team with a winning record.
And they don't seem to be getting closer. In this league, if you're not getting better, you're getting worse. The most telling stat is that the Suns are just 2-6 against the top Western Conference teams.
I came to Phoenix on Wednesday and saw the Suns' season summarized tightly enough to fit in an e-mail subject line. They won, but they didn't inspire confidence.
J.A. Adande is the author of "The Best Los Angeles Sports Arguments." He joined ESPN.com as an NBA columnist in August 2007 after 10 years with the Los Angeles Times. Click here to e-mail J.A.
ESPN.com senior writer since 2007
Around The Horn panelist
Formerly at Los Angeles Times
SPONSORED HEADLINES
MORE NBA HEADLINES
MOST SENT STORIES ON ESPN.COM
EDITORS' PICKS
Cavaliers fall

Clips top Thunder

Beautiful music