Commentary
So long, Suns, it's been fun
Originally Published:
February 6, 2008
By
J.A. Adande
| ESPN.com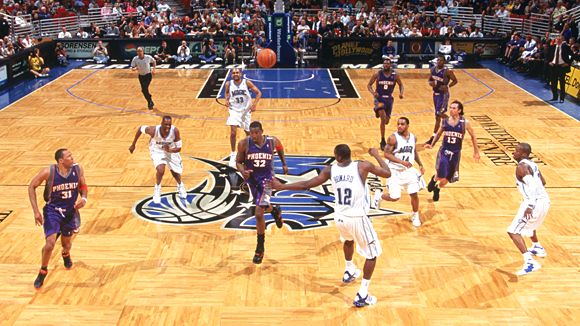 Fernando Medina/NBAE via Getty ImagesWhile Steve Nash did the dishing, it was usually Shawn Marion out front on the Phoenix fast break.

The disappointment isn't because Phoenix failed to win a championship with small ball. It's because the Suns stopped trying.

Trading Shawn Marion and Marcus Banks for Shaquille O'Neal might be a full-scale (albeit bizarre) attempt to grab a ring, but it also is an admission of failure for their way of basketball. They just sided with the skeptics and said, "You're right, we can't run our way to the finals."

I'd rather see them go out like Tom Hanks in "Saving Private Ryan," pulling out his pistol and firing away at the German tank in a last desperate effort to save the bridge. Or show some of that same defiance as Denzel Washington in "American Gangster," making one last trip to Asia to import more heroin even though everybody's telling him the game is over.

Instead the Suns conformed.

I had a teacher who used to say revolution is impossible in a capitalistic society because any countercultural idea will quickly get bought up and mass-marketed and next thing you know Che Guevara T-shirts are going for $8.99.

The same goes for the NBA. They have widened the lane, brought in the 3-point shot, made it illegal to hand-check speedy guards … and it's still as much a big man's game as it was in the days of George Mikan.

The object is to get the best shot possible, and tall men dunking will always be the best option. If you wanted to win, that was the way to go. Michael Jordan ruled the 1990s, but the further we get away from that time the more of an aberration it seems and the more we can put to rest any comparisons to him. He won six rings with Bill Cartwright and Luc Longley at center. There's no other like him.

[+] Enlarge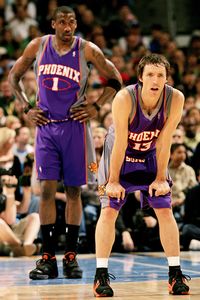 Doug Pensinger/Getty ImagesIn the half court, Amare Stoudemire and Steve Nash will compete with Shaq for touches.

For all others, the way to a championship is through the low post. Shaq and Tim Duncan have won eight of the past nine championships. Even when Magic and Bird were racking up rings they still had Hall of Fame centers in the paint.
The inside game is not as fun, it's not as entertaining, but it's effective. In football, you win with defense and running; in baseball, you win with pitching. In life, you'd better eat your vegetables.
Kobe Bryant and the Lakers tried to fight these essential truths, and it ended about as happily as Othello. When Shaq was in L.A., the Lakers were better when the ball went through O'Neal, even if they were more boring. Besides, O'Neal provided plenty of entertainment before the cameras in the locker room. (He hasn't lost that touch, as he showed in a tribute to his alma mater before the BCS Championship Game.)
It might have been hard to admit for the franchise that brought us Showtime, but no team was ever going to get another ultimate point guard like Magic Johnson surrounded by finishers such as James Worthy, Byron Scott and Michael Cooper. But the circus couldn't have gone on without Kareem Abdul-Jabbar keeping the tent up. When things slowed down, they could always go inside to the greatest scorer in the history of the game.
Other teams (most notably Doug Moe's Denver Nuggets) tried to run without a true big man, but the Suns were our first viable alternative. Nutritious cotton candy. Maybe, just maybe, they could outrun everybody to the ring. Even this season, with some nagging injuries and lingering chemistry issues, they still had the best record in the Western Conference before they pulled the trigger on the trade.
Perhaps it was the double-whammy of losing a home game to the depleted Spurs followed by the Lakers' acquisition of Pau Gasol the next day that spooked Suns GM Steve Kerr into action. The Suns got desperate. One involved party member called it "a last-ditch play."
All you need to know about this deal is that it doesn't fit the Headline Rule. That in itself should raise more red flags than a NASCAR race at Martinsville.
The Headline Rule dictates that the NBA team that gets the player in the headline automatically wins the trade. It was "Lakers Get Gasol," not "Kwame Traded to Grizzlies." Clear advantage: Lakers.
In this case, the news was Shaq got traded. But the people who think the Suns are better off for this move are in the minority. The more common reaction was: What were they thinking?
O'Neal doesn't fit the Suns' style or their payroll plans.
Some argue that Shaq can play the role of ex-Sun Kurt Thomas: rebounding and guarding the likes of Duncan. If that's the case then why didn't they just keep Thomas at $8 million a year instead of taking on Shaq's contract at $20 million per through 2010?
And that way it wouldn't have cost them Marion. As much as anyone, Marion enabled the Suns to be the Suns. He could defend a variety of positions, he could start and finish fast breaks and he could hit open 3-pointers. Everything they needed and wanted to do, he could provide. While Steve Nash got the acclaim and Amare Stoudemire got the dunks, Marion got the critical offensive rebounds.
[+] Enlarge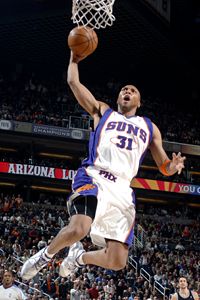 Barry Gossage/NBAE via Getty ImagesAlong with Nash's vision, Marion's all-around prowess provided the Suns their unique identity.
No, Marion can't guard Duncan. But at the rate Shaq has picked up fouls this season, he might last only 20 minutes against the Quiet Storm. That's assuming O'Neal can get on the court. He played in only four games last month. He'll turn 36 next month.
Some speculate the trade will motivate and rejuvenate him the way his exile from L.A. did in 2004. Surely the chance to squash Kobe's championship dreams should be good for a few extra reps in the weight room. But maybe his body can't keep up with his ego anymore. In this case the fall could goeth before pride.
But even if he's slower, even if he can't jump as high, he's still 7-foot-1. You don't need to scheme or create a special offense for 7-foot-1.
Even Don Nelson, the ultimate oddball, took a nod toward tradition when he brought back Chris Webber. Like Shaq with the Suns, Webber's slower game doesn't appear to fit with the Warriors' style. But perhaps Golden State decided it needed more passes to and from the post than 3s being launched from the hash mark.
If the Suns really wanted to take things to the extreme they would have signed Earl Boykins and set him loose in the backcourt with Leandro Barbosa. Instead they've gone the other way, toward the norm, toward the pack.
La revolución está muerta.
J.A. Adande is the author of "The Best Los Angeles Sports Arguments." He joined ESPN.com as an NBA columnist in August 2007 after 10 years with the Los Angeles Times. Click here to e-mail J.A.
ESPN.com senior writer since 2007
Around The Horn panelist
Formerly at Los Angeles Times
SPONSORED HEADLINES
MORE NBA HEADLINES
MOST SENT STORIES ON ESPN.COM
THE BIG DEAL: SHAQUILLE TO PHOENIX

It's Shaq to the Suns and the Matrix to Miami. The Heat and the Suns completed a blockbuster that nobody saw coming on Wednesday.
News
• Marion, Banks introduced with little fanfare
• Shaq pledges to help Suns win elusive NBA title
• Suns acquire Shaq from Heat for Marion, Banks
• Heat-Hawks replay now confused
• LeBron shocked by deal, seeks own help
• Sources: Suns close to acquiring Shaq for Marion


Commentary
• Stein: Fallout from the Shaq swap
• Stein: Five things you don't know about deal
• Sheridan: What now for the Miami Heat?
• Ford: Could Suns have done better?


• Morales: Shaq addition likely not enough for title
• Adande: Suns slow down to pack with trade
• Hollinger: What is Phoenix thinking!?!?


• Broussard: Parts of this deal make sense


• Jackson: Shaq will thrive on solar power
• Rose: Deal could work for both teams
• Bell: Shaq's injury issues will linger
• Loucks: Acquiring superstars in their twilight
• Neel: A letter to Shaq


TrueHoop
• Thursday First Cup on Shaq deal
• Can Shaq still play?
• First Cup Wednesday: Shaq-Matrix Edition
• Your thoughts on proposed Shaq deal


Podcasts
• Page 2's Burning Questions for Grant Hill
• Chad Ford and Marc Stein discuss the deal
• Mike D'Antoni on how Shaq fits in
• Jeff Van Gundy: What Shaq brings to the table
• Tim Legler: How will Shaq mesh with Suns?
• Bucher: Desperate move by Suns?


Rumor Central
• The latest Shaq talk


Trade Machine
• Create your own Shaq deal


SportsNation
• Vote: Your take on the deal


Fantasy
• Karabell: 25 centers to keep over Shaq