Commentary
Far from the same old, same old
Originally Published:
March 3, 2010
By
J.A. Adande
| ESPN.com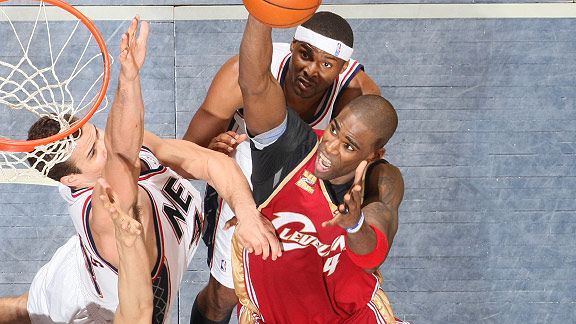 Nathaniel S. Butler/NBAE/Getty ImagesAntawn Jamison is averaging 14.5 points and 7.8 rebounds since getting traded from the Wizards.

EAST RUTHERFORD, N.J. -- Antawn Jamison isn't being honest and he knows it.

"Same old, same old," he responds to an inquiry about how he's doing.

Then he fesses up. "Well, not the same old."

Not quite. All that's changed since the last time I saw him is his trade from the Washington Wizards to the Cleveland Cavaliers, which made him the only major acquisition by a contender before the trade deadline, placed part of the Cavs' championship aspirations on his shoulders, and linked him to the NBA's most significant story: the summertime decision of LeBron James. It's as if he went from filling out a keno sheet to sitting down at the final table in the World Series of Poker. Yeah, things done changed.

"This is the type of pressure that I want to be under," Jamison said. "People saying that I'm a piece to the puzzle. I've been waiting for this opportunity my whole career. I've done a lot of losing. I've done a lot of high expectations but not achieving them. This is a great opportunity. I love this pressure, I love being in this situation. I'm going to take advantage of it to the fullest."

So far, Jamison is the one getting the most out of it. Playing with LeBron means open shots and an astounding number of easy layups. "Every night," Jamison said, shaking his head. It took him a while to be able to read LeBron, and for LeBron to click with him, but now Jamison assumes that if his defender turns his back, LeBron will get the ball to him. On the perimeter, all he has to do is set a screen for LeBron, then flare out and his man will usually stay with LeBron, leaving Jamison open for a 3-pointer. LeBron assisted on five of Jamison's nine field goals in a 111-92 victory over the Nets on Wednesday night, setting up more than half of Jamison's 19 points.

But LeBron can't put the ball in the basket for him. Jamison is connecting on only 23 percent of his 3-pointers, well below his career average of 35 percent. He missed all four 3-point attempts during his 0-for-12 debut for the Cavaliers in Charlotte on Feb. 19.

Cleveland coach Mike Brown is willing to give Jamison a pass on any early struggles. If Jamison hasn't quite been the solution so far, he's far from a problem.

"We threw him out there with no practice," Brown said. "Right to the game. It was tough initially. But he's a pro. He's intelligent. LeBron's easy to play with, as well as the rest of the guys."

There's nothing easy about changing teams or changing the makeup of your roster. In the past decade, the only team to add a significant piece midway through and go on to win a championship was the 2003-04 Detroit Pistons, who picked up Rasheed Wallace.

For Jamison, it's meant living life in a Cleveland apartment and leaving his home and family back in Washington. It's been two weeks since he's seen his kids, and in that time the youngest, a 6-month-old boy, has started crawling.

The games all have a lot more meaning now than they did when he was on a going-nowhere Wizards team that fell apart after the locker-room gun incident in December. And there's the adjustment in the culture now that he's gone from goofy to comical. Yes, there's a difference. The Wizards were a bunch of oddballs, from Gilbert Arenas' halftime video-poker games to Deshawn Stevenson's facial tattoos. But there wasn't professionalism to go along with it, so you had Brendan Haywood fighting with Etan Thomas, and ultimately Arenas and Javaris Crittenton brandishing weapons.

In Cleveland, there are antics along with accountability.

"Up until that horn sounds, guys are joking, having a good time," Jamison said. "I've never been a part of a team that -- I don't want to say jokes so much, but has so much of a good time. We had some funny guys on that [Wizards] team with Gilbert and the rest of those guys, but you have to understand, the season is a long season. Especially being a part of this team, trying to play up until June, you have to laugh a lot. These guys laugh a lot every day. It doesn't matter what the situation is."

Jamison said he doesn't contribute many jokes, at least not outwardly. They do clown him about his habit of putting his shoes on and then pulling on his pants when he gets dressed after the games.

The Cavaliers don't need comedy from Jamison. They'd prefer something along the lines of his career averages of 20 points and eight rebounds.

This thing has to work. Too much is at stake here. The franchise might never be in a better position to win a championship.

Jamison is a bit of a risk in that he brings a career's worth of numbers, but not a lot of victories. He racked up losing record after losing record to start off his career in Golden State, including back-to-back 19- and 17-win seasons. He has advanced past the first round of the playoffs only once (in 2005, with the Wizards).

The good thing for Cleveland is that makes him hungry, less likely to demand shots and minutes, more appreciative of this opportunity.

"You've been on the other spectrum," Jamison said. "Things not going well, negative media attention, stuff like that. I've been there, done that. So that is definitely out the window. I'm glad I'm where I'm at now. It's just good to be a part of some positive things, high expectations, things of that nature.

"It's good pressure. It's a good situation to be in."

It's not any of the same old. It's one of the most pressure-packed spots in the NBA.



ESPN senior writer J.A. Adande
• On Twitter @jadande | On ESPN.com | On TrueHoop | On e-mail
• Follow ESPN's NBA coverage on Twitter | On Facebook | On Google+
ESPN.com senior writer since 2007
Around The Horn panelist
Formerly at Los Angeles Times
EDITORS' PICKS
Point guard has become the most vital position in the game. We're ranking the top 30.
ESPN The Mag »

Golden State's hold on No. 1 is as strong as ever, but a few surging teams are climbing.
Rankings »

CP3 sits ahead of Westbrook in the MVP race. Here's why.
Pelton

MOST SENT STORIES ON ESPN.COM