With Shaq out, Kobe puts Lakers on his shoulders
It's a good thing Kobe Bryant bulked up. He'll have to carry the Lakers until Shaq gets back.
Updated:
November 1, 2002, 12:58 PM ET
By
David Aldridge
| Special to ESPN.com
Here come your back-to-back-to-back world champions.
Well, except for Tracy Murray, and Kareem Rush and Gennaro Pargo, and Soumaila Samake.
Here come two-thirds of your back-to-back-to-back world champions.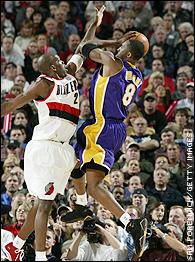 Kobe Bryant, right, would like to settle this matter with Ruben Patterson once and for all.
In the first week of the 41st month of their reign, the
Los Angeles Lakers
are not themselves, obviously. The Big Man with the Repaired Digit is in street clothes, and
Rick Fox
is home finishing out his suspension (after, as the L.A. Times reported, spending a night at Pete Sampras's house), and Phil is talking about a possible 0-7 start out of the gate, and no one seems worried in the least.
Perhaps because Employee Number Eight is so calm.
"I'm not worried at all," Kobe Bryant said as he walked to the team bus after a pounding by the Blazers on Wednesday. "I really think we're playing pretty good."
This doesn't mean Kobe isn't afraid of naming names of those who need to bring more to the party while Shaquille O'Neal rehabs.
"Samaki Walker," Bryant said. "He's gotta play harder. He's playing real timid right now. He's got to be more aggressive."
Minutes earlier, Kobe had entertained the masses at his locker when someone came from Portland's rec room with the breathless news that Ruben Patterson, again, had professed his Kobe-stopping ability. Bryant looked more amused than upset.
"That guy, he can't guard me," Bryant said, actually chuckling. "I play a team game. If he wants to play one-on-one basketball, he can holler at me in the offseason and we can go down to the Rucker and do what we have to do ... that is so 1996 to me."
Indeed, Bryant is now at another level -- yes, even above the rarified air he's breathed in and out the last three seasons. He is thick across the torso after that crazed summer of workouts, and even when he gets exasperated with his teammates ("Come over here," he squawked at Walker after Walker failed to set a screen Wednesday) he seems to do it with some style and without the acidity that marked confrontations in years past. He's not above dissing himself, as he did following his 29-shot performance against the Spurs on opening night.
He's tougher than ever. After rolling his ankle bad in the second quarter in Portland, Bryant was hurting. No one would have blinked an eye if he hadn't returned; it was Game 2 of the season, after all. But after trainer Gary Vitti saw some flexibility and strength in the ankle, Bryant got it taped up tight and went back out there, trying to figure out a way to solve the deep and talented Blazers with the aforementioned Pargos and Samakes.
"No Shaq at all, no Rick Fox at all, I'm on the bench, Robert Horry's on the bench," Derek Fisher noted. "We didn't have anybody out there who's helped us get there at all."
The Lakers figure .500 through November should keep them in the hunt, and then the Big Fella will be back, and then they can get to work on the season. Until then, they'll hitch their wagon to Bryant. I don't think he'll have any problem pulling everyone along for the ride.
Uncle Cliffy takes a seat

| | |
| --- | --- |
| | |
| | Robinson |
Michael Jordan
has gotten a lot of ink for his willingness to come off the Wizards' bench, but Detroit's
Cliff Robinson
should get some props for volunteering to do the same for the Pistons. In his contract year, no less. Currently the highest-paid player in team history, Robinson went to Rick Carlisle when Carlisle disclosed he wanted to move
Zeljko Rebraca
into the starting lineup.
"He saw what we saw -- if we started (Rebraca), we'd get more out of him," Carlisle said.
So Robinson went to the pine with Detroit's Alternatorz -- Jon Barry, Corliss Williamson, Chucky Atkins and newcomers Mehmet Okur and Tayshaun Prince -- and now, the Pistons could have the best bench this side of Sacramento. At the least, Carlisle figures the move could add years to Robinson's career.
"Cliff and Corliss are matching pieces," Carlisle said. "If you have Corliss as a three posting up, you have to have a big out there who can shoot the ball. And on defense, with some of Corliss's shortcomings, you can put Cliff on a perimeter guy and leave Corliss on the post guy. I know that Cliff, more than anything, wants to win. I was just really pleased."
What prevented TMac's back surgery

| | |
| --- | --- |
| | |
| | McGrady |
Tracy McGrady
discloses that he was
this close
to opting for season-ending back surgery this past summer. The pain of two bulging discs was too much to bear, he says. "I was hurting so bad in the playoffs and then after the season I was in so much pain," he said. "I couldn't really finish all my workouts. I didn't come in camp in the best shape because my back was just that bad, but I was at a point where I was gonna get surgery -- have surgery on by back. I mean, they told me I was gonna cut my career short. It didn't really matter to me at the time 'cause I was so frustrated with my back and I couldn't find any answers."
But TMac found a miracle in a procedure performed by a local Orlando physician. Basically, McGrady gets stretched on a rack-like device for 40 minutes, three or four times a week. It's an eight-week program that McGrady says has popped his discs back in place, and that he wants to continue throughout the season.
"Now I'm out there playing without pain," he said. "It's kind of still surprising to me. 'Cause I find myself out there playing with no pain, and I'm so used to playing with pain. It's just so crazy, man. I was so frustrated this summer. It was even nights where I was like, 'Man, I'm not gonna play this year. You know, I'm gonna be out for the whole season.' "
McGrady knows, though, that in all likelihood he's going to have to manage back pain for the rest of his career. He doesn't need to look any further down the bench than to coach Doc Rivers, who played the last 13 years of his career with similar problems.
"I'm always gonna have problems with my back no matter what I do," McGrady said. "I'm gonna continue to have problems but (it's) just whether I can tolerate the pain. So right now, I mean I have a little pain. It's not bad. It's not to the point where I'm making crazy faces out on the basketball court like I was in the playoffs and running like I was about 60 years old. So that's a good sign. I'm fine. I'm jumping well, running well, making cuts good, so it's a positive sign."
Scottie's acceptance speech

| | |
| --- | --- |
| | |
| | Pippen |
Michael Jordan
's decision to accept coming off the bench may have influenced
Scottie Pippen
's seeming acceptance of a similar role this season with the Blazers, Portland folks believe. Knowing Pip as they do, they're amazed at how willing he seems to be to be a reserve behind
Bonzi Wells
at the three. Of course, Pippen didn't play a second of the preseason after offseason knee surgery, so he didn't have a leg to stand on, so to speak.
The Blazers, though, know that Pippen and Arvydas Sabonis remain their most two important players. When the two geezers work themselves into shape, Mo Cheeks could run out a lineup of the 6-foot-7 Pippen at point forward, 6-6 Derek Anderson at the two, 6-10 Rasheed Wallace at the nominal three, 6-11 Dale Davis at the four and the 7-3 Sabonis in the hole.
"He widens the floor for the rest of us," gushes Anderson of the now-returned 38-year-old Sabas, and this was before Sabonis put on a passing clinic in garbage time of Portland's rout.
David Aldridge, who covers the NBA for ESPN, is a regular contributor to ESPN.com.
EDITORS' PICKS
ESPN The Magazine

The Warriors routed the Griz in a meeting of West's top 2.
Wallace »

Another surgery will keep KD out the rest of the season.
J.A. Adande »

MOST SENT STORIES ON ESPN.COM