Ex-guard making comeback as ref
Former NBA guard Haywoode Workman's playing career is over. But don't be surprised to see him back in the NBA.
Originally Published:
August 1, 2003
By
David Aldridge
| Special to ESPN.com
He was in Israel when the truth caught up to him.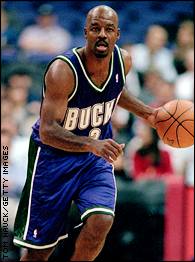 Haywoode Workman had two tours of duty with Milwaukee in his career.
"I played over there for a month," Haywoode Workman recalled. "Just to see if I could play. We got to the finals, but I just couldn't do what I wanted to do. I thought I let the team down, because they'd counted on me a lot. The guys that were there were American guys, and I was like, they're going at me because I played in the league, and I wished I could do what I wanted to do. But I just couldn't."
It was the end of a solid, if unspectacular, playing career that over the course of a decade had taken him from Atlanta to Washington to Indiana to Milwaukee. Workman was the quintessential backup point guard who probably had another four or five years in him, but a knee injury he suffered in 1996 never really came around. At 36, he needed another gig.
That's when he recalled a conversation he had in Florida in the summer of 2001. While working out, he ran into NBA referee Bob Delaney.
"He was like, 'you ever think about reffing,?'" Workman said. "And last summer I just said I'll try it out."
Two years later, Workman is still at it as an official, trying to follow in the footsteps of other ex-players Bernie Fryer and Leon Wood. It's highly unlikely he'll be an NBA ref this season, or next season, for that matter. But he's in the pipeline, and he's determined to work wherever he needs to improve.
"I wanted to be an all-star as a player, one of those upper-eschelon players, but I never reached that," Workman says. "But now, I can contribute to the game another way. Just being an ex-player stepping on the court, you've got credibility. I might even enhance the game a little bit, because I played at that level. The way it's happening so fast, I don't know. I know it won't happen this year. I understand that. Because I'm not ready."
He started in California in 2002, working the pro-am leagues -- Venice Beach, West Los Angeles -- out of his own pocket. Encouraged, he responded quickly when he heard the CBA was looking for new officials. He sent the league his résumé, and worked 15 games last season. Then, he worked the pre-draft camp in Chicago. In July, he worked the NBA summer league in Boston.
"He handled himself pretty well," said Ronnie Nunn, the NBA's new supervisor of officials. "He has the decorum, he has a sense of ease, a sense of poise, a sense of making sure he makes the calls and what those calls look like and when the whistle should be blown. He's got a good foundation from a refereeing standpoint."
Aldridge Notes
Both sides now are resigned to the fact that there will be no contract extension for Kenyon Martin before the start of training camp. Negotiations went nowhere, with the two sides $21 million apart on their offers when talks broke off in July. Martin wants the maximum, and VP Rod Thorn broke it down to him: "if that's the way you see it, then don't take anything less" when Martin becomes a restricted free agent after the 03-04 season.

Martin was apparantly frosty to Thorn when the two ran into each other at the Olympic qualifying tournament in Puerto Rico, but Thorn doesn't anticipate any long-lasting effects.

"The vast majority of players are going to play as hard as they can," Thorn says. Martin "always plays as hard as he can. It's certainly in his best interest to have a good season ... I think he'll play hard and play well this season."

But that didn't stop the Nets, now officially for sale, from trying to re-start a deal that would have sent Martin to Portland. Jersey tried to broker a three-way deal with Portland and Toronto earlier this month that would have sent Martin (in a sign-and-trade) to the Blazers. Dikembe Mutombo would have gone to Toronto, where new coach Kevin O'Neill covets the big man's swattitude. Antonio Davis would have gone to Portland along with Martin, and Rasheed Wallace would have been relocated to the Nets. But Toronto balked. I'm told GM Glen Grunwald wasn't crazy about Mutombo's big ticket ($17.8 million this season; $19.6 million next year), and Portland -- like the Nets, trying to lower its luxury tax burden -- wasn't willing to swallow Davis's remaining $37 million over three years.

The Suns don't think Stephon Marbury will have any trouble in camp after having both ankles cleaned out in the offseason.
Don't be surprised if Utah player personnel director Walt Perrin gets added to the candidate list for the Bobcats' GM job in Charlotte.
Speaking of Carolina's Queen City, this coming Saturday, Kendall Phills -- wife of the late Hornets' guard Bobby Phills -- will host the third annual Bobby Phills Scholarship Fund dinner and auction. Proceeds benefit the fund, which has given out more than $180,000 in scholarships for college since its inception. Kendall Phills will also initiate a safe driving campaign for local students in honor of her husband, who died in a car accident near the Charlotte Coliseum in January, 2000. Tables for eight will cost $1,500; individual seats are $150.

For more information, visit bobbyphillsfund.com.

-- David Aldridge
You normally think of referees as finished products, because you see them when they reach the NBA. But like players, it takes thousands of hours in hundreds of gyms to be considered ready for prime time. Workman is at the beginning of that journey. He doesn't think of himself as a player any more -- ending all associations with former teammates was hard, but necessary. Still, he's not fully formed as an official.
The biggest adjustment?
"The rules," Workman says. "For me, I think the rules. Second is trying to just manage the game, personalities, players, you've got coaches ... I've got to know all the situations, I've got know the scenarios. Be aware of the clock. An elbow compared to 'he just pushed him off.' Because if I say elbow, now that's a whole different scenario."
That confusion sounds right to Nunn. The young official, traditionally, has a million things going through his or her mind -- besides trying to get the rulebook down cold. Where should I be on the floor with respect to the other two officials? How do I work with them during a game? And being an ex-player brings pluses and minuses. You may have a better appreciation for how players feel, but you have to, frankly, know a lot more than the players do if you're going to have any chance.
Workman finds himself anticipating what players will do while trying to remember where he's supposed to be on the floor. He figures if he's in the right place, and looking in the right place, he won't catch any flak. He's trying to keep from reaching to make calls, or make calls that the other officials are in better position to see.
"Right now, I don't have it," he said. "I'm learning it. I'm getting it real fast, but I don't have it right now. My process has been tremendous, real fast, from last year to now. I was doing men's league; now I'm in the program. I'm moving up fast. But it's just a process, just like playing...
"Playing it, you just get out there and play. Reffing it, there's so much stuff that can go on in the game and there's so many situations you have to be aware of, and that's what makes it tough. Right now, I don't have that. Right now, I can't watch a game and know the clock, watch the game and be aware of the shot clock. I'm getting it, but I don't have it yet. You've got to know that, know the clock, know the rules, know what happened on the play. Then, there's a tech, throw somebody out, and it was a foul. Now you gotta remember all that. Now, where do you take the ball out? Now, if you take it out wrong, when you get back, you'll get an e-mail (saying) 'hey, you took the ball out wrong,' and you might get a pink slip."
In Boston, Workman also had to stare down ex-players who were now coaches and wanted to test the new guy.
"We already had a little confrontation with (Milwaukee's) Sam Mitchell," Workman said. "I was like, 'it's summer league. So don't be watching the game from the outside.' That's how it is now. It's joking now, having fun, but just to let them know I will (eject them) if I have to. But I'm having fun."
Workman doesn't care where he works this coming season. He'd like to work in the Developmental League, and Nunn allows that that could be a possibility.
"I think he can handle it with a good crew," Nunn says. But Workman probably will wind up doing mostly college games as he continues to develop and improve. The NBA wants officials working as much as close to year-round as possible during their formative years, and has arrangements with conferences including the SEC, Ohio Valley and Atlantic Sun to use referees that are taught in camps by NBA officials, using NBA mechanics as much as possible in the college game.
"It can take six, seven years on the long side" to show NBA-level capability, Nunn said. "Short side, four or five. You need to get the experience of seeing plays, seeing situations, dealing with conflict resolutions, and getting the dynamics of the game, when to make calls, make the correct calls. Every play is not a foul. You have to have conclusive evidence."
Workman insists he's in this for the long haul. With his old knee, he can't sprint up and down like he used to. But he'll ref a game in the street if it helps. He watches games on TV, analyzing the styles of other refs. He's watching old tapes of himself as a player, trying to pick up anything that will help him improve faster.
"If I don't make it here, you always have college," he says. "You could make pretty good money and you'd still be in the game. I think I've got a pretty good chance. I'm just trying to make myself (where) opportunity and preparation meet, I want to be right there. I can do this until I can't walk any more. Just to stay in the game. I already have a taste of it from playing. I'd like to still be in it."
David Aldridge, who covers the NBA for ESPN, is a regular contributor to ESPN.com.
EDITORS' PICKS
Thanks to LeBron's missed freebies, Houston eked out a win.
The Ten »

Is Defensive Player of the Year in the cards for DeAndre Jordan?
Markazi »

The best and brightest in sports analytics convened.
Sloan, Day 2 »

MOST SENT STORIES ON ESPN.COM
ESPN.COM PARTNER: NBA.COM