Hill continues to swim upstream
Sink or swim, Grant Hill is rehabbing his way in a pool for one last splash with the Magic.
Updated:
October 14, 2003, 6:04 PM ET
By
David Aldridge
| Special to ESPN.com
ORLANDO, Fla. -- Grant Hill has made up his mind about water.
"Next house, I don't even want a pool," Hill says.
Swimming as metaphor.
Grant Hill knows what being in a pool means. It means, again, that he's not on the basketball court. Once again, his left ankle is failing him. Once again, he is spending dozens of hours in tedious rehab. Instead of wearing the silver, blue and white of the Orlando Magic on the team's practice floor at the RDV Sportsplex -- just a few, tantalizing steps away -- Hill is, this day, wearing a blue muscle shirt and shorts, with a weight belt around his waist, about to step into the 82-degree waters of RDV's pool.
The team's physical therapist, Vinnie Hudson, is waiting. He's planning to work Hill in the water 45 minutes to an hour, but this therapy isn't just for Hill's ankle -- though working the joint in water obviously beats pounding it on a basketball court. The bigger goal is keeping Hill in good cardiovascular shape, with the goal of keeping Hill's heart rate at 165 beats per minute for 20 to 25 minutes.
Hill starts in a sitting position in the water, knees up, with blue fins on his feet, and starts kicking backward, going the length of the pool. Then another length, back toward you. Then the other way. Then back. And up. And back. And up. And back.
Then, the fins come off. Hill swims freestyle the length of the pool, up and back, up and back. Hudson, whose job frequently forces him to be hated by his clients, pushes the man who's got a $93 million deal -- but who still isn't sure he can go to his right.
"One more down," Hudson says.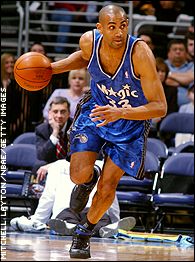 Even though his ankle was broken again, Grant Hill played in this game against MJ last January.
"You know black people don't swim," Hill retorts.
A few more minutes, and then Hill puts an orange, foam weight in each hand. The weights are for resistance, not strength training. Hill then runs half the length of the pool without his feet touching the bottom, with a high leg kick. Then he comes back. Then up. Then back. Then up. Then back. Then he runs in place.
At the end of this set, Hill is almost out of breath.
"TV's looking pretty good right now," he says, referring to a certain national cable network's desire to have him work in their studio this year.
He finishes by putting the blue fins back on, then grabbing the edge of the pool.
"You want to do four 15s or three 20s?," Hudson asks.
"Three 20s," Hill says. "No, let's do four."
Hill then goes face down in the water while holding onto the pool's edge. He then kicks his lower legs in place for 10 seconds. (Sounds easy, doesn't it? Try it some time.)
"Five seconds," Hudson says. Five seconds later, Hill stops. Then, he knocks out three more 15-second bursts in the pool. And that's it for today. He comes out of the pool, gassed, and this is when you ask him if this time around, it's worth it. After missing 199 games over the last three seasons, and having four surgeries on the same ankle, and having all the security he and his beautiful, R&B-star singer of a wife could need. After seeing his father's career as an NFL star be impeded the same way, with injuries clipping him in his prime.
Is it worth it?
"It better be worth it," Grant Hill says.
---
He knows the Magic don't want him to play this season, because it's hard to insure a guy who's had his left ankle cut on four times. He knows his teammates would just as soon have him not play this season, because it's been impossible to have any kind of continuity the last three years. They waited for him, dreaming about what he and Tracy McGrady could do in a backcourt together. And every year, his ankle has betrayed him. So they'd like to move on, with McGrady, and Juwan Howard, and Drew Gooden, and Gordan Giricek.
"When you're playing and you're healthy, whatever your role may be, whether you're a superstar player, or you're the last man on the bench, you feel like you are a part of the team," Hill says. "When you're on IR, you're on injured reserve, you feel like you're not ... you feel like people want to sweep you under the rug, they want you to go away, you're a problem, it's your fault, whatever, and I've sensed that. And even if people don't really mean that, you get that feeling. You don't feel like you are a part of the club. You don't feel like you're in the mix."
How does he deal with that sense of isolation?
"Well, I'm an only child, so I guess I'm used to it a little bit," he says, then laughs a little. "I still want to play and I'm still gonna do what I need to do, and if it means I feel for a while that I'm an outsider looking in, then so be it. I've definitely had a lot of practice at it, so I should be good at it now. But it still bothers me right now like it did when I first arrived here in Orlando."
Orlando ... it hasn't been what he'd hoped. He never would have minded being McGrady's second banana, as long as the kid listened to him when he had something important to say. But he knows that he's surrendered just about all of his credibility as a team leader. Out of sight, out of mind.
"When I first signed with Orlando, a lot of the same players were here and we played and my ankle was not right, and guys were just dominating me in practice," Hill recalled. "I can't get by people, I can't stay in front of people, I can't get to the ball on the rebound, I mean all these things ... just nine months earlier, I scored 42 on Orlando and just dominated, and then, nine months later I feel like I'm ... no offense to anyone out there, I feel like I'm a 50-year-old man. I'm out here trying to compete with these young guys. And immediately, right away when I tried to put on an Orlando Magic uniform and tried to play, my confidence was not there. I was not the same person that I was previous to the injury."
That's why last season was so, so frustrating. After the third operation, Hill had been able to play most of the 2002 summer. He got through camp OK, and his confidence started to build. For a couple of months, he put up solid numbers -- 14.5 points, seven boards, four assists. Hill believed he could be the all-around player that he'd been in Detroit with Allan Houston, and then, Jerry Stackhouse.
But in December, the pain came back.
"For once, I felt like my old self," he said. "And then, the ankle started to give me problems early in the year and then it just got worse and worse."
By January, he knew he'd fractured the ankle again. He hoped against hope that he could play through the pain. But on the 16th, in his hometown, he cratered. He went out against the Wizards and tried to guard Michael Jordan. Jordan may have been 39, but Hill felt like he was 89.
"The competitor in you didn't like to be embarrassed by an old man," Hill laughed. "Anytime you get embarrassed, that's one thing, but also, the pain was so much I knew I probably shouldn't have been out there. I knew before the game I probably shouldn't play, but it's my last chance to play against Michael, it's on national television and sometimes you let your emotions get the best of you, and so, uh, I went out there and played, and he torched me in the first half and I knew. I knew at halftime that I was done, I was done for the season."
I had heard that Hill broke down and wept in the locker room. Hill says now that that wasn't so.
"But it wasn't easy," he said. "It was rough. I mean, you can say, well, wow, you've gone through a lot up until that point, but for me, I just had doubts. I said, 'Maybe it's time, maybe I need to move on.' "
Six weeks later, he had the fourth operation. But this time, he had the operation at Duke University Medical Center, with doctors that had operated on him in college. He went around the country to see ankle specialists, and if they'd told him this was it, you're done, he would have retired with no regrets. But this time, Hill says he finally got an explanation for why he kept breaking his ankle. It wasn't coincidence. It was structural.
"The analogy that I like to use is like a car, if a car that is out of alignment, the tires will wear down, and if you change the tires, eventually that will solve the problem but, if you don't fix the alignment, the tires will continue to wear down," Hill said. "There wasn't anything wrong with the bone. The bone wasn't dead, which was sort of the approach before ... there was something structurally wrong. That's why it initially happened over a six-to-eight-week period while I was still in Detroit. It wasn't like I landed on somebody's foot, wasn't like something like that occurred. It just progressively got worse until it broke."
And broke.
And broke.
And broke.
| | | |
| --- | --- | --- |
| | " | If I can't come back and play at a high level, I have standards, and I'm not going to sit around and play and be a marginal player. No offense to those that are. But I have standards for myself and if I can't play at the level that I've set for myself, whether it's because of injury or because of age, then I'll move on. " |
| | | — Grant Hill |
So this time, the doctors removed the three screws that had been previously inserted. They removed the non-union bone. They put in a plate with screws to relieve the latest stress fracture. And they cut his heel bone in an attempt to realign Hill's entire leg. The misalignment, the Duke doctors believe, is what caused Hill's ankle to fracture time and time again.
But let's be honest. It's still an educated guess. One that makes sense. But it's still not a certainty. Or, as Hill puts it, "Well, you know, there's an old story, half the doctors out there finished in the bottom half of their class."
He's laughing again.
"I'm not trying to talk bad about the medical profession. I respect it, and it's definitely helped me ... I just know that there's good doctors and there's bad doctors. I'm not saying the people I had before were bad, but sometimes people have different theories ... I just feel like, like I said, there's comfort in knowing why this thing occurred. I never really had that answer, why it occurred, and I was given theories, but they never made sense."
This time, instead of rushing back to play, Hill spent six months on crutches ("arm pits were pretty raw and pretty sore") and hasn't even been cleared yet to start jogging. Given the slow rehab approach, you wonder if February, his target date for returning, is realistic. But Hill says he needs a goal to shoot at. To just wait until '04-'05 to make his last stand would make it really hard to rehab now.
And he wants to be ready. Because this is the last stand. There will be no more. No more surgery. No more limitations.
"If I can't come back and play at a high level, I have standards, and I'm not going to sit around and play and be a marginal player," Hill said. "No offense to those that are. But I have standards for myself and if I can't play at the level that I've set for myself, whether it's because of injury or because of age, then I'll move on."
Whenever Grant Hill moves on, he will have lots of options in life. He is a basketball player, but that's just a job description. He could be Senator Hill, Governor Hill. He could be a star on TV, to be sure. But he could also be this generation's Dave Bing, who followed up a Hall of Fame playing career with a still-thriving career as a steel magnate. Among Hill's friends is Richard Wagoner, the CEO of General Motors. Hill is interested in real estate. He is about to publish a book, "Something All Our Own," highlighting his own collection of African-American paintings and sculptures. (Full disclosure: I've read it. I loved it. I wrote a blurb for the book jacket.) His wife, Tamia, has sold a few CDs; between the two of them, they have a little money, and they have a beautiful young daughter to shoot hoops with in the driveway.
So why on earth does he keep trying to come back?
"I mean, I've been around professional sports all my life in some capacity," Hill said. "My rookie season, when I was 22 years old in Detroit, I was always thinking about the future, I was always preparing for life after basketball ... now that I've been hurt, all I think about is trying to get back, and my time and my focus hasn't been the same, or it hasn't been like it has in the past. But I still feel like I can do it. I still feel like I have it in me and I want to do it for as long as I can ... right now I just want to play ball, I just want to put that Magic jersey on and lace up my shoes, and put on, my ankle brace, and go out there and play."
So Grant Hill will be back in the water tomorrow. It's not fun, but it's something all his own.
David Aldridge, who covers the NBA for ESPN, is a regular contributor to ESPN.com.
EDITORS' PICKS
D12's back for the Rockets, backing the Beard.
Watkins »

Why Durant is smart to go for surgery over heroism.
Adande »

Fitting in is Jeremy Lin's biggest challenge now.
Torre »

MOST SENT STORIES ON ESPN.COM