There's nothing like Mike here
The Wizards are sporting a new look, with renovations in the front office to go with a fresh coat of paint.
Originally Published:
October 14, 2003
By
David Aldridge
| Special to ESPN.com
Editor's note: ESPN.com is once again visiting all 29 NBA teams during training camp and the preseason. The tour continues with a report on the Washington Wizards.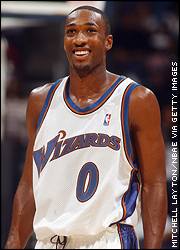 Gilbert Arenas has promised to lead the Wizards to the playoffs.
WASHINGTON -- There is a lot of renovation work being done at MCI Center. New offices for the basketball staff, new colors for the locker room. Perhaps we are cynics on this side of the aisle, but at first glance, all the new stuff seems to be a franchise's desperate attempt to remove all memory of Michael Jordan's two-year stay here. There's not one picture of Jordan anywhere on the event level floor. Not one reference to the guy that spent the last three years redoing the franchise, and the last two years selling out the joint every night. All of the motivational sayings that Doug Collins had painted on the walls between the locker room and weight room? Painted over.
Like the last two years didn't happen. Michael Jordan? Doug Collins? Hmmm ... no, doesn't ring a bell.
Now, all of this isn't being done out of spite. A pipe did break and leak water all over the practice floor, forcing the Wiz to spring for another court -- which won't be ready until just before the regular season. But there is no doubt that after a tumultuous offseason, which began with owner Abe Pollin cashiering Jordan in an ugly, brief meeting May 7, the Wizards have moved forward.
And since May, Pollin has had some luck. Eddie Jordan, the former Nets assistant, was probably the hottest young coaching prospect in the league, having fine-tuned the Princeton-based offense that Jason Kidd and friends had turned into the league's most devastating transition game. After firing Collins, Pollin whiffed on getting Larry Brown or Jeff Van Gundy, but because the Nets made the Finals again, Jordan missed out on the dozen or so openings that came about and was still available in June -- and he just happened to desperately want to return to his native D.C.
Then, Pollin was able to get top-shelf general manager Ernie Grunfeld to leave Milwaukee and come to Washington. Of course, Grunfeld was available only because Bucks owner Herb Kohl was on the verge of selling his team to the guy that Pollin fired, Michael Jordan.
But why quibble now? Grunfeld and Eddie Jordan are in place, a new and promising braintrust that calmed the nerves of season-ticket holders who'd threatened a revolt earlier in the summer.
"I just think it's a fresh start," Jerry Stackhouse says. "Nobody's really thinking about last year. I think Eddie and Ernie have both made a conscious effort to not focus on change or anything different from last year. We're not worrying about that. We're just looking forward to what we have going on now. We're excited. They're being encouraging. He's been encouraging our bigs, and that's trickled down to our players. Everybody's encouraging each other to get better."
They would never admit it publicly, but most of the Wizards that remain from the past two seasons chafed at Collins's autocratic coaching style, and felt Michael Jordan's presence on the floor slowed the offense to a halfcourt crawl. In short, they felt they were held hostage by Jordan's desire to make the playoffs, come hell or high water. Of course, some may find it easier not to deal with those kinds of pressures. But those kinds of folks don't usually make the playoffs. Which is something that has been a constant in Washington -- still looking for its first playoff series victory since 1983 -- for two decades.
| | | |
| --- | --- | --- |
| | " | I just think it's a fresh start. Nobody's really thinking about last year. I think Eddie (Jordan) and Ernie (Grunfeld) have both made a conscious effort to not focus on change or anything different from last year. " |
| | | — Jerry Stackhouse |
"It was hard," guard
Larry Hughes
said of playing off of Michael Jordan. "It was definitely hard. But there was a lot of things that I took from that, a lot of things that I learned, as far as being competitive, as far as coming to work every day, as far as gaining that respect. Once you have that respect, it's hard to lose it. And we'd see it every day. In this league, you must gain respect, from opposing teams, referees, media, different arenas when you come in. You have to fight and try to win games. It's not just for show."
Enter Eddie Jordan, who couldn't be more different from Collins. "He's more of a laid-back guy," Kwame Brown says of Jordan. "He don't get personal with you." But that doesn't mean Jordan is a pushover. He will demand the Wizards run his offense the right way. It's an egalitarian system; in two seasons, nobody on the Nets averaged more than Kidd's 18.7 per game last year. But the Nets had five players in double figures. Jordan's system needs big men who can pass the ball and cut from the top of the key, guards who have interchangeable skills -- and about two seasons for players to really understand it. Like the triangle, Jordan's offense is based more on reading and reacting to the defense than on specific plays -- though he has the requisite number of direct posts, screen and rolls and isolations. Once everyone is on the same page, though, the possibility for backdoor cuts and alley-oops increases dramatically.
"We found that if you ran (individual plays) a few times, they gravitate back to the motion," Jordan says. "Everybody wants to be part of moving the ball, touching the ball and making plays ... that's when we find out that they like it and see it as a good way to play."
But even though the Wizards don't have a Kidd on their roster, they do have a lot of young talent, and they should be able to put the ball in the basket. Stackhouse, who will start at the three but who will also play some two, has always been a scorer. Hughes, who Collins tried at point guard last season, is back at his natural two guard spot and has been the surprise of training camp so far. First-round pick Jarvis Hayes has serious range and is the heir apparent at small forward.
And an unexpected increase in the salary cap for this season gave Washington the room necessary to pry free-agent guard Gilbert Arenas from Golden State. His arrival helps the Wizards on two fronts. A franchise that has made a cottage industry out of getting name players on the downhill slope of their careers hasn't signed a young free agent entering his prime since ... well, never. And Arenas gives the Wizards an injection of speed and shooting that they haven't had in the backcourt in a very long time.
Nor is he shy. The 21-year-old Arenas predicted a playoff spot for the Wizards when he arrived, and he isn't backing off.
"All you need is one player to come in and say, 'playoffs,' " Arenas says. "Then another player says it. Then that changes the whole vibe, and everybody's on the same page."
The book, though, still needs editing, and its most important chapter will probably still be Brown's. The third-year forward made no secret of his distaste for Collins and Michael Jordan -- after they were out of town. Now, the bull's-eye is squarely on Brown's back, and he didn't help himself by getting arrested for a DUI in Georgia this summer. Also 21, Brown has yet to show anyone why he should have been the first pick in the draft two years ago. Eddie Jordan has made him a starter again at power forward, but allows that the kid still gets thrown mentally in practice by Christian Laettner.
Still, the Wizards aren't about to give up on Brown. Though some feel he won't reach his full potential for a couple more years, Jordan needs some production now.
"He feels good about himself," Jordan says. "He's playing the game with some exuberance, and he's enjoying himself ... things happened where he just didn't grow as quickly as people thought he could. But he's got some serious assets. He's got some quickness and explosiveness. He's strong. He went after some rebounds in practice. Lenny Wilkens (who Jordan invited to Washington's training camp) and (assistant) Tom Young were really in his ear about rebounding, and he really picked it up. I don't want to put it all on him, but as far as an inside presence offensively, he would certainly be one of our main guys. We have to get it from him."
He isn't the only one. If Washington is going to be successful this season it will have to be a team effort. For the last two years, everyone was overshadowed by Michael Jordan. That situation -- and that excuse -- is no longer around. These Wizards have to forge a new, strong identity of their own if they are going to be a factor in the Eastern Conference.
"I look at it like when I was in Detroit," Stackhouse says. "We don't have Ben Wallace behind us, but we have a few intangibles that a lot of other teams don't have."
In reality, the Wizards will probably struggle this season, as they learn Eddie Jordan's system and take their lumps while doing so. But check back in two years. Either this group will be onto something good, or Grunfeld will have the cap room to make a run at a big-time free agent. Either way, there should be something more interesting going on besides a new paint job.
David Aldridge, who covers the NBA for ESPN, is a regular contributor to ESPN.com.