Commentary
No rings on the side should aid healing
With no Olympics, Ginobili can focus on rest and rehab of ankle this offseason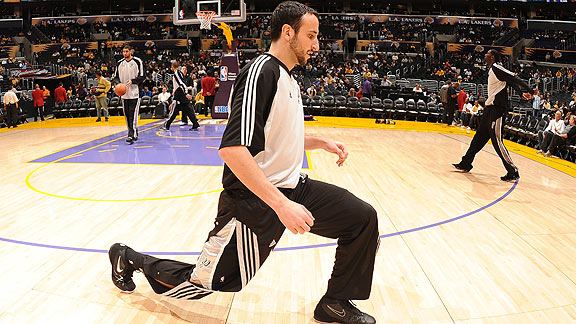 Andrew D. Bernstein/Getty ImagesGinobili could not keep another ankle injury from ending his season early.

Coming into the 2008 season Manu Ginobili had missed a combined 40 games in the previous four seasons, leading some to question whether he was headed for further breakdown. If this season is any indication, the Spurs have to be somewhat concerned about the long-term health of their guard.
Now out for the duration of the season with a stress fracture in his right distal fibula (the skinny leg bone that makes up the outer portion of the ankle), Ginobili will have missed 38 games by the time this season ends, almost matching the number in which he played.
Ginobili, 31, has been sidelined for an extensive period of time because of injuries to both ankles. Ginobili started this season injured, still recovering from ankle surgery to correct a posterior impingement or "pinching" of the soft tissue in his left ankle. Originally injured in the playoffs in spring 2008, Ginobili aggravated the injury while playing for the Argentine national team in the 2008 Olympics. He ultimately underwent surgery in September and returned to action in November.
The Spurs limited his playing time early on to allow him to return to game shape. By mid-December, he had regained his form and was happily proclaiming that his left ankle was no longer an issue.
That delight didn't last too long. Ginobili began experiencing soreness in the opposite ankle in February, and tests soon revealed the presence of a stress reaction in his right distal fibula. The injury was reported to be near the base of the bone, just a few inches above the ankle itself. Bone is a living tissue and, as such, is constantly remodeling itself, or making new cells.
If stress is applied to a bone in a way that overloads it and exceeds its ability to remodel itself, the bone becomes damaged. The damage can be microscopic at first, but if overloading continues, a fracture, or break, can develop.
A stress reaction is generally considered a precursor to a stress fracture; all the same symptoms (namely sharp, localized pain) are present, but there is no evidence of fracture on imaging studies. There is, however, a visible area of increased activity in the bone -- suggesting that it is attempting to repair itself on a microscopic level -- before a visible fracture results.
Treatment is simple: Rest the ailing body part, as in limit weight bearing and other stresses associated with muscle contraction, bending or twisting, to prevent progression of the injury.
And rest he did. Ginobili sat out five weeks and missed 19 games to allow his leg to heal. He was in a protective boot initially to minimize any weight through the leg. He then worked out in a pool to maintain fitness while still strictly limiting any impact to the bone. He gradually progressed to a treadmill and light shooting, all the while being monitored for any return of symptoms.
This is a very typical prescription for rehab from this condition, and the Spurs' medical staff continued to monitor Ginobili's leg throughout the process. In late March, when the bone had recovered to the satisfaction of the medical staff and Ginobili had showed enough physical progress (with no setbacks along the way), he was cleared to return to play. Even then, his minutes were limited initially to help control his return pace. All par for the course.
But just six games later, Ginobili knew something was not right with his ankle. Tests Monday confirmed the presence of a stress fracture, meaning the bone had failed. The good news is that the prognosis for distal fibular stress fractures is excellent if treated early. Although Ginobili had a stress reaction present earlier, he spent much of the interim time between these diagnoses doing modified activity, so he was actually protecting the leg somewhat.
Why did it progress? It's impossible to say, but this serves as a reminder that each body heals at its own rate and that there is no perfect way to predict injury behavior or outcome. By all accounts, Ginobili was on a proper, supervised program.
The extended time available to him now before next season should allow him a full recovery. Considering that Ginobili trained for and played in the Olympics last year, he didn't have a full offseason. Even though he had down time to recover from his left ankle surgery, he was working back into basketball conditioning within a few weeks.
This time, he needs to really let his body rest. Extended rest, followed by a solid offseason conditioning program emphasizing both strength and flexibility, should help get Ginobili back on track for the fall. A consultation with a nutritionist might be in order because nutritional deficits can, at times, contribute to these types of injuries.
Assuming he heals fully from this episode, and there is no obvious reason to think otherwise, Ginobili and the Spurs actually might have reason to feel more positive about his status heading into next season.
Stephania Bell is a physical therapist who is a board-certified orthopedic clinical specialist and a certified strength and conditioning specialist.
Fantasy Sports
Senior writer for ESPN.com
Certified orthopedic clinical specialist and strength and conditioning specialist
Clinician, author and teacher
SPONSORED HEADLINES
MORE NBA HEADLINES
MOST SENT STORIES ON ESPN.COM