Commentary
Lost seasons for Brand and Jefferson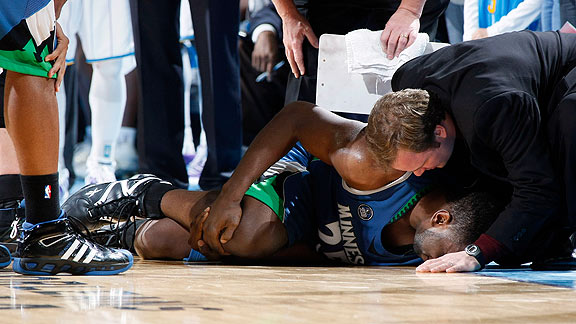 Layne Murdoch/Getty ImagesThe Timberwolves' Al Jefferson (torn ACL) is the latest star to fall victim to injury.

February has been a big month for the NBA. In just the first nine days we have seen amazing individual performances, exciting overtime finishes, and, unfortunately, big-impact injuries.

Five teams lost notable players for an extended period of time, and in at least two cases, that time frame represents the rest of the season. Just how severe are the setbacks for Lakers center Andrew Bynum, Magic guard Jameer Nelson, 76ers forward Elton Brand, Timberwolves center Al Jefferson and Mavericks guard Jason Terry?

Well, we know that Brand is expected to undergo season-ending surgery Monday. Jefferson is also out for the duration and will undergo an ACL reconstruction in the near future. But don't write off Bynum, Nelson or Terry; at least not yet.

Bynum is facing his second major injury in as many seasons, again to his knee, albeit on the opposite side. After he dislocated his left kneecap last January, Bynum worked diligently but was unable to return, ultimately requiring surgery in May followed by more extensive rehab. As he went to the floor clutching his right knee just a week ago, Bynum had to be wondering why the winter months have been so unkind to his body.

There has been speculation that Bynum is likely to miss the rest of this season because, after all, his initial prognosis last season was that he would miss eight to 12 weeks, yet he was unable to return. Such speculation is unfounded, because the two injuries are very different.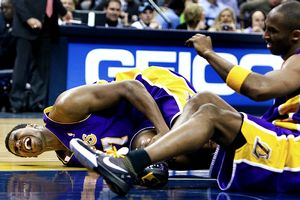 AP Photo/Mark WeberBarring a setback, Andrew Bynum should return in time for the playoffs.
Last year, Bynum dislocated his kneecap (patella), which in a routine situation can sideline a player for a few months. The complication in Bynum's case, though, was persistent pain and swelling as he tried to increase his activity, the result of cartilage damage on the undersurface of his kneecap suffered during the dislocation. Although such cartilage damage does not happen uniformly with patellar dislocations, it is not uncommon either, as the kneecap bangs against the outer lip of the groove in the thigh bone on its way "out" of the joint.
The cartilage surface then needs to be addressed, or it will continue to cause inflammation. Consequently, Bynum underwent a surgical procedure in May, rehabbed hard throughout the offseason and by many accounts also used the opportunity to get himself into top physical shape. Judging from his dominant performance in the month leading up to his recent injury, Bynum certainly seemed to have overcome any issues with his left knee.
In an instant those memories came crashing back.
After colliding with teammate Kobe Bryant while playing the Memphis Grizzlies, Bynum went to the floor clutching his right knee, clearly in pain and no doubt feeling the anguish of déjà vu. The difference this time was that the injury was to his other knee, and instead of dislocating his kneecap, he suffered a torn medial collateral ligament (MCL). Not that this injury is to be taken lightly. The MCL is one of the four primary stabilizing ligaments of the knee, anchoring the femur (thigh bone) to the tibia (shin bone) and reinforcing the inner aspect of the joint.
Essentially, it helps control the knee from bowing inward. Athletes rely on it for stability, particularly when cutting to the inside.
If there is good news to be had about this type of injury, it is that it rarely requires surgery. The relief on Bynum's face once he got the news that he was not headed for surgery was apparent in the days immediately following the event. Unlike ACL tears, which have far more serious consequences and almost certainly lead to surgery, MCL tears have a better opportunity for healing on their own. The knee is initially immobilized in a brace so the tissue has an opportunity to form scar and heal. Then, ever so gently, range-of-motion exercises are initiated.
As the range of motion improves, the athlete can also begin light strengthening, and it then becomes a matter of progressively working back to running, jumping and shooting, with lateral movements and sharp directional changes coming last. Ultimately the athlete returns to scrimmaging to build game readiness and eventually returns to competition.
So how long will this MCL tear really sideline Bynum? The only guarantee is that there are no guarantees when it comes to an injury timetable; the imaging used to help prognosticate recovery is imperfect, people heal at different rates and the potential for setbacks during the course of treatment is always a possibility. That being said, the team's initial projection of an eight-to-12 week range is fair. Barring a setback, Bynum should return in time for the playoffs.
The question will then be whether Bynum can return to play at the level he was at when he went out with the injury. It might indeed take him some time back on the court, regaining confidence, to achieve that status. Working in his favor is the fact that he is fresh off a major rehabilitation episode, and has that experience to draw from. His increased level of fitness and conditioning can only help as well.
The Lakers haven't missed a beat, going undefeated on their six-game road trip with Lamar Odom filling in for the injured Bynum. This ultimately can help relieve any pressure on Bynum to rush his return.
---

Nelson
The Orlando Magic also took a hit when point guard Jameer Nelson went down with a right shoulder dislocation. Subsequent tests revealed that he also tore the labrum during that incident. The labrum is a cartilage ring that enhances the stability of the shoulder (which by definition is a relatively unstable joint). When torn, it can catch or pinch within the joint, causing pain and limiting shoulder motion.
The labrum will not heal on its own; surgery is the only means of actually repairing the tissue. Despite that fact, surgery is not automatically indicated. In some cases, once the initial pain and swelling has subsided, the athlete is able to regain sufficient range of motion and strength to return to play. The problem might still ultimately require surgery to "fix" it, but the surgery might be able to be delayed or postponed until the offseason if the athlete is able to perform at a high enough level.
Nelson is currently in the phase of allowing the pain and swelling to settle down and will then begin to rehabilitate the shoulder conservatively. Over the next few weeks he and the medical staff will evaluate his progress and come to a decision as to whether he will attempt to return this season or undergo season-ending surgery.
---

Brand
What kind of problems would prevent Nelson from returning? He needs to look at the case of 76ers forward Elton Brand, who was unable to return successfully following a labral tear, and is seeing his season cut short for the second consecutive year (he missed all but nine games last season with the Clippers due to a torn Achilles tendon).
Brand originally injured his shoulder in December, underwent a conservative rehabilitation program and returned for six games. He struggled in his return, and it showed. Brand told the Philadelphia Daily News, "It's hard when you're feeling pain and you can't straighten your arm out on your shot."
A recent reevaluation by the medical staff concluded that the torn labrum in Brand's shoulder was likely responsible for his persistent lack of motion and instability. The decision was made to call an end to Brand's brief season with his new team and operate to repair the labrum.
Brand's case does not necessarily spell despair for Nelson. Each case is unique, and in the absence of acute pain and swelling, it might surprise people to see just what kind of pathology an athlete can play through. Nelson did describe his labral tear as being "good-sized," though, which is less encouraging. A larger tear typically presents more mechanical problems for the shoulder joint than a smaller one. We will just have to wait and see what direction Nelson's recovery goes, and that might take a few weeks.
---

Jefferson
And the hurts just keep on coming. On Sunday, Timberwolves center Al Jefferson collapsed to the floor with what is now known to be a torn ACL. At the time of the injury, Jefferson was attempting to block a shot, when he landed on a single (right) leg which buckled as he heard it "pop." It is always an ominous sign when a knee completely gives way in conjunction with an audible pop, and almost certainly represents a ligament tear.
Indeed, that proved to be the case for Jefferson, who up until this injury was having a remarkable season.
The Minneapolis Star-Tribune is reporting that Jefferson is expected to undergo surgery in the next seven to 10 days. It is not uncommon for the surgery to be scheduled in this manner so the athlete has the opportunity to decrease swelling in the knee and regain full range of motion. The postsurgical rehab process is then another six to nine months, depending on whether there are any additional procedures required during surgery and the athlete's healing response. In other words, Jefferson should be approaching readiness to return as next season approaches.
---

Terry
The Dallas Mavericks got some bad news Monday, but at least not the season-ending variety. Guard Jason Terry has a broken bone in his left hand that will sideline him for at least a few weeks, although the team has not offered a specific timetable. Terry told The Dallas Morning News that he was injured during the second quarter of Saturday's game when he ran into teammate J.J. Barea and "felt a sharp pain." Although he tried to continue to play, it was clear that the pain was limiting him, and at halftime the broken bone "between his wrist and his ring finger" was discovered.
That bone would be the fourth metacarpal. The metacarpals are the long bones of the hand that form a bridge between the wrist and the digits. One of the key features of the fourth and fifth (wrist to pinky) metacarpals is that they are very mobile and must rotate a fair amount in order to fully close the hand. Stiffness in the metacarpal can affect various forms of grip, and although this injury is to Terry's non-shooting hand, normal motion is still critical for ballhandling.
Terry is expected to see a hand specialist to determine the course of treatment. In a non-surgical situation, Terry is looking at an absence of at least a few weeks, until the bone shows sufficient healing. A fracture often takes up to six weeks to fully heal, although the timetable can be variable depending on the size and location. Sometimes an athlete can be returned to play sooner if the bone shows good healing progress and the hand can still be somewhat protected. Also, since there are fewer demands on Terry's non-shooting hand, it is possible that he could return after just a few weeks. Either way, the loss of one of their top scorers is bound to have an impact on the Mavericks.
In the meantime, the NBA can hope for more big performances, minus the consequences of major injuries. But keep in mind, these are big, physical men moving at high speeds with no protection. Something tells me we'll have more to talk about before the month is over.
Stephania Bell is the injury expert for ESPN.com fantasy.
Fantasy Sports
Senior writer for ESPN.com
Certified orthopedic clinical specialist and strength and conditioning specialist
Clinician, author and teacher
SPONSORED HEADLINES
MORE NBA HEADLINES
MOST SENT STORIES ON ESPN.COM
The NBA On ESPN.com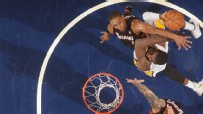 Follow the NBA on ESPN:
Twitter / Facebook / Google+
LATEST CONTENT
REGULAR FEATURES
ESPNNBA

NBA on ESPN


Check out the top 3 plays from the night in the NBA, featuring @StephenCurry30, @sergeibaka9 and @andre: http://t.co/GWPxUt9Xic
about 5 hours ago

ESPNNBA

NBA on ESPN


The Warriors swept the top of Thursday's stats leaderboard but Spurs left Oakland with the win. http://t.co/CnXFpVUE8n
about 5 hours ago

DimeUpdate

Dime Update


Thanks for sticking it out, this is @drew_48moh signing off. Check the Daily Dime in the morning and don't forget to tip your wait staff.
about 5 hours ago

DimeUpdate

Dime Update


David Lee led the Warriors with 32 points and added 13 rebounds. Steph Curry had 30 points, 15 assists and 4 steals.
about 5 hours ago

ESPNNBA

NBA on ESPN


Belinelli scores career-high 28 points to lead Spurs to win over Warriors.BOX SCORE: http://t.co/Fs9pkXlZRE http://t.co/XoTqE8xBtk
about 5 hours ago

DimeUpdate

Dime Update


Marco Belinelli had 28 points for the Spurs, while Kawhi Leonard added 21 and 10 rebounds, and Patty Mills had 20 points.
about 5 hours ago

DimeUpdate

Dime Update


Final in Oakland. Steph Curry couldn't get a good look as time expired and his toss sailed over the backboard. SA wins 104-102.
about 5 hours ago

kpelton

Kevin Pelton


The Spurs without their big three would be the third-best team in the East.
about 6 hours ago

ESPNNBA

NBA on ESPN


Spurs take a 2-point lead on a Tiago Splitter tip-in with 2.1 seconds left. Warriors will have the ball after a time-out.
about 6 hours ago

DimeUpdate

Dime Update


Tiago Splitter tips in the rebound to give the Spurs a 104-102 lead with just seconds remaining. GS timeout.
about 6 hours ago

ESPNNBA

NBA on ESPN


After a Steph Curry 3, the Warriors and Spurs are tied at 102-102 with 28.7 seconds left.
about 6 hours ago

DimeSmash

Dime Smash!


STEPH CURRY SPLASH… GS tips the offensive rebound out to Curry for a 3 at the top of the key. 102-all with 27.2 seconds left.
about 6 hours ago

DimeSmash

Dime Smash!


BOBO SMASH… Tiago Splitter shovels the pass to Boris Diaw for a dunk. SA 102, GS 99 47.6 seconds remaining
about 6 hours ago

DimeSmash

Dime Smash!


BOBO SWAT… Boris Diaw with as much of a chasedown block as he'll ever get (he had a head start).
about 6 hours ago

DimeUpdate

Dime Update


SA 100, GS 99 2:08 left; Warriors are up to 24 turnovers and the Spurs continue to hit timely buckets. Steph Curry has 27 pts & 15 asts.
about 6 hours ago

jadande

J.A. Adande


http://t.co/Ca8THBm98Y RT @JMcDonald_SAEN: Warriors are like some kind of horror movie villain who just won't die.
about 6 hours ago

DimeUpdate

Dime Update


SA 96, GS 95 4:48 left in the game; We're entering the stretch of the game where Patty Mills and Stephen Curry trade baskets, which is fun.
about 6 hours ago

DimeSmash

Dime Smash!


DAVID LEE SMASH… SA 84, GS 83 8:44 left in the contest
about 6 hours ago

ESPNNBA

NBA on ESPN


Marco Belinelli is 9-12 from the field and has a season-high 24 pts. Spurs lead Warriors 82-74 after 3. http://t.co/g9cyBtm35U
about 6 hours ago

DimeUpdate

Dime Update


SA 82, GS 74 end of 3rd; Cory Joseph sinks a late corner 3 to give SA an 8-point lead. GS has 19 turnovers so far.
about 6 hours ago
adidas Youth Cleveland Cavaliers Andrew Bynum Replica Revolution 30 Burgundy Basketball Jersey Shop »